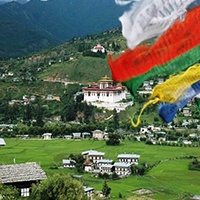 ---
The Bhutan appeal...
This tiny kingdom, nestled in the Himalayas has only been open for tourism since 1974 and as a result, has largely remained both raw and rugged. Preserved by its efforts to resist foreign governmental influences, Bhutan has been left with a truly individual culture, beauty and history.
Bhutan is a Buddhist country and due to its isolation from western culture (it was the last country in the world to allow TV) its customs, landscape and everyday rituals have been able to grow and thrive organically, making it quite a magical place to visit. It is a real privilege to be able to explore the Bhutanese way of life, on foot, through the mountains and villages - so here are a few highlights that will paint a picture of an adventure that you might just want to step in to...