---

IT'S ONE OF THE SEVEN WONDERS OF THE WORLD...
...and it tops many a bucket list, but there is so much more to this place than the (undeniably impressive) ruins of Machu Picchu.
When you make the decision to do this challenge, and it is something we frequently hear in the office, it is often because you've always wanted to see Machu Picchu. But if you're looking to really let this magical place get under your skin and make the most of the whole experience, here is what truly makes this trip unforgettable:
---
You'll start off your adventure by soaking up the historic Spanish colonial style architecture in Cuzco and observing the city's Incan and Spanish heritage throughout the city. Here you'll be immersed in the colours and sounds of this vibrant, Peruvian culture - listen out for the Panpipes (there'll be hard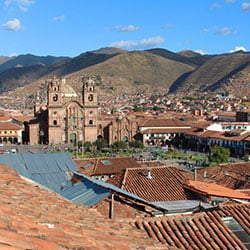 to miss!)
The Inca Trail is the traditional route to the ancient citadel of Machu Picchu, and is rated one of the top 5 treks in the world - and that is not just because of where the trail ends.
If you're looking to for an escape and 'detox' from modern life (who isn't?) then the ambience of this trek is just what you need. From walking through hypnotically beautiful cloudforest to spotting mina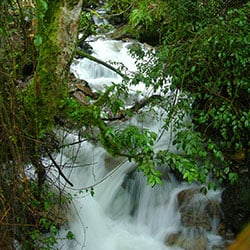 ture hummingbirds amid the rain forest, you'll be immersed in a totally organic environment, wonderfully removed from modern living (aside from the permanent long-drop toilets at the campsites - I mention this, because these are a luxury not often experienced on many of our challenges!).
Related: View the challenge gallery & video here
There are also huge open areas of moorland and grassland, with sweeping vistas of mountain landscapes. And there are ruins along the way which are every bit as fascinating as Machu Picchu, and which, anywhere else, would be a main tourism draw in themselves.
While the ingredients of a great trek are challenging terrain and some picturesque scenery, those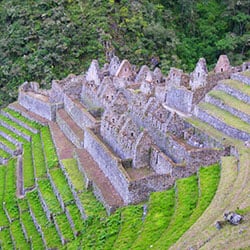 trips which are truly spine-tingling and unforgettable have that little something extra to inspire the mind - a cultural or historical significance. That is why it's impossible to trek the Inca Trail without admiring the stonework of the ruins and the very paths and steps you're walking on (100 flights of steps to be exact!) and the people that built them.
Related: read what other challengers had to say about this trip
The Incas themselves are responsible for far more than Machu Picchu and the history of these enigmatic people is fascinating. They lived uninterrupted, cultivating their empire at 15,000 ft altitude for hundreds of years. The fact they could survive the cold and dehydration that can be experienced at at such altitude, without the advanced clothing and equipment we have today, is still somewhat perplexing to science.

Trekking the Inca Trail gets you to Machu Picchu before the crowds that go on the train, so take a moment, and find yourself a quiet, sunny corner of the ruins to absorb the atmosphere and the energy of the site. It is a very special place that leaves you with an indescribable feeling.

That's what makes our Inca Trail trek our leader Mark Parry's favourite challenge. "The balance of Incan and Spanish culture in Peru has resulted in an extremely rich history, a fantastic fusion of architecture and some wonderful people, who talk about their culture with such pride that it's infectious. The trek itself is beautiful and challenging in equal measure as you climb through the foothills of the Andes."
Related: Find out about more about the challenges our crew recommend here
---
IT'S TIME TO GO
No, it really is. Permits to trek the Inca Trail sell out months in advance. These were introduced to limit the number of trekkers on the Inca Trail each day. This is good for the environment and makes your trekking experience much better but it means we need to order the permits for your place well in advance of departure. To secure your place on our next departure make sure you book in plenty of time to avoid disappointment. You can do that here or call us 01722 718444 & you can talk it through with one of our team who's been there so you find out more about this amazing place before you go.
---