---
As it is National Bike Week, an annual event encouraging daily cycling for everyone, we thought we would support this and give you ten reasons why you should start (or carry on) cycling.
Check them out now and after you're done, get on your bike!
---

1. IT'S SUITABLE FOR ALL FITNESS LEVELS
Feel unfit after a lazy winter? It doesn't matter what shape you are in, you can go at your own pace, so whether you're looking for some leisurely exercise or a way to push yourself to new extremes, cycling is perfect - there are challenges available for all abilities! It's amazing how quickly you will feel your fitness increase too.
Related: Top Biking Challenges
2. IT'S CHEAP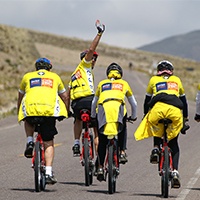 Think how much money you can save on not taking public transport or not driving - apart from the initial cost of the bike, cycling costs nothing! It's also quicker than getting stuck in the morning work traffic and there are no parking costs. What more could you want?
3. IT'S A SOCIABLE ACTIVITY
Want to go out for a ride on your own? No problem. But, if not, there are so many people that love cycling - join a Sunday morning group or just go for an explore with friends - you'll be amazed how far you can get in a short amount of time - even if it's just a ride out to a country pub for lunch!
4. YOU'LL UP YOUR BRAIN POWER AND DE-STRESS (definitely a win-win)
Got writer's block? Stressed out with work? Jump on your bike! Research has shown exercise can considerably brighten your mood and get your creativity going again... so instead of trawling the internet for that spark of inspiration, it might just be two-wheels and an open road that sets that spark alight.
5. YOU + A BIKE = HELPING OTHERS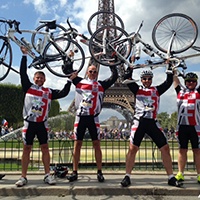 How about cycling in aid of a charity of your choice? You can get fit yourself and help others at the same time! A bespoke challenge group raised a massive £250,000 for Action Medical Research, on their cycling challenge from London to Paris, helping to save and change thousands of children's lives.
Related: The benefits of taking part in a fundraising challenge for charity
6. IMMERSE YOURSELF IN YOUR SURROUNDINGS
Roads travelled daily by car can be seen in a whole new light by bike. At a slower pace and being in direct contact with nature, means you'll notice so much more about your surroundings - from the breathing early morning air and the scent of freshly cut fields, to discovering new routes along little known paths. With your bike you'll explore new trails and streets - the UK isn't quite on par with our neighbours in Holland, but there's plenty of cycle lanes out there, so choose one and take yourself on a mini adventure this weekend.
7. NO TIME LIMIT = SENSE OF FREEDOM
Ask any keen cyclist - getting on their bike provides a form of escape and with that, an unbridled sense of freedom in open space. Cycling only requires you and your bike (and a tiny sprinkling of motivation) which means you can make it fit in with your schedule - cue no waiting for public transport or getting stuck in traffic! Just make sure you stay visible, and never go without a reflective jacket and light on your bike.
8. CYCLING IS A SPORT THE WHOLE FAMILY CAN JOIN IN WITH
Why not take your family with you? You could even take a picnic with you and enjoy a full day out on your bikes. Even if you have a young child not old enough to cycle, you can get a child trailer or child seat, it's great fun too! - You never know, you could inspire a future champion! I mean, isn't that how it all started for four time Olympian Laura Trott?
9. THOSE CALORIES? BURNT.
A beginner can happily ride along at 12-14 miles an hour burning approximately 450-500 calories in one hour. Not too shabby!
10. IMPROVE SLEEP QUALITY
Never sleep well? It may be due to a lack of exercise. Research has shown that cycling for just 20-30 minutes every other day can increase your sleep by up to an hour. So, get on your bike to make sure you get enough zzzzz's.
---
We're sure you'll have stopped reading by now and you're already grappling to unlock your bike, but if you've got a few more minutes to spare, have a browse of our awesome worldwide cycling challenges here!
---