We all know there is nothing better than advice than from someone who has been there and done it. You may know DA team member Kim, through parts one and two of her blogs on her Sahara challenge experience.
But here is the crux of it - we've heard about the challenge itself and vitally, her top tips but what are the best and worst moments? And ultimately, who is this challenge for?
In our short interview we asked:
What were the best bits and why
The gritty truth - what were the worst bits and why
You must have had worries, how did you overcome them?
Who would you recommend this challenge too and why?
Basically the kind of honest, juicy debrief you'd have with your friend over a coffee...
---
Kim, thanks for giving us a few more minutes of your time!
We're obviously armed with your top tips but what I, and more importantly anyone looking to do the challenge, wants to know is the nitty gritty of the highs and lows, and whether this trip is right for them, so tell us...
What were the best bits, the highlights that will stick with you?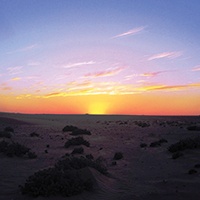 Easy!
"Sleeping out under the stars for one - the sky was amazing. It looks so much bigger and brighter with any light pollution around. It truly makes you realise just how small and insignificant everything else is."
The Berber crew - "they were fantastic. They prepared meals for the whole group on two gas burners, they trekked with us, loaded our luggage on and off of the camels and they sang and they laughed with us. Genuinely, they are some of the best people I'll ever meet."
Doing something amazing - "it may sound cheesy to say, but for me the desert started out as an overwhelming challenge but by the end I didn't want to leave it."
With every high there are lows, what were the toughest parts and why?

The toilets - "don't expect luxury! They are basic tents with a hole in the ground and by morning -well let's just say you don't want to be there any
longer than necessary."

Climbing Erg Chigaga - "the highest dune in the desert. We started early that day to get there before it got too hot. It was hands down my hardest day of trekking and heat but by far the most satisfying!"
This was a challenge so undoubtedly it was out of your comfort zone, what were your worries and did you manage to overcome them?

"Honestly, I was worried about whether I would cope - I wasn't as prepared as I would have liked to be (and you should be!) - and I was concerned about letting my self and the group down. I felt like giving up on the first day but I am so glad I didn't.
You'll be surprised how much mental strength plays a part - often, your body can cope with far greater things than your mind thinks it can.

I worried about leaving my family (and my dog) - who would cook and clean up for them, who would remember to feed the dog - but you know what? They survived. It didn't hurt them one bit and too be honest, it made them realise just how much more they should be doing!"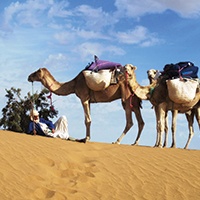 And lastly, who would you recommend the Sahara desert trek to?
"Well, in my group their was a team aged between their mid twenties to early thirties and there were several of us in the 'more mature category' of over fifties. The only specification I'd make is you need to be prepared for some hard trekking, especially across the dunes".
And to sum up?
"There's something about deserts which make you realise that there are more important things in life than the humdrum routine we all find ourselves in.
The Sahara is so vast and open, it makes you feel incredibly small (and we only saw a tiny bit of it!). The place has a beauty of of its own, that words or pictures just cannot do justice. But when you're there, feeling the heat on the skin and the sand under your feet, witnessing the (quite frankly) stunning sunrises and sunsets, trust me when I say, there's nothing quite like it."


---