Kim, our Sales Development Co-ordinator, is ambitious and loves to travel - but until October 2015 hadn't completed one of our tough challenge treks. Her story tells you what it's like to find out you're off to embark on the Sahara Challenge with only three days notice!

Part. 1
FINDING OUT

Tuesday 27th October is a date which will stay in my memory for a long, long time. I strolled into our nice, cosy office at DA, settled down with a cuppa and started my day. Within a few minutes, my line manager was at my desk with a questioning look...

"So, Sahara Desert Trek this Friday?" she said.
"Yes..." I replied hesistantly.
"You're on it," was the reply... My expression must have said it all, as she quickly followed up with, "Do you need a few minutes to think about it?"

A few minutes? I needed a few months in reality! Every excuse shot into my head as to why I couldn't do it. How would my family survive 10 days without me? Who would walk the dog? How would I cope with 10 days in the desert? Taking this into account, I surprised myself with the words that came out of my mouth in reply, "Ok!"
What had I let myself in for?

GETTING IT TOGETHER
Three frantic days followed, during which time I 'begged, stole and borrowed' from my colleagues to equip myself with all the gear I would need to complete the Sahara trek. I even invested in a brand new pair of trekking boots - lucky I could consult with Rob our Ops Director and kit expert to make sure I bought the right ones.

I guess one good thing about this all happening so quickly is that I didn't really have time to talk myself out of it. Before I knew it I was boarding the plane at Gatwick Airport, bound for Casablanca and the exotic sounding Ouarzazate in Morocco, a world so far removed from what I was used to.

Well, that is what 'adventure' is all about isn't it?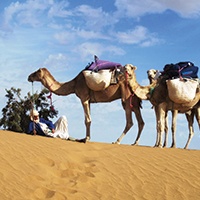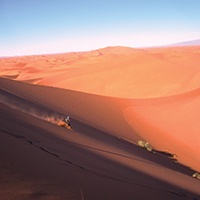 TAKING ON THE CHALLENGE

To say I didn't find it tough would be a lie. It was hard, and I wished numerous times that I had more time to prepare (absolutely something we recommend and provide training guides for you to do just that!) there were even days that I cursed the office under my breath for sending me there. But, 'Challenging' is one of our values, its embedded in everything we do - and I can't deny, we live by our word.

So did I give up? Absolutely not.


I kept going, and was rewarded for my efforts by being able to spend several nights sleeping out under the desert sky, below a canvas of brilliant stars, there was the day I rode a camel across the desert and there was the incredible sense of achievement I felt when I reached the top of the highest dune on the trek, Erg Chigaga.

I saw a part of the world I never dreamt I would see; a part of the world which both challenged and inspired me.
I can now honestly say that I have trekked 100km across the epic Sahara desert, remote, baron and tough, but I did it.
I've seen sunsets to rival all others, night skies that you could never appreciate living in the built up western world, and I'm still finding sand that made it's way all the way back to the UK with me!

Would I do it again? You bet! Despite my lack of time to prepare, the experience is unbeatable and I am already planning a trek to Costa Rica (another climate, another challenge - I'm hooked!)

Proof that, and to quote our DA Leader Jackie, 'if we can do it, so can you!'
Want to know Kim's top tips and best bits? Take a look Pt. 2 & Pt. 3 coming soon!