Who watched the #ReturnToKili show on BBC One this week? Pretty awe-inspiring, right? While it showed the brutal nature of when altitude takes effect and the exhausting slog that is the journey of reaching the summit, it also showed the shooting highs of overcoming the varying fears, struggles and emotions, and conquering the Kilimanjaro challenge.
It certainly caused a flurry of excitement at DA HQ, reminding us of just how spectacular our Trek Kilimanjaro is and the positive impact that completing a fundraising challenge like this can have on so many lives.
Trekking Kilimanjaro: a dream or in the diary?
Whether Kilimanjaro is on your hit list as a distant dream or on your 2019-to-do list, maybe you've already got a few mountains under your belt or you've signed up and are eagerly lapping up all there is to know to prepare you for the challenge ahead. This could come in handy. At the very least, this could make the next ten minutes of your life a little more amusing...

Discover Adventure Trekking Kili
The team at DA definitely practice what they preach, their love for adventure is a large part of what got them here and the temptation of living the adventure - our live-by motto - is often what fuels them to get out on our challenges as participants.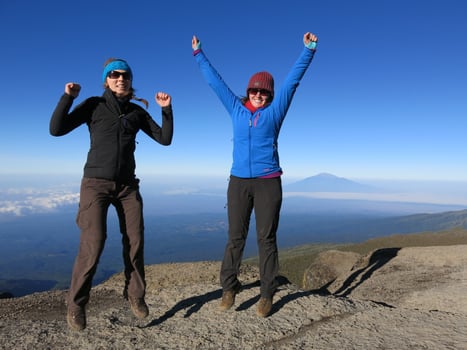 Hear from past and future Kili-participants
What better time to speak to someone who has completed Kilimanjaro, as well as someone who is due to tackle Africa's highest mountain this December?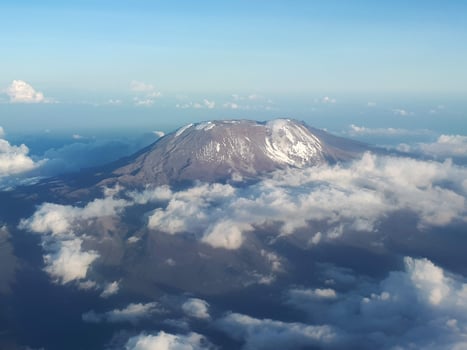 Sarah Warr trekked Kilimanjaro in 2015 with her friend and colleague, Leanne, both experiencing a DA challenge as participants while working in the office. Whereas Holly is due to take on the Kili challenge with fellow DA-member, Sarah K, on our Boxing Day departure. We thought it would be handy to get their thoughts on the #ReturntoKili show and how it made them feel in hindsight and in anticipation.
So, you both tuned in to watch the celebs take on Kilimanjaro. How did watching them complete the challenge make you feel?
Sarah: "Watching the show made me feel really, really proud of myself. It was quite emotional to reminisce on our experiences. It almost feels like a dream now, looking back, I can't quite believe it happened. There's no words on paper that can describe how that truly feels, when you're exhausted and utterly overcome with emotion."
Holly: "It definitely brought home how tough battling the altitude is going to be. But to be totally honest, it made me even more excited for the challenge ahead. The pure happiness of the group when they all reached the summit. Not to mention, getting the chance to explore Tanzania's biggest landmark."
We follow the Machame Route on a Discover Adventure Trek Kilimanjaro challenge to allow for gradual acclimatisation, as you trek high and sleep low. It's a varied route with incredible scenery and landscapes as you journey through five different ecosystems; from the cultivated lower slopes, through to rainforest, heath and moorland, alpine desert and the ice cap. The highs and lows of the experience that the celebrities faced are very much the emotions you're likely to experience when you trek Kili with us.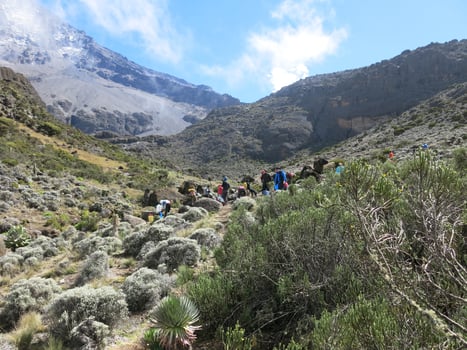 Sarah, do you feel like the show was an accurate representation of your Kili experience?
Sarah: "It's really hard to condense that sort of experience in to an hour long film and so in many ways I don't think it really gave it true justice. I would say it was a taster of what experiences you may have. Without being there yourself, you'll never really know what it's like to look out at those views. It feels like you're on top of the world or at times walking on the moon."
The landscape is varied and you cover some tough terrain as you trek towards the summit. This is made only more challenging with the factor of micro-climates.
Sarah: "It brought back great memories of the amazing porters who support you on the trek. They welcome you back in to camp each day with the warmest smiles. Watching the show also made me remember the many conversations had about bodily functions… you really do get to know each other quite well within only a few days and have such a laugh about things!"
It is truly a roller-coaster of emotion!
Sarah: "You start off with nervous trepidation, mixed with excitement. You'll feel exhausted, at the same time as feeling energised and motivated. It's a whole mixed bag. You find out new things about yourself on a challenge like that. Just ride the wave, keep looking up and remember, it's just one foot in front of the other."
Great advice. Especially when the going gets tough!

Many of the camp mates struggled with toilet habits, scrambling tough terrain and the effects of altitude. Is it as tough as it looks?
Sarah: "This trip is undeniably hard, it was one of the biggest challenges I've ever faced, and each individual will find something challenging along the way. For me, the summit night was almost like an out-of-body experience. I was more tired than I thought possible and it's extremely cold. However, without the rain, there would be no rainbow, and it makes the achievement feel all the sweeter."
Spoken like a true Kili-conqueror! Have you got any advice for Holly, and other participants, taking on the challenge?
Sarah: "My key advice would be to not worry too much about the altitude – focus on keeping yourself well, drink lots and go prepared. Altitude is a big unknown really, but take it steady – pole pole, keep sipping water and listen to your body. The toilets aren't that bad – in fact, they are kept amazingly clean. The food keeps you well-fuelled. And the terrain is manageable as long as you train well and prepare with good kit.
Although the elements of your surroundings have got to be taken very seriously, you don't want it to ruin your whole experience out of living in fear of what may or may not happen."
Cheers to that! Appreciating the incredible surroundings of your adventure is a great motivator to keep you on the straight and narrow.

What kind of training did you put in ahead of your challenge?
Sarah: "We kept it fun and varied, planning training walks around where we lived, in places we hadn't yet been. Remember to walk with your rucksack on over consecutive days when you can, to build up endurance fitness. A 30 minute blast in the gym isn't really enough."
Holly: "I've got walking boots that have been tried and tested on Snowdon, but I've got lots more walking to ensure they are comfortable and worn in ahead of the challenge. While my fitness is at a good level, I'm definitely not accustomed to multi-day trekking so I can see many, many walking-packed weekends on the horizon!"
Lastly, any words to those sitting on the fence, finger hovering over the 'book now' button or finding reasons to not take on Kilimanjaro?
Holly: "For me, the journey has just begun so I can't speak for what kind of experience I've got myself in for. Wish me luck! What I do know, is that it is the best feeling knowing I have signed up for such an incredible adventure and the excitement doesn't look like it's wearing off anytime soon. Pushing yourself out of your comfort zone can be a little scary but it more often than not, pays off."
Sarah: "If you're wondering, could I do that? YES, yes, you could. And I promise, you won't regret it. Not at all. Not one bit."
Thanks ladies! We can't wait to hear more from you as the journey continues.
Remember to keep up to date with Holly and Sarah K's Kilimanjaro experience. They'll be sharing their training and preparation journey with us, as well as giving us an insight into life on Kilimanjaro. Stay tuned!
Feeling inspired to take on the challenge for yourself?
Check out our challenge page or give the team a call and take the first steps towards an adventure of a lifetime...