---
An interview with Adele Adityah, Fundraising Officer for RedR UK
A question both Discover Adventure and our charity partners are commonly asked is, 'Why would I ask people to sponsor me to go to an amazing place?' and 'What will the money I raise actually go towards?'
Well, with two successful overseas fundraising challenges under their belt, and an amazing Trek to Ancient Petra in Jordan on the horizon (yes, there's still time to join them) we asked Adele of RedR UK what your participation in overseas fundraising challenges means to their cause:
---

What does fundraising enable RedR to achieve?
RedR UK is an international humanitarian capacity-building NGO, which provides training and technical support to those on the front lines of humanitarian response.
The funds we raise through challenge events and overseas treks enable us to continue this vital work, ensuring that aid workers and communities responding to disasters have the skills to do so safely and effectively. Thanks to the funds we raised in 2016, we were able to train and support nearly 6,500 people in over 40 countries, equipping them with skills in water and sanitation, safe shelter, security and much more.


why offer overseas challenges as part of your fundraising portfolio?
We originally started offering overseas challenges in 2014 in response to a three-year corporate partnership with BP. The challenges were a great way for RedR to generate vital funds, and to develop long-lasting relationships.
When the partnership came to an end in 2016, we saw an opportunity to host a trek open to all RedR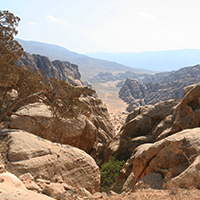 supporters and potential new ones. Our experience with BP showed us that overseas treks offer a unique opportunity for participants to develop relationships with people from all over the world and to be part of something really special.
This year, we hope our Trek to Ancient Petra will help us to connect with a new audience, raise our profile, and hopefully inspire some new long term supporters.
You ran a challenge to climb Mount Kilimanjaro in 2014 – what was the high point of this trip for your supporters that took part?
Who better to answer this question than one of our participants!

"The whole challenge was a highlight - in raising funds and awareness for RedR, I met some great people and was amazed at the generosity and interest people showed. The climb itself was unbelievable as was the cameraderie amongst the team and local guides. The overall experience and satisfaction of challenging myself mentally and physically is something I'll never forget!"
- Richard


How much fundraising did you generate on this challenge and what did it go towards?
A dedicated group of 14 participants raised a staggering £186,000 by climbing Mount Kilimanjaro for RedR. These funds allowed us to continue providing vital humanitarian training and support to communities across the world, from earthquake safety training in Pakistan to shelter, water and sanitation training in Jordan in response to the ongoing Syrian crisis.


You have just launched an exciting new challenge to Trek to Ancient Petra, why has RedR chosen this challenge?
This challenge is really special as not only does it give participants the chance to visit an incredible UNESCO world heritage site, but it also includes a rare opportunity to meet with some of the local people we have trained, who are currently responding to the ongoing crisis in Syria. Participants will have the chance to speak directly to beneficiaries and find out about how RedR has impacted them and the communities they are working with.
Jordan is also an amazing country, with so much to see. This Trek to Ancient Petra incorporates it all: the stunning desert, the famous wadis, starlight camping and the chance to experience the nomadic culture. And that's all before you get to the famous site of Ancient Petra itself, followed by the chance to relax by the Dead Sea.


What are you aiming to raise through this challenge and what will it will enable RedR to do?
We hope to raise £80,000 from this trek which will allow us to continue delivering training in Jordan and the surrounding region, and more globally. Thanks to our trekkers, we'll be able to train in vital areas such as water and sanitation, personal security and project management, ultimately building the capacity of local communities to prepare for, respond to and recover from disasters.


What is it like to be a part of the RedR fundraising community and what can your supporters expect in the lead up to the challenge?
Each participant will be welcomed with open arms into the RedR family. We are so grateful for the fundraising that our supporters undertake for us.
We will be on hand to offer individual support and guidance to our committed participants every step of the way. Our team has years of fundraising expertise to offer: we can advise on unique venues to hold a fundraising music concert, the best ways to get the most from your friends and family, or the most lucrative time to organise a bucket shake. We can help with the logistics and organisation of any fundraising event you wish to hold, and give branded materials from stickers and pens to banners and t-shirts.
We will also assist in preparing for the trek: providing monthly group calls, e-newsletters and regular check-ups. We will guide you on which flights to book, what to pack, how to train, and organise events so participants can meet each other before embarking.


---
Lastly, why should people join you on this challenge?

This truly will be a once in a lifetime opportunity to visit the City of Petra, one of the New Seven Wonders of the World, whilst supporting a vital and worthy cause and directly interacting with those RedR has supported. People shouldn't miss out on this unique chance to trek off of the beaten track, challenge themselves, meet some like-minded people, and importantly have some fun!


---