With 12 new thrilling adventures recently added to our band of challenges, you're spoilt for choice for where to explore next. To help you decide, we're revealing the insider lowdown on one of our epic Asian adventures – Trek Vietnam. Chris, a keen cyclist and member of the Product team at DA HQ, stepped up to the mark and tried n' tested this awesome challenge before we brought it to our legion of adventurers.
TREKKING VIETNAM
Our Trek Vietnam experience encapsulates the natural beauty of Vietnam while venturing off the beaten track away from tourist honeypots giving you a unique and refreshing encounter of this incredible country.
We're sure the whole experience will blow you away but rather than us telling you all about it, we enlisted our trusty DA adventurer, Chris, to travel the Vietnam route for himself and give us his thoughts on this shrouded yet precious part of the world. Here's what he has to say on his experience!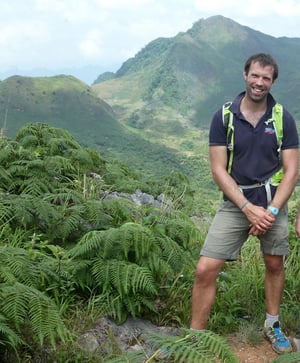 MEET CHRIS, DA ADVENTURER
Chris has worked for Discover Adventure for many years and leads a whole bunch of our cycling and trekking expeditions. He has travelled far and wide taking in bucket list experiences and exploring some of the most remote and magical paths, definitely a guy you want to have a pint with!
One thing is for sure, Chris knows a thing or two about what makes an incredible adventure.
CHRIS TAKES ON TREK VIETNAM
Hello Chris! So, tell us what were your first thoughts when you set foot on the Vietnam Trek?
"I was blown away by just how remote and traditional it was. The remoteness was really quite incredible and something I didn't think you could experience in Vietnam. The rest of Vietnam is so touristy, yet this area was so untouched, which makes the trek feels purposeful. It's only in recent years that they've brought electricity to these villages, so the limited impact of technology makes this location so precious".
Wow, that's pretty refreshing! So tell us some of the trip highlights...
Lake Ba Be & other Vietnam Trek highlights
'Lake Ba Be is dubbed as the Halong Bay of the mountains. Halong Bay is probably one of the most famous landmarks in Vietnam because of its jungle covered limestone, rising from turquoise waters dotted with boats. The downside to Halong Bay is that it is ridiculously busy with tourists, whereas Ba Be lake offers views similar to Ha long Bay, but there is nobody there because of its remote location. A serene boat trip takes you to a perfectly-still lake - a memory I won't be quick to forget! What's more, you stay in a quaint homestay for the night, in a village with a population of approximately forty people.'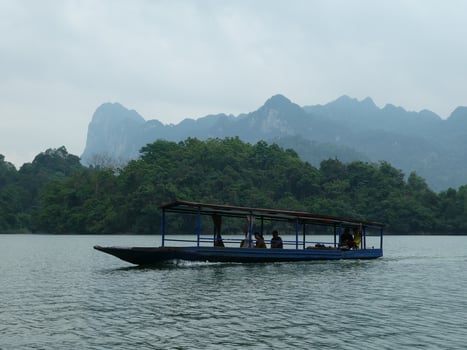 Sounds incredible, getting away from the hustle and bustle that comes with everyday life and becoming immersed in totally invigorating surroundings. A welcomed culture shock.
'Exactly, and the Vietnamese culture is so different to our own, it's refreshing and very cool. The women in Vietnamese culture are the breadwinners of the family, going out to work and pretty much ruling the roost. They are really beautiful, delicate and small but in the same vein, they are some of the strongest women I've ever met. They were lifting water barrels with ease that I would be struggling to lift. On one occasion, we were sitting around a fireplace within a big central room, where everybody sleeps and eats. It means it's definitely snug, but really adds to the adventure! The local ladies are there in their beautiful local dresses, wolfing down their food and letting out massive burps in front of everyone. It's refreshing.'
Girl power! Meeting locals from different communities and understanding their way of life is such a fascinating element of the adventure. And a slightly different experience to your usual tourist hangout!
'The last tourist to come to this area was from the French equivalent of 'I'm a Celebrity Get Me Out Of Here'. The show involves one celebrity that goes and lives with a remote tribe for two months, eats and sleeps with the tribe and becomes one of them. That was two years ago. So, they are so unused to seeing tourists that it's just a real novelty. They're not putting on a show for you, so it's really interesting to see what it's really like there. They're incredibly welcoming, you sleep in their houses, eat their food so its a really amazing way of contributing to their local economy and community while getting an authentic travelling experience, and they love it too.'
This is the sort of sustainable tourism we love to support. What better way to show your appreciation for the beautiful landscape you explore, and communities you meet, than to give back and constructively contribute to their well-being and economy!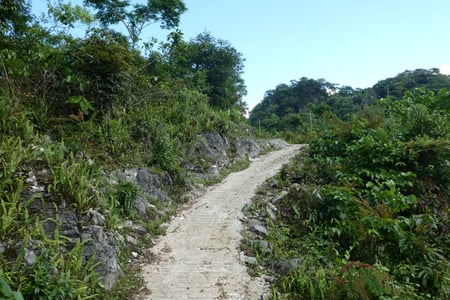 The Vietnam Trekking Adventure: Up for the challenge?
This adventure is totally unique and out of the ordinary, but we call them challenges, not holidays, for a reason. Prepare us! What do you think participants will find challenging on this experience?
'It will probably be the struggle between what you perceive to be beneficial to a community and what they perceive to be beneficial to a community. As western tourists, we will go there and think it's a real shame that they've got electricity now and that they are providing a structured road there because it takes away their simplistic living. Whereas they are desperate for the electricity and for the ease of roads. They want what they don't have, and we want what we don't have. In the same way, Westerners are desperate to get a suntan and have brown skin, they want to look as pale as possible because it means they don't have to work in the fields. They see the way Westerners live, and they want the cars and everything else.'
It's great that we get the chance to see the country as it's developing and to understand how this is transforming their lives. It also gives us the chance to return to what we consider 'the basics', even if the local community are working on progressing from this.
'As well as this, the culture shock is quite difficult to adjust to. This is in remote Vietnam, they are not used to having butchers, so they butcher their own meat. They see it as a sign of the freshness of the meat, so it's a matter of saying 'do you want chicken tonight' and then they would chop the head off a chicken in front of you to show you how fresh it is. Of course, there are vegetarian options - but people need to be aware that this happens in rural Vietnam and we are likely to see it in some shape or form.'
It's sure to be a shock but just another element of what makes this adventure so authentic to local life there. And we always aim to accommodate dietary requirements as much as possible, so you won't go hungry!
'Four nights of the adventure, we stay in homestays - meaning sleeping and eating altogether and living closely with the locals. If you are going for this kind of unique travelling, it will be both the reason why you are there and the reason why you struggle. The trekking itself is challenging but moderate and enjoyable. However, it is the cultural aspect of this experience that aims to be the most demanding part. It's a real eye-opener and sure to leave you with a few good stories and some incredible memories'.
What an adventure!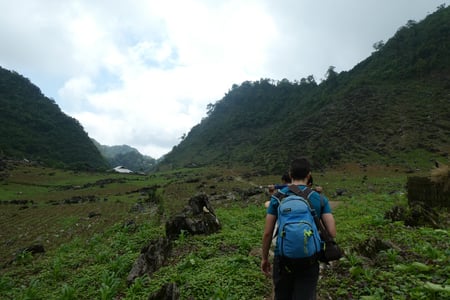 Preparing to Trek Vietnam
Okay, Chris, we know we'll be given a packing list when we book but tell us some handy things to include in our suitcase...
'A mosquito net will be really good, not for mosquitoes, but to provide yourself with some privacy. If you put the mosquito net around you instantly create a feeling of having a little room and a little space. And a silk sleeping bag liner! Although you are given a mattress and a duvet, it's nice to have your own clean sleep sheet. And lastly, a good quality head torch for when its night-time and you need to go to the toilet. It's often dark as if there is electricity they use it as little as possible.
My other top tip is to bring educational tools like pens, pencils, exercise books, and English textbooks, very simple basic ones that you can give to the locals. They are keen to learn English and would much rather speak to you in English when they can. Also, when you pass the local markets as you're heading up to the villages, it's nice to buy some bread to give out to children rather than giving them sweets. They don't have any dentists, so it's not great giving them sugary treats, and as they don't often go down to the market (and when they do it's for vegetables), a fresh bread roll is an absolute treat to them'.
Perfect - we're taking note!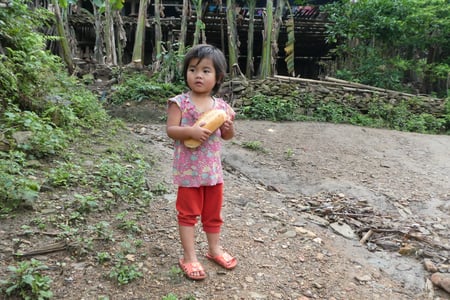 And can you give us an idea of how much training you would recommend?
'The terrain is relatively steep, however, the distances aren't very long and it's quite sheltered. This is a great entry level trekking experience. That said, participants should be able to walk for five consecutive days. It is key to do multi-day training, for instance two walks over the course of the weekend rather than one, wearing the kit you will have on the challenge. Start training with an 8 kg rucksack just to get used to carrying a bag on your back. Walking poles are worthwhile using on this trip, as there are a few places where they will help you out over uneven terrain - but make sure you get used to them beforehand!'
Great, cheers Chris! We know you're a big fan of exploring Asia - usually on two wheels - however, you found this trekking experience totally irresistible. What is it you love most about this epic challenge?
'The food is the standout part of the trip for me, it's truly phenomenal. The food in the whole of Asia is amazing, and it's a big part of why people go to Asia. Traditional Vietnamese food includes soups, noodles, rice and lots of things cooked in a fish sauce which is REALLY tasty. And of course, all eaten with chopsticks!
The food isn't particularly spicy, but you can add some chillies. Warning - the chillies are ridiculously hot, but you get used to them quite quickly. In Vietnamese culture, you are given a little bowl and lots of great dishes that you serve yourself from - such as rice, pork, chicken, vegetables, and soup. This communal eating creates a really nice atmosphere, as everyone sits together and helps themselves to the various dishes. One of the hardest things I found was sitting cross-legged on the floor for an hour and a half while eating! Funnily enough, my favourite dishes were the veggie ones, and I'm a big meat eater, so it's definitely vegetarian-friendly!'
Now, you've definitely got our tummies rumbling! Time for a snack.. oh, and to book an adventure!
Feeling ready to trek Vietnam and experience a totally extraordinary adventure for yourself?