Anyone who knows me, knows I'm a bit Disney mad! I went to see the remake of Disney's Aladdin last month and I give it a massive thumbs up (in case you were wondering). I'm listening to the soundtrack as I type this...
I couldn't help but stare at the screen and desperately want to explore the kingdom of Agrabah. Luckily, we know where it's filmed, and even luckier, I work for an adventure travel company that happens to run a trip there!
TREKKING JORDAN
This land of magic and sand...
It's easy to see how Jordan inspired the Aladdin filmmakers; the lunar landscape could inspire anyone to want to give it all up and lead the life of a nomad. Our trek allows you to do just that, if only for a few days! We make camp under huge starry skies and explore the vast landscape by foot along ancient Bedouin paths.
It's incredible how diverse this landscape can be; from subtle hills to vast valleys, mountains to canyons, sand to weathered stone. These sights have inspired more than just Disney, films such as The Martian, Prometheus and Rogue One: A Star Wars Story are all filmed amongst this breathtaking terrain.
WHAT IS A WADI?
You'll see us use the word a lot in our itinerary so I wanted to give you a quick definition: A wadi is the name given to a dry riverbed or water course and these help carve the incredible landscape we're trekking through. As you can imagine, if a riverbed is dry, it means the atmosphere is hot! It's tough work, of course it is, this isn't a Disney movie and you don't have a magic carpet but the views are outstanding and act as the daily reward for your efforts.
The trails we take allow us to walk in the footsteps of saints, prophets and pilgrims who have been wending their way to the ancient wonder of Petra for centuries. The mystical accounts of the journey to Petra from people I know, and everyone online, give me a bit of a buzz and a huge craving to get on the next flight out there.
Trekking to PETRA
Really, it needs no introduction, Petra is the jewel in the crown of our trek, and sits majestically atop the bucket lists of many adventurers. An ancient city hidden like treasure in the sands of Southern Jordan. Built in the 3rd century BC by the Nabataeans, it really puts the meaning behind ancient history. You're welcomed to this city by the Bedouin who still call it home.
In 2007, the site was voted to become one of the 'New Seven Wonders of The World' and it's not hard to see why! Petra has a magnetism that has drawn people in for years.
Now I've conjured up an image of a magical, faraway kingdom that will capture your heart at first glance (I mean Jordan, not Disney's Agrabah), I wanted to get Discover Adventure's very own Hannah to tell us all about her experiences on the challenge.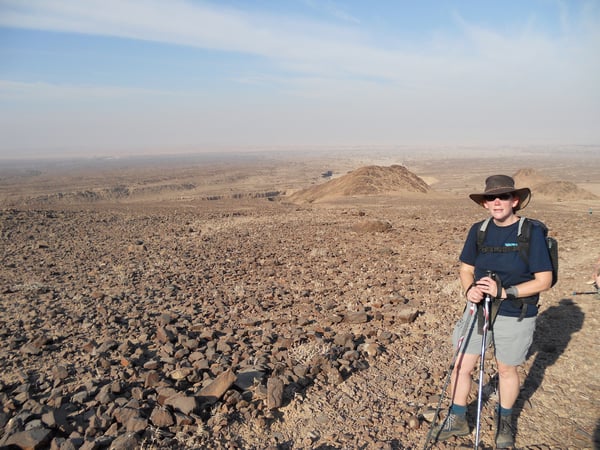 "I've wanted to visit Petra for years, so was really excited when I had the opportunity to trek there. I was not prepared for how jaw-droppingly beautiful the rest of the countryside would be. The dry, rocky landscapes are vast, with more variety than you would ever imagine, from sandy desert floor and rocky wadis to the rocky mountain slopes and towering red cliffs of Jordan's Rift Escarpment. There are huge boulders that glow orange in the sunset, cliffs with spooky skull-like eroded holes, and canyons of smooth rock sculpted by wind and water – every day is different, and it's easily as impressive as the well-known National Parks in America's Southwest. But you'll have the trail almost to yourself, which is something else I really loved. Somehow these landscapes seem even more humbling when you can take a quiet moment and soak it all up!"
If you've seen the new Aladdin film you'll be eagerly nodding away wondering if you can find your own magic lamp in those stunning canyons...
"Culturally, Petra is the star attraction, but there's so much more than that. Little Petra is almost as impressive, and with a fraction of the visitors. And almost every day on the trek we pass ancient sites that are testament to the ingenuity of the ancient people – places of worship, irrigation systems, wine cellars that are thousands of years old. There aren't many settlements along the way, which gives us the benefit of very clear night skies – I think the constellations were even clearer than in the Sahara. We passed a few nomad camps, with goats and the occasional camel, but in towns and villages the local people were some of the friendliest I've met anywhere, and immensely proud of their history and beautiful country. And the food is amazing – another bonus of trekking is that you can eat loads without worrying!"
Being honest with you, I was totally convinced on Hannah's pictures and description alone, way before the glitz and glamour of a Disney blockbuster. Petra is up there on my "Next to Trek" list as I feel totally excited by the thought of those views, the culture and the food (of course, you read my China blog!)
Fancy heading to the land where the caravan camels roam? (Yes, this is a lyric from the film!) Join us this year.