With the devastating news of the recent Sri Lankan bombings, tourism in Sri Lanka has taken a massive hit. Along with the recent Sri Lanka Love campaign and FCO's announcement welcoming people to travel to Sri Lanka once more, our passion to support this incredible country, and the amazing and welcoming local communities within it, has grown even more.
Travelling to Sri Lanka
Hannah, DA veteran and lifelong-adventurer, was due to fly to Sri Lanka the same day as the horrific attack took place. Undeterred, she along with her sister, Sarah, flew out and completed a recce of our Trek Sri Lanka adventure. On her return, we caught up with Hannah to hear about her experience of this recently-impacted country.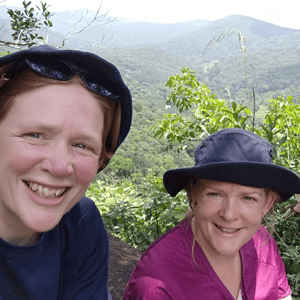 Hannah and her sister, Sarah at the start of their trek
The Sri Lankan Experience
Hello Hannah, you and your sister recently returned from exploring Sri Lanka with Discover Adventure. How did you both find the whole experience?
"The journey was hot, humid and hilly, but totally worth it. We started off with a visit to Lion Rock at Sigiriya – one of the island's many UNESCO World Heritage Sites, and a real highlight – it's also a great warm-up with 1200 steps!
The rest of the trek is in the Central Highlands, where trekking is still in its infancy. Some paths we follow are really only known to the local villagers. It's really varied – steep rocky bits, stone steps, grassy trails – not much flat, though. You can go from walking through rice paddies to pine forest, wild tropical forest and then tea plantations – all in a few hours. Throw in a troop of grey langurs chattering in the trees above you, eagles and colourful tropical birds flying overhead, some stunning waterfalls, and people working in the fields, and you have a trek which constantly wows."
It sounds like something out of a storybook! Crossing a lush variety of terrain keeps things captivating too. It sure makes for a beautiful adventure.

Arriving the day after the unfortunate attack took place, how did you find the atmosphere?
"I knew that where we were going was really remote and miles from the cities – imagine being up in the Scottish Highlands and an incident occurring in London or Manchester, and you get the picture. The Sri Lankan people have a reputation for being friendly and welcoming, and this was absolutely the case. Different cultures and faiths exist side-by-side, and there was a strong sense of unity. White flags (a symbol of mourning) were hung in most communities we passed through, and everyone we spoke to – from hotel manager to local shopkeeper – told us how shocked they were, and how they want tourists to know they are very much welcome.
We started our trek with a blessing for good fortune from a Buddhist monk, which is a small, standard ceremony – but it had a poignancy I hadn't anticipated. Despite that, the attacks didn't define our trip – the biggest challenges we faced were the hills and the heat – and the leeches, which are ever-present after rain!
Now I'm back home, my thoughts are with all the hard-working people we met whose livelihoods will be drastically affected if tourists don't continue to travel to Sri Lanka."
The impact of the devastating attack has been colossal, from the loss of many lives to the way in which it has affected the economy and as a result, hundreds of people's livelihoods. That's why we are doing what we can to support Sri Lanka in their time of need, especially as the Government have now lifted their advice not to travel to this country. A beautiful landscape to explore, it would be a massive shame to not set foot through Sri Lanka and meet the amazing communities that live there.

Trek Sri Lanka: The Low Down
You were able to explore remote and breath-taking trails during your recce, what did you find most striking about this country?
"There is such an enormous variety within a pretty small area! I think it has everything – beautiful, really varied scenery, a rich culture and history, incredibly friendly, polite people, and brilliant wildlife-spotting opportunities, which was an added bonus I wasn't expecting. I was also impressed at how environmentally-friendly it seemed – lots of National Parks, and tiny villages in the hills that get a better recycling service than we do here at home!"
It really does have it all. However, it can't all be plain-sailing - this is a challenge after all. What aspects of Sri Lanka did you struggle with?
"The most challenging aspect of the trek for me was the leeches – they really seemed to like me! But as in all good recces, testing it out in advance means the rest of you get to benefit from my experience – we'll be providing leech-proof socks once you're in-country. Tried and tested!"
Brilliant - thanks for taking one for the team, Hannah! We can't wait to have our leech-proof socks at the ready. Did you find the trekking tough?
"Yes, at times. We both have jobs and families and very little spare time to train, and can't pretend to be young any more. It was challenging and we found the trekking hard, but we had a good laugh and groan together over our aching muscles every morning, and it was always achievable. Neither of us expected it to be so beautiful, or to see so much, or to be so well looked-after."
Sri Lankan Food & Accommodation
What you're fuelled with on the challenge is massively critical to your enjoyment and performance on the trek. As well as avoiding any hanger-moods! What was the Sri Lankan food like?
"Really tasty, home-cooked, locally-grown – there are barely any food miles on these meals! Lunches and dinners are local in style, so expect rice and a selection of (usually!) lightly-spiced curried meat and veg dishes, lots of dhal, and delicious warm roti. Most lunches are hot, which actually helps with the humidity. Breakfasts invariably start with fresh tropical fruit, then there's usually eggs or toast, sometimes a more traditional breakfast of string hoppers. With one of the most spectacular breakfast views I've ever had! One of the best desserts I had was baked pineapple – delicious. And there's always plenty of locally-grown tea!"

You've got our mouths watering. And that breakfast view is certainly Instagrammable. How did you find the accommodation after a day of trekking in the humidity and lush wilderness?
"One of the highlights! We originally set this up as a camping trip, but smaller groups (including this Autumn's trip) – can stay in old colonial-style bungalows up in the hills, which are a wonderful little comfort hit at the end of the day, and incredibly friendly."
Every element of your experience sounds phenomenal, and ticks all the boxes for a DA challenge. What would you say makes this country a must for an adventure?
"We were lucky enough to have time to check out a new cycling route too, so saw a lot of central and southern Sri Lanka. Both trekking and cycling offers the perfect blend of challenging terrain and diverse landscapes, ancient cultural sights, National Parks with plenty of opportunities to see wildlife (ride your bike alongside wild elephants – how much more adventurous can you get?!) – but in a culture that really knows how to look after you! Comfy, spectacularly-situated accommodation, wonderful food and views that never fail to motivate! You're never far from the culture either – even on the remotest day, you turn a corner to find a small shrine dedicated to Buddha or Ganesha, or find a tuk-tuk weaving its improbable way towards you over the bumpiest track! I can't wait to go back."
Thanks for sharing your Sri Lanka experience, Hannah! Now, who's feeling inspired?
There's still time to book your place on our Trek Sri Lanka adventure, visiting this incredible country will not only set you on an unforgettable adventure - it will be supporting the local communities who depend on tourism as a source of income and help this recently-impacted country recover from such a devastating event.