---
Our long time challengers and committed fundraisers are invited to join the DA Club. It is hugely inspiring and impressive to complete one challenge, let alone more than five and we are proud and privileged to know some very inspiring people, so we have asked Martyn, one of our members to tell us exactly what it's like and how he chose what adventures to take on.
---
Martyn, thanks for giving us a bit of your time (between training for your next challenge)!
You completed your first challenge in 2011, what sparked that decision?
"I was going through a tough time with work due to the recession, and there were a couple of personal issues that were getting me down. This caused my confidence to plummet and made realise that I wasn't living life the way I wanted.
It was at this point that I decided to do something that would really put me out of my comfort zone. I have always loved travelling but had never done it on my own. I also love being outdoors and enjoy walking - so I knew whatever I chose to do should encompass all of those things. I ended up chatting to a friend at work who had recently climbed Kilimanjaro- he'd done it with Discover Adventure. Hearing him talk about his experience made up my mind, that was it - decision made!
The next thing I knew I was booked up."
How do you decide what challenges to pick?
"I did the Great Wall of China trek for my Dad. I remember him saying that he would love to see the Great Wall but he has problems with his knee and my Mum is not keen on flying, so this was my way of enabling him to experience it.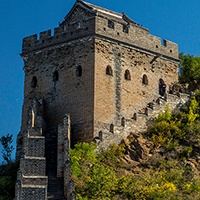 All my other treks I chose by thinking about what type of environment I want to experience and by how much I want to push myself; from jungles to testing myself in the mountains at altitude, to trekking across the Rift Valley by an active volcano!
...And also, depending on whether I fancy a relaxing beach stay after the trek might sway me to which trek I pick!"
Which has been your favourite adventure challenge and why?
"I get asked that question all the time and it's a really hard one to answer! Every trek I've done has been an amazing experience and I would do every one again in a heart beat given the chance! Each one has been completely different - scenery, sounds, people, food, wildlife and difficulty, but all have been equally rewarding.
But, if I had to pick one, I would have to say the Everest Base Camp trek. Standing near Base Camp, surrounded by 8000 m peaks with the mighty Mount Everest right in front of me just blew me away."
And the toughest?
"Also Everest Base Camp! This is the toughest by a long way, but it was also the most rewarding for that very reason. The altitude made it hard at times and most days seem to end with an afternoon of pure uphill, where at altitude you need to rest after every few steps. It's also a pretty long trek (19 days) and that's a long time when you're not eating the same as you would at home.
Our trek leader, Ben Keen, was talking about how Base Camp is type two fun - and he's right. Type one fun is where you get that instant good feeling of achievement and enjoyment whereas type two is where at the time it's tough and probably not that fun but afterwards, once the pain has gone, you get the elation having completed it, and from what you've learnt about yourself in the process.
I wouldn't have changed a thing about the trek, the good and the hard times."
How do you keep yourself motivated when training / the challenge itself gets tough?
"If the sun is out that is all the motivation I need to train! But if its overcast and raining it is a lot tougher to get out there. What I do to keep it interesting, is to find new routes - mixing exploring with training is fun! Repeating the same route can get tedious and you can find it harder to push yourself.
When on a challenge there will always be tough days but that is what makes it all the more rewarding. It could be altitude, food, lack of sleep or simply RAIN ALL DAY that makes a challenge particularly tough. To get through it I'll often put in my earphones and tune in to my music, and just take 15 mins to myself to re-focus. If not, you'll find you'll be chatting away with your fellow trekkers and before you know it you've forgotten that you weren't feeling great or that the weather is bad!
Most of the time its the scenery that keeps me going , wondering what view awaits us around the next corner or wondering what wildlife we might be lucky enough to spot."
How do you find the time to train?
"I do a lot of walking anyway and every weekend I'll go on at least on 15 mile walk - armed with my camera obviously. When I've got a challenge on the horizon I'll try and do a couple of short 5 mile walks in the week after work."
What are your top three pieces of advice for budding challenge trekkers?
1) "Train as much as you are able. There is no doubt that the more you train the easier you will find the trekking and the more you'll enjoy the experience."
2) "Be like a sponge and soak it all in. Every time you stop for a little rest lift your head up and do a full 360 degree turn and take in those amazing views, talk to your guides and porters. They love sharing their experiences and the knowledge they have about the mountains and wildlife will blow your mind."
3) "Being a photographer I would also have to say take the best camera you have (and plenty of batteries). Even if it is a heavy DSLR it will be worth the weight. When you arrive back at home and have some amazing pictures to remind you of the trip and to share with your friends and family. And don't forget to take a few selfie's! It is something I regret not doing much of on my treks and when I get home I realise how few pictures I have with me in!"
What is the one thing you'd never leave for a trip without?
"My camera! You never know when you might come across an unusual, unique or purely awesome photo opportunity. For example, in Peru walking towards the toilets I spotted some stunning hummingbirds and after the evening meal I walked out side the mess tent and took a shot of the stunning milky way. On my Everest Base Camp trek a lady took a photo of the toilet because it was bright pink! You just never know."
So what's next on your list and why?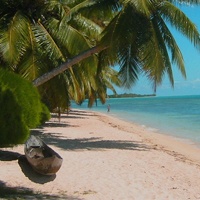 "I've not 100% decided but it's between three...
Possibly the Madagascar trek with the extension on Sainte Marie Island. It looks like an amazing trek and not too tough (its Grade 3) or at altitude.
My second option is the Ladakh and Stok Kangri trek - at 6153m it would be a tough challenge to test me but it's not technical so ideal for my first Himalayan summit.
And thirdly, I'm considering Kilimanjaro. It's not been top of my list because I prefer some of the less well known challenges (hence Stok Kangri) but I've seen some amazing pictures taken on Kili above the clouds and that is something I'd love to see.
I'm not sure what I'll go for but I'm sure DA will help me make my mind up!"
And lastly, the big question, what keeps you coming back for more?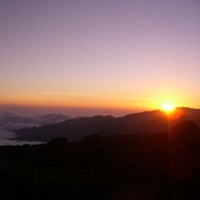 "Towards then end of a trek I always say 'right, this is the last one for a couple of years,' but the second I get home I'm looking at treks again! So the simple answer is, I have a love and passion for the outdoors and for nature. The treks are very addictive and if you have the chance, I really recommend you just go for it. If I had the money I'd do half a dozen a year!"
---

If Martyn's inspired you, take a look at what we've got lined up for our challenges of the month.
---