The Discover Adventure Northern Lights Winter Trek departed for the first time this month, and oh boy, it didn't disappoint! With incredible icy landscapes to trek across, accompanied by gutsy and determined participants and super-knowledgeable guides as well as some great views of the Northern Lights- this trip certainly overcame expectation.
You may well have seen the Instagram takeover #NorthernKnightsWinterTrek with Sarah Knight, a trusty member of the DA team! We caught up with Sarah who came along for the adventure to get a glimpse of the action and some insider knowledge of this starry trekking challenge...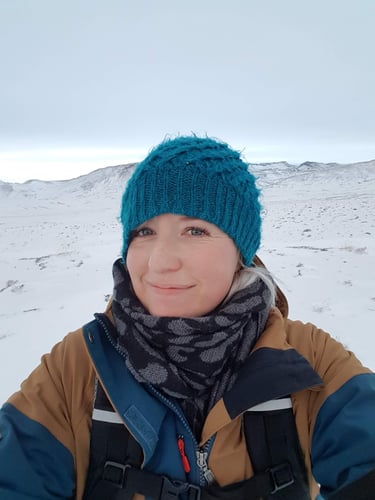 Welcome back from your chilly adventure, Sarah, the polar opposite to your Saharan trek from last year! How did the first ever DA Northern Lights Winter Trek, or shall we say, Northern Knight's Winter Trek... compare to other trekking challenges you've set foot on?
"I've described this trip in the past as the cold version of the Saharan Mini Adventure, but really, it's very different. The accommodation is a lot more luxurious, the hot showers at the end of the day are very much appreciated! Yet the terrain is a lot more varied and difficult, with much more concentration required. The views for both are incredible. One thing I found astonishing on both trips is that every day, the scenery would be different, but still awe-inspiring."
Your pictures really show off just how beautiful the views are, it's definitely got us yearning for an Icelandic escape.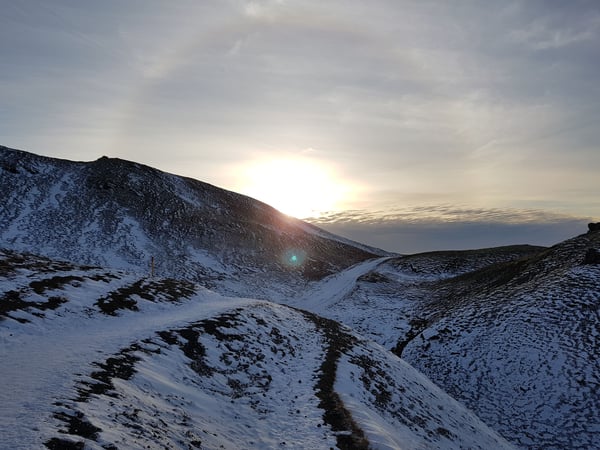 "On our first day, we trekked around a lake and just beyond this, in the distance, we could see many different types of volcano. And beyond those, is the only place in the world where you can actually see where two tectonic plates meet. There are small earthquakes in the country every day – the town of Hveragerði has reportedly moved 5 cm after a recent quake!"
Wow, it's a moving place in more ways than one! But such a diverse landscape, with a fascinating geological range.
Trekking in chilly climates
Obviously you knew it was going to be a real winter wonderland, but was it as cold as you expected?
"The cold was the thing I was most worried about to be honest. As someone who is famed in the office for wearing two scarves at her desk and still being cold, I was worried that the cold would hinder my enjoyment. However, I layered up, and it was absolutely fine. I also made sure to carry an extra layer in my day-sack just in case."
And stylishly too! We recommend layering up rather than simply relying on a thick coat as your body temperature can fluctuate as you trek some serious miles on uneven and often mountainous terrain. Layers can be easily removed and added and make for a slightly more comfortable experience!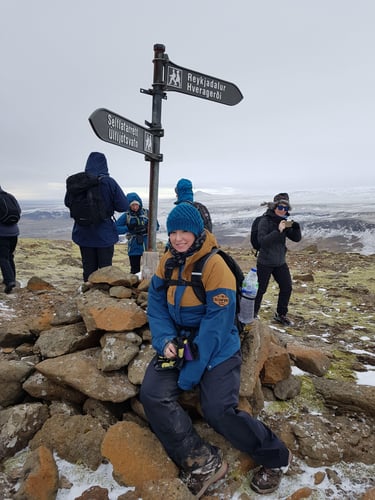 What would you say is the most challenging thing about this experience?
"For me, the most challenging thing was the terrain. As it can be fairly unstable, you have to concentrate on where you're putting your feet at times. It's very varied so we could be walking through slightly snowy meadows at a decent pace, and then come to some quite thick snow. We trekked around 16 km each day, though it feels further. We are going up and down – trekking up alongside stunning waterfalls and streams, through the mountains, and past hot springs and geothermal pools."
An intense but breath-taking trek, it's the variety of landscape that really keeps you going as there is always something new to captivate you- especially during the tougher times.
Trekking over Icelandic landscapes
Pictures paint a thousand words, but we want to hear your take on the landscape and views on this challenge!
"The landscape is incredible. I love the way it's so varied – there are snowy mountains, fields, waterfalls, bubbling springs, and of course, the hot springs with steam pouring out, and the bubbling mud pools! The smell of sulphur gives you the heads up that you'll be coming across a hot pool soon.
I think one of my favourite moments, apart from seeing the Northern Lights, was bathing in the hot river. It was utterly bizarre being in a bikini, in a river that felt like a warm bath, with my bobble hat on and looking out at snowy mountains and landscapes. The point where we then had to get out, get dried and then put on all our layers again was not so much fun!! It's the fastest I've ever got dressed!"
We bet! What a totally awesome experience.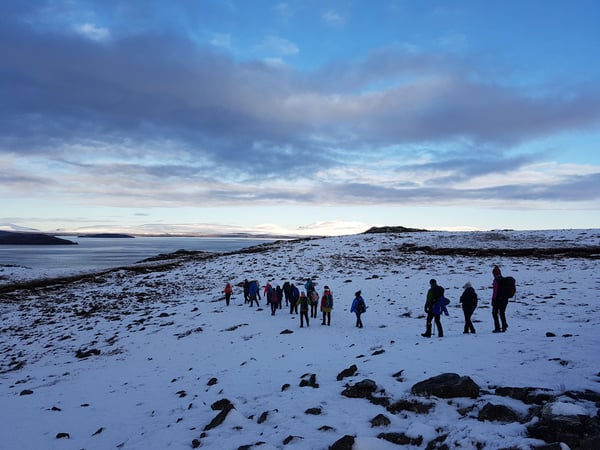 We're sure you looked forward to a warm dinner! On that topic, what was the food like?
"The evening meals in the scout hut were cooked by Beata, a bonkers polish lady. The Icelandic people are super friendly and welcoming, and they made us "one pot" type meals – the meatballs went down a treat on the second night! Really good hearty food to replenish you after a day's walking. Also big bowls of custard creams and bourbons! There was a small kettle so we could have cups of tea – the owner of the scout hut went out and bought a huge hot water urn on our second day as we were drinking so much tea! The celebration meal in Reykjavik was amazing. The restaurant was opened especially for us, and we had a 3-course meal – proper fancy!"
It sounds incredible, you had a bit of time to explore before heading home too?
"Yes, we wandered around Reykjavik on our free day which was great. We went to a church that was only built in 1986, it was very stark and modern compared to the typical English church! In another contrast, there's also a penis museum…we decided not to visit that! I loved the way you could look down the street and past all the shops you could see the mountains – great juxtaposition of natural and man-made beauty."
Sounds like the perfect finish to your Icelandic escape. So tell us, what makes this trip a real adventure?
"Iceland has a reputation as a very expensive country, and although this is true, a trip like this is a perfect way to see the country but also keep a limit on your spending as nearly everything is included. It's a country that's been on my bucket list for ages, and seeing the Northern Lights is something that most people only dream of seeing, so I am very thankful to be lucky enough to tick these things off my bucket list. It's also really nice to meet the participants that I've been chatting to over the last few months, and to hear their stories as to why they are taking on such a challenge. Seeing them overcome challenges and being so proud of their achievements makes me realise why I love my job so much!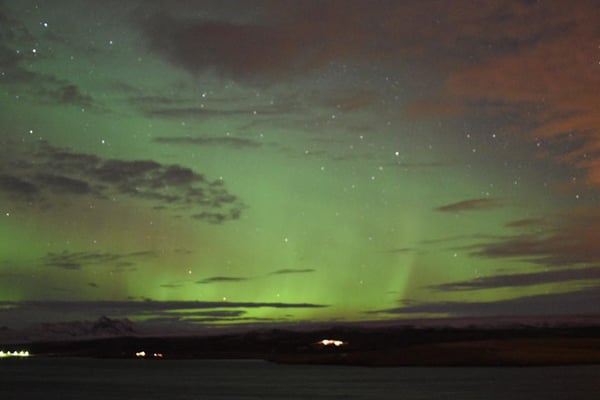 I would definitely recommend this trip to anyone who wants to see the natural beauty that Iceland has to offer. Every day I would take time to stop, look around and drink it all in. I have so many photos that don't really show the scale of the mountains and the sheer beauty. I feel like I've only explored a small part of the country and I can't wait to go back and see more!"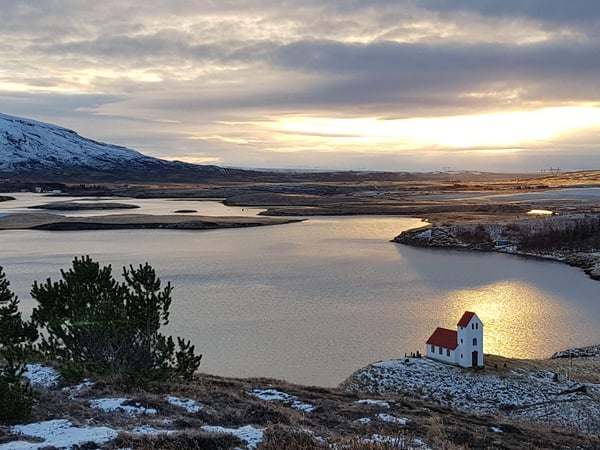 Wow - and last but not least, Sarah, give us your top items to pack on this starry Icelandic adventure?
Sarah's top 5 items to pack on a Northern Lights Winter Trek
Walking poles – you may only want to use one, so if you're travelling with a friend, you can share a set. As well as easing pressure on the knees, it's a great way of adding extra stability on those icy bits!

Flask

– we don't tend to stop for long as it's so cold, but having a swig of hot drink is great to warm your insides up!
Tripod – if you are lucky enough to see the Northern Lights, you want to make sure you get the best photos possible. I'd recommend doing your research and familiarising yourself with the manual settings on your camera, so you can change the exposure and shutter speed – a tripod is essential to keep the camera steady so your photos aren't blurred.
Pack of cards or travel games – it gets dark fairly early and so nights can be long. If the weather isn't on your side and you can't go Northern Lights spotting, a pack of cards or similar is a great way to while away the evening.
Waterproofs! – Both boots, and trousers. You'll be hopping across streams and walking on the boggy ground, and if you're anything like me, you will end up on your bum in the snow more than once! There's nothing worse than having to spend the whole day with cold, wet feet, so make sure your gear is suitable for the conditions!
Brilliant, thanks, Sarah! We've loved hearing about your epic adventure. Now, pass us the thermals and walking boots, we're itching to see the Northern Lights for ourselves!
See the Northern Lights & trek Iceland
Our next Northern Lights adventure is happening in March 2019 - are you up for the challenge?