Vic is one of our most charismatic leaders! Having lead many of our overseas trek challenges you'll find that there's nothing he doesn't know about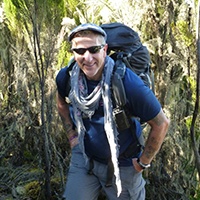 climbing Kilimanjaro or trekking to Base Camp. There's a good chance that he'll be guiding your next Challenge so with that in mind, we wanted to know a little bit more about what he thinks of our DA Challenge portfolio, so we found out...
His all time favourite DA Challenge (because that's a recommendation in itself!)
The passport stamp he'd most like to have (would you agree?)

His top tip for adventure challenges (a bit of leader wisdom never goes amiss!)

And something we might not know...


---
All-time favourite DA Challenge?
My all time favourite DA challenge is the Everest Base Camp trip in Nepal; I absolutely love this trip due to the kind caring nature of the people who live there. Around every corner you find centuries old footpaths that twist and turn through the Khumbu Valley which stretch from Lukla all the way to Base Camp. En route you share the valley with amazing sites such as ancient Monasteries, cultivated fields, grazing yaks and tiny villages. All this sits beneath the world's tallest and my favourite mountain; Everest.


Which challenge from Africa would you recommend and why?
Climbing Kilimanjaro is like walking from the equator to the North Pole in a week - so I'd have to pick that! It's a snow covered mountain right on the equator, where, by the time you reach the summit at Uhuru Peak, you know you have been on an incredible journey. The sense of achievement is overwhelming - once at the top, you are standing on the roof of Africa and you can't help but start to see the world in a different light and what once seemed impossible back at home, now appears achievable; for many is a truly life changing achievement.


Passport stamp you are most proud of?
I am proud of all of my passport stamps, having been to many exciting countries around the world, all have unique and personal triumphs behind them. I have met many wonderful people from all walks of life, all who who've taken up a challenge of a lifetime.


Passport stamp you most want to have?
Ethiopia and the Simien Mountains is a trip definitely on my wish list - a chain of mountains that stretch across Northern Ethiopia, peaking at 4620 metres. Complete with rugged and remote regions of rocky plateaus separated by deep gorges, valleys and towering peaks, these beautiful mountains are definitely calling me.


Top tip for trekking or cycling in Africa?
A good nights sleep is a must for any trip! I take an extra fleece liner for my sleeping bag; it gives my bed a comfortable soft feeling adding that little bit of luxury. I even made myself a home-made fleecy pillow case to match, which I fill at night with my down jacket. This tip guarantees you a good night's sleep and sweet dreams.


You might not know but...
I love leading the more extreme challenges, because you see people working outside their comfort zones and I enjoy the personal challenge of creating a supportive and caring environment in which everyone can succeed. The things that often feel the scariest to you are often the ones that will bring you your greatest rewards. I love my job and I can't wait to support you through our next adventure!

---
Want to know more about our extreme trekking challenges?