Have you been following the #JessTakesOnChina takeover on Instagram?
Jess, our very own marketing manager here at DA, embarked on her first overseas trekking experience with Discover Adventure and we just HAD to hear about her awesome experience of the Great Wall of China!

Welcome back, Jess!
You've just returned from an epic Great Wall of China trek, now that you've had a moment to catch your breath and reflect, how are you feeling?
'Apart from a little jet lagged, I feel great! I surprised myself last week at how much I enjoyed it. Don't get me wrong, I love being outside and being active, but I was a bit worried that I wouldn't be able to keep up with the group and that I'd find the long days of walking super tough – I did, but I still did it, and I'm pretty chuffed with myself!'
You did a great job. We were very impressed with your endless enthusiasm and energy - especially as the trekking got tougher and longer.
Experiencing the challenge
Walking such an iconic part of the world is going to leave you with a heap of unforgettable memories. Tell us about your favourite moments of the trip!
'I was quite cheeky and asked Tim, our DA Leader, whether or not we'd get the opportunity to see sunset or sunrise. I have a real thing for the sky! As a result, we managed to fit sunset in on the day that we were at one of the best sunset viewing points on the Great Wall. It was totally amazing as the wall turned completely red. It was a pretty emotional moment for everyone, and we're all still talking about it. I will never forget it. The pictures are amazing but do not do how incredible it was justice.'
Sounds like a really poignant moment. It's often the moments where you stop and take in your surroundings on these challenges that you treasure the most.
'Day 7 was one of the most physical days, yet one of my favourite! We were up and down steps and steep inclines all morning which was tough, but the views were breathtaking. Alan, our leader, described it perfectly as a dragon's back snaking across the landscape. Everyone struggled with different parts of the day, from clambering up and down massive steps to the almost vertical-feeling inclines and the fear of sliding back down. We all cheered each other on all day and worked with each other to overcome those wobbly moments. And I LOVED IT!'
It's the real beauty of our challenges, bringing strangers together and coming away great friends after supporting each other through the tough moments throughout the experience.
What struggles did you face during your trek?
'Mainly the first half an hour of each day where I questioned what I had agreed to and realised how much of a challenge this trip is. This is simply because most mornings were cold and started with a VERY steep uphill climb back onto the wall and when you're a bit tired, not quite awake and a little stiff from the day before this is painful and hard work!'
Ouch! Sounds intense. We bet you looked forward to the massage at the end of the trek!
'One morning the steep climb began, and some of the steps were almost as tall as me, so it was more a case of scrambling up the bigger steps on my hands and knees. In those moments we all had to pull together, take it slow and motivate each other.'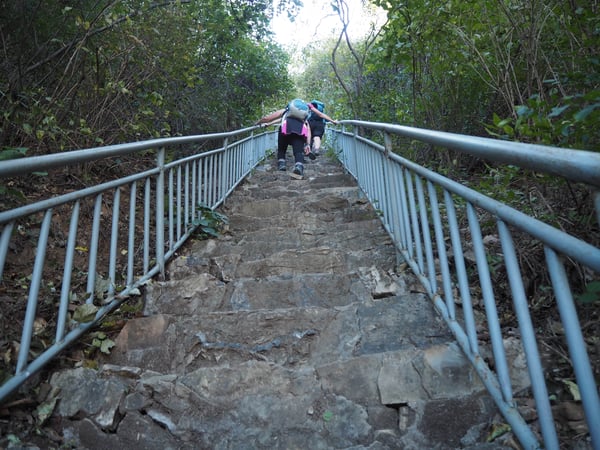 That's great that you were a support network for each other. Trekking the Great Wall is pretty epic and at times a little challenging, what did you find most inspiring about your experience to keep you putting one foot in front of the other when the going got tough?
'It wasn't easy, I have to say that! There were moments when my legs were screaming and my feet hurt from climbing up, up and up the really steep, uneven steps and for long days. But I knew that around each corner and at the top of each steep bit was another incredible view! Also, we had a great group of people all of whom had an extra mental or physical challenge on certain days, which they overcame with determination and that just made me want to keep going and remain smiling. Their stories as to why they were there, for charity or a personal challenge, totally inspired me and kept me going through the week.'
It is such a great motivation hearing the reasons why people push themselves out of their comfort zones and conquer a trekking challenge as incredible as this one.

Preparing for the Great Wall of China
As this was your first mega trekking experience, did you have any concerns before you set off?
'Being someone who sits behind a desk all day and not having a hugely adventurous history of trekking; I'm gently teased for being a bit girly and wanting to do adventure fashionably. I have been affectionately given the nickname 'Adventure Jess' so that I have an alter ego for these instances. I didn't want to let anyone down at DA HQ or the rest of the group I was with.'
Well, you certainly proved to yourself you are more than capable of conquering a trekking challenge. We love Adventure Jess!
Were you given any advice before you ventured out to China that came in handy?
'I was told that it would be really cold in the evenings and in the mornings, so I packed layers. This made a real difference as it meant that I could wear as many as I needed to stay at a comfortable temperature. I was also told by Heidi, a DA leader, that I should pack a small Tupperware container for my packed lunch each day. I'm really pleased I did this as it meant I didn't have any soggy or squashed sandwiches come lunchtime.'
Handy insight for those thinking about signing up!
When it came to getting yourself fighting fit and ready to trek, how did you prepare yourself and train for such a challenge?
'Luckily, I'm fairly active anyway, but the important thing for me was being able to cope with the up and down on the steps. I jumped on the step machine in the gym every week for at least 30 minutes to strengthen my legs. I got out walking a little bit more when I could, at lunchtimes and weekends, and I did a couple of long days out walking. They always ended up in a tearoom or pub, but I wanted to get used to being outside all day.'
It's only right you reward your hard work with a slice of cake or pint!
'Not only did I want to get used to the walking, but I also wanted to make sure that my boots were properly tested and broken in before I left, so I knew what worked for me, in terms of socks, to the way I laced them. I didn't suffer from blisters at all, and that's down to decent socks and my well broken in boots! Cheddar Gorge is an excellent place to train for China, and it's beautiful too!'
Noted! We've added Cheddar Gorge to the trekking-to-do list!
Exploring China
So, set the scene for us – what were your surroundings like?
'Beautiful. That's all I can say. I have dreamt about some of those views for the past couple of nights. There was a lot of time where it was just us on the wall, and we got the chance to take in and appreciate our surroundings fully. Mountains for miles, with the wall snaking off over them into the horizon. The pictures do not do it justice!'
It's definitely got us itching to see the Great Wall for ourselves!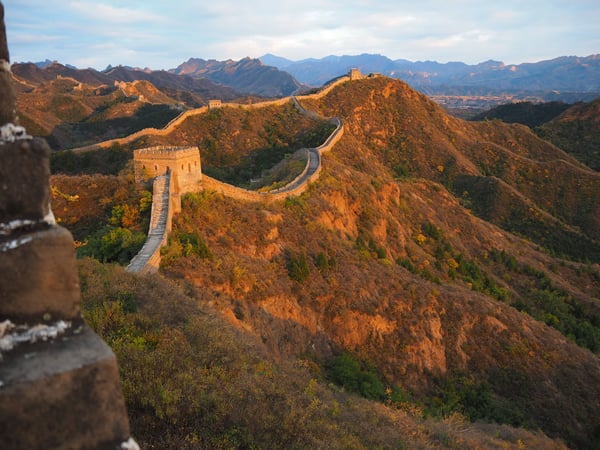 What was your favourite thing about the culture of China?
'THE FOOD! It was amazing. Imagine your best Chinese takeaway but without all the stodgy gluten and awful additives that make you feel rubbish after you've eaten it and times it by 100! You've got how amazing the food was. I don't think I'll ever be able to eat Chinese in the UK again.'
Did you learn anything out there?
'I learnt how to say Nǐ hǎo (hello) and Xièxiè (thank you), and I learnt a lot about China, and it's culture, as well as the wall, from our incredible local guide Alan. He was so honest with us about China, the Government, the people, his upbringing. We were so lucky to have him with us to explain things and educate us.'
It's so great to hear from a knowledgeable local guide about their country to get a real authentic insight into the beautiful place you are exploring.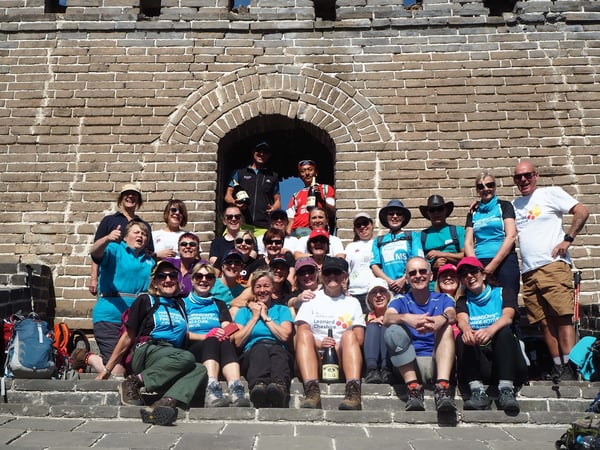 Reflecting on China
Time to reflect on your whirlwind adventure! Being thrown together with a bunch of strangers on day 1 and embarking on this challenge with them, how did the DA leaders and your fellow trekkers make this experience?
'It was a great group of inspirational but most importantly like-minded individuals. Within hours, we were laughing and bantering like old friends! It was honestly one of the best feelings approaching a lunch stop or break in the day to hear an absolute hubbub of noise and laughter. It literally never stopped from the minute they woke up to the minute they went to sleep.'
Sounds pretty incredible. Participants often remain friends for life with the strangers they meet on their adventures with us.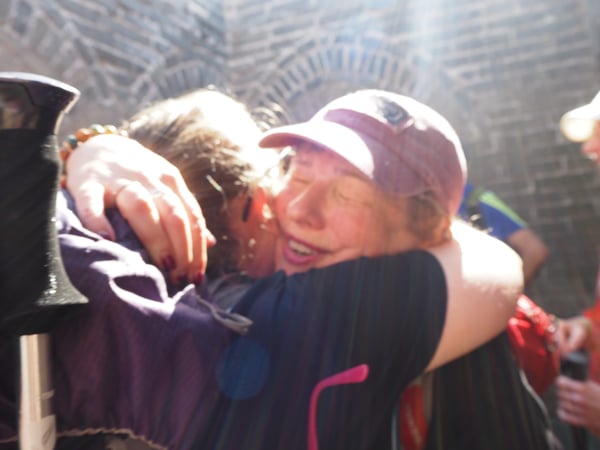 What have you taken away from your experience?
'I've been somewhere that I never thought I would go and it was more stunning than I could ever imagine! I also got to immerse myself in the experience of our amazing participants and remind myself how incredible and life-changing these challenges are for people.
I also realised that I can 'do it', whatever IT is!'
We love your positive attitude! It's common for people to be surprised at just how much they can achieve when they set themselves the challenge.
Any top tips for someone thinking of signing up the Great Wall of China challenge?
'DO IT – I'm going to say that, it's my job to! I would say that it is a great starting point for adventure or travel. Make sure you break your boots in and practice walking with all your kit once you do sign up. Read everything we have written about the challenge over the years to really get an insight. And give us a call, lots of people in the office have done the trip, and I can say personally that I would be thrilled to answer any questions or concerns you might have honestly and very passionately.'
We can tell this experience has left a lasting impression on you, so thanks for sharing your adventure with us, Jess. What do you have your sights set on next?
'Honestly, the world is my oyster! I've always loved to travel, and this has reminded me just how much I love it. This was slightly different to a lot of travel I have done – it was so much more authentic and challenging but brilliant! So, I will happily go wherever the wind blows me, or DA sends me next! For now, those long winter walks along the beach or in the forest, finishing at a pub, beckon!'
Something we can definitely get on board with, see you there!
And that's a wrap. If you've LOVED keeping up to date with Jess' adventure, let us know or even better, experience the challenge for yourself.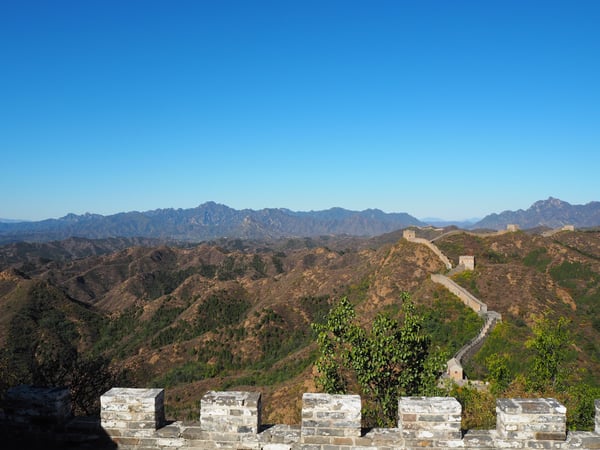 Inspired to take on the Great Wall of China trek?
Get your adventure booked in for next year and sign up to our Great Wall of China trekking challenge! We're sure you won't regret it.