We have gathered some of our towering challenges to see whether you can guess which reach the highest. No peeking!

Many of our challenges take you up staggering heights, incorporating demanding routes with really quite breath-taking views. Don't forget to put the training in so you can tackle the steep climbs and persevere through your trekking or cycling challenge. Whether it's pedalling to the top of the Stelvio pass or reaching the summit of an iconic mountain, challenges that come with a peak make for tough yet rewarding experiences.
Can you guess which of our challenges comes in highest?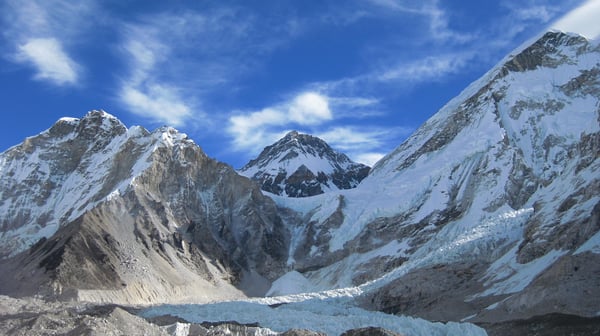 1. langtang Trek OR Mount Kilimanjaro
Located in Nepal, the trek through the breathtakingly beautiful Langtang region of the Himalayas stands at a whopping 7234m above sea level, considerably higher than Mount Kilimanjaro which comes in at 5896m. It is one of the steepest challenges we offer, which makes for a tough adventure. While Mt. Kilimanjaro is the highest freestanding mountain in the world, it is no match to the mighty Himalayan mountain range, home to ten of the fourteen 8,000 metre peaks, and of course includes the highest mountain in the world, Mount Everest.
As well as seeing Nepal on the Langtang Trek, you can also venture through the Everest region on the Everest Base Camp trek that takes you through mountainous terrain to the famous Base Camp.
2. Madagascar Trek OR Stelvio and Classic Italian Climbs Cycle
You may be surprised to discover that the summit of Pic Bobby (2658m), the highest accessible mountain peak in Madagascar, actually comes in marginally smaller than Passo Dello Stelvio (2758m), the highest pass that we tackle in Northern Italy on our Stelvio Classic cycle. The Stelvio pass is also the second highest paved pass in Europe, making it one of the most impressive roads in the Alps, but a challenge to cycle!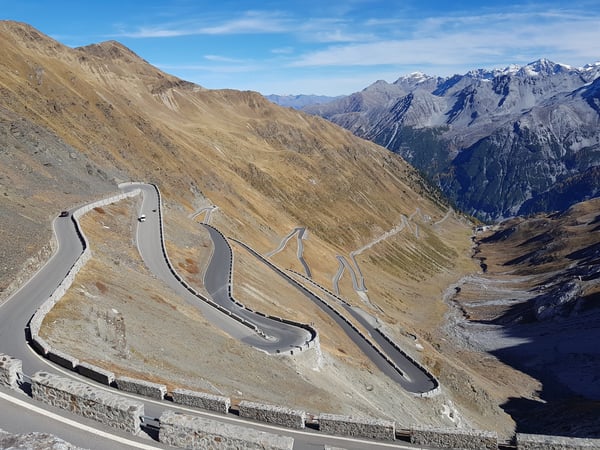 3. Grand Canyon to Las Vegas Cycle OR Croatia Mountain Trek
You may be under the impression that the seemingly flat desert planes of Arizona would be lower than the summit of Mount Učka on the Istria Peninsula. But in fact, our Grand Canyon to Las Vegas cycle is over 850m higher than the Croatia Mountain Trek coming in at 2288m, compared to 1401m.
4. Ben Nevis Weekend Trek OR Cycle Myanmar (Burma)
Although Myanmar (Burma) is known as a country of jungles and mountains, our cycle from Mandalay heads to the lowlands, meaning that it comes in lower than Ben Nevis. At 1345m, Ben Nevis is the highest point in the British Isles, and its summit is 60 meters higher than the highest point on our Burma cycle.
5. Trek the Rockies OR Trek Borneo
The Rockies are famous for magnificent scenery of jagged, snow-capped mountains so it may shock you that our Borneo Trek is in fact over 1500 meters higher than our Rockies challenge. Our Borneo trek takes on thick jungle before tackling the highest mountain in Malaysia and Borneo; Mount Kinabalu which is a mighty 4095 meters.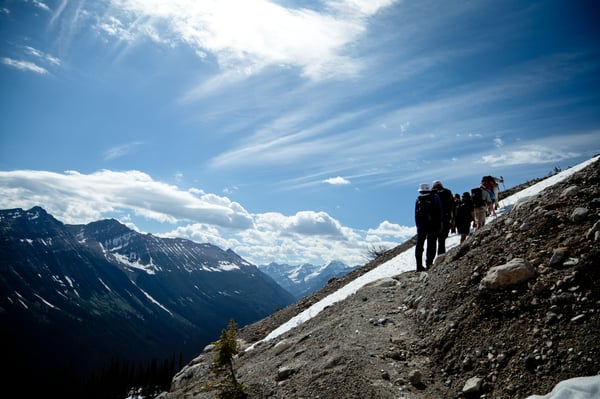 When you are contending with soaring treks that take you above sea level, your body doesn't always react well and can be susceptible to altitude sickness. We've got the lowdown on altitude sickness to help you prevent or at least minimise the negative experiences of altitude as best as possible.
ALTITUDE EXPLAINED
A) What does it mean?
Altitude sickness, also known as Acute Mountain Sickness (AMS), occurs when you travel to higher altitudes as the air pressure is lower, meaning fewer oxygen molecules are present in the air. Research has suggested that for every 1,000 feet that you ascend above sea level, a loss of around 3% of oxygen occur, with high altitude being defined at starting at 8,000 feet (or approximately 2,500 meters). The drop in oxygen level can have a negative effect on the body, as the body must find ways of compensating for the lack of oxygen. Age, sex or physical fitness have no bearing on the likelihood of a person getting AMS, and just because a person hasn't previously had AMS, it doesn't mean they won't develop it on another trip.
B) What are the effects on the body?
At higher altitudes, the body is struggling to supply the vital oxygen it needs, which leads to many common symptoms such as headaches, fatigue, irregular breathing, loss of appetite, nausea and dizziness, and difficulty staying asleep. In order to increase oxygen to the body, there is both an increase in heart and respiratory rate with increase in altitude. Respiratory rate is the number of breaths an individual takes per minute and is so the body can intake more oxygen and expel excess carbon dioxide. Heart rate increases to pump more blood and oxygen around the body.
C) What can you do to reduce the effects of altitude?
The most effective and straightforward way of combating AMS Is to acclimatise, which is the process whereby you slowly increase you elevation day by day. This allows your body to gradually adjust to the increase in altitude and the decrease in oxygen. On our high altitude treks, such as our Mt. Kilimanjaro trek, we allow for more time for gradual acclimatisation and therefore an increased chance of our participants safely reaching the summit. In addition to this, staying hydrated is of the utmost importance, as you quickly lose your appetite and thirst leading to the danger of becoming dehydrated. Using some choice medication can also aid the symptoms of altitude sickness; Ibuprofen and paracetamol used to combat headaches, while specialist anti-sickness medication can be used to treat nausea.
While altitude cannot always be avoided, we can prepare as much as possible. With our expert team of doctors, trip leaders and mountain guides ready for all situations, you're in safe and reliable hands on every single one of our challenges.
Altitude adds another challenging element to the experience that sets trips like these apart from the rest and is, in some cases, why our challenges have pride of place of many an adventurer's bucket list.
Don't forget to live the adventure! You can check out our challenges below and find one that will leave you feeling on top of the world.