Helen has worked as a Challenge Medic with DA for a number of years, having realised the opportunity to combine both her career and her love for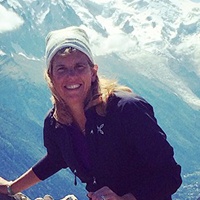 travel. She's passionate about trekking and Asia as well as helping people like you to realise their potential by completing an adventure that takes you out of your comfort zone!
Here she tells us about her favourite challenges, greatest achievement and her top tip for trekking in Asia.
---
I started with DA in 2003 after working with a different company and getting 'the bug' for combining my work with desire to travel and explore the world.
I think a quote I heard on one trip 'life begins at the end of your comfort zone' and it sums up much of what a Discover Adventure Challenge is all about; taking people away from day to day monotony and showing them what a big and beautiful place the world is.

Find out how to avoid getting blisters on your next trekking challenge
My favourite trips have definitely been to Nepal- it's an assault on all your senses and the people are so friendly and welcoming - I genuinely could never tire of the place.


10 questions with a DA Club member; find out what one of our long time challengers recommends!
I have also recently had the pleasure of leading a trip to Borneo, this was a trip that combined jungle trekking, with climbing Malaysia's highest peak, Mount Kinabalu (4095 m) and staying in home-stays within the remote rain forest communities - the perfect way to immerse yourself in local culture and traditions. To add to the trip we then had the opportunity of seeing orangutans climbing in the trees in Malaysian Sabbah.

My greatest DA achievement was definitely climbing Mera Peak in Nepal. This was for a charity trek in which we reached 6476 m on quite a remote, less travelled route. I think we as a group all came back from this challenge with the 'Nepalese bug' - the overwhelming desire to go back as soon as we could! Strong friendships were formed and even now, 11 years later, we still all meet for an annual get together (group reunions are definitely a trend on DA challenges!)

My top trip for trekking in Asia is to embrace the culture, take time to talk and interact with the locals and most importantly remember to take a moment to stop,look and listen and drink in all that is great about this fantastic continent!
Want to know more about trekking adventures? Drop us a line!