Gaze towards a scene that many only see in books and on posters. Snow-sprinkled mountainous towers dominate the jutting landscapes of Nepal, with shoots of lush green as fir trees are dotted around like stars in a night sky. Clouds pass with mountain summits boldly protruding through. Crisp air, glacier sheen, an echoing silence bar the trudge of your boot against the rocky and uneven terrain and the sharp breath of your fellow trekkers.
Varying daylights and darkness catching the jagged angles of the mountains act as a metaphor for the moments of struggle and euphoria experienced on these slopes. What makes these peaks so daunting is the very thing that gravitates people towards them. The rainbow coloured flags tied down sturdily in knots yet flapping in the Nepalese winds are inviting in a landscape that many aspire to set foot. But will you embark on a journey that many only dream of?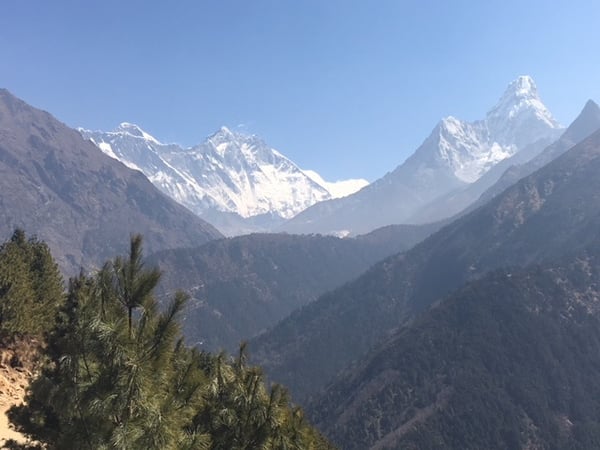 Lorna MacGuffog did.
March 2018, Lorna boarded a flight to Nepal knowing of the challenge that laid ahead but unsure of the journey that she faced.
We sat down with Lorna to hear her Everest Base Camp experience and how she ventured through landscapes and scaled heights that only a minority have seen in real life.
Lorna, tell us what was the catalyst to you signing up to the Everest Base Camp Trek Challenge?
"I'd completed a number of cycling challenges with Discover Adventure and previously raised money for Help for Heroes. This got me thinking, and I felt it was time to try something much more challenging.
I absolutely love India and Nepal and really enjoy walking, so thought that combining two of my loves into this huge challenge would be a pretty good goal to aim for."
You certainly don't do things by halves. With the mighty goal set, how did you go about preparing for your Everest Base Camp adventure?
"I began by walking to and from work a couple of times a week about six months before the challenge, which is around 7 miles each way. As well as this, my office is on the 13th floor so I'd take the stairs instead of the lift.
I live in London, and the walk is very much flat, so at lunchtime I'd do an hour on the treadmill, on an incline, carrying a backpack full of books!
As the challenge drew closer, I travelled to the Brecon Beacons for a weekend of trekking and also completed some day walks on the South Downs."
Brilliant, we particularly love the backpack of books as part of the training for the urban adventurer.
Getting to Everest: The Lukla Flight
Did you have any fears or concerns about tackling a mountain that is known for its perilous landscapes and extreme conditions?
"I had no idea if and how altitude would affect me so this was my most obvious and initial concern, as with many trekkers who venture up mountains.
In hindsight - rather stupidly, I was also anxious about the infamous Lukla flight that takes you towards Everest to start your trek challenge. This was, in fact, an amazing experience and much less terrifying than I had been led to believe."
The Lukla flight is known as one of the most dangerous flights in the world, often being called off due to the extreme weather conditions that surround Mount Everest. With a perilously short runaway to take off from and jagged landscapes to cast your eyes over during flight, it is quite the adrenaline rush. But as Lorna explains, it is also a thrilling experience. We're sure it will stay etched in your memory and add to the element of adventure during your trip.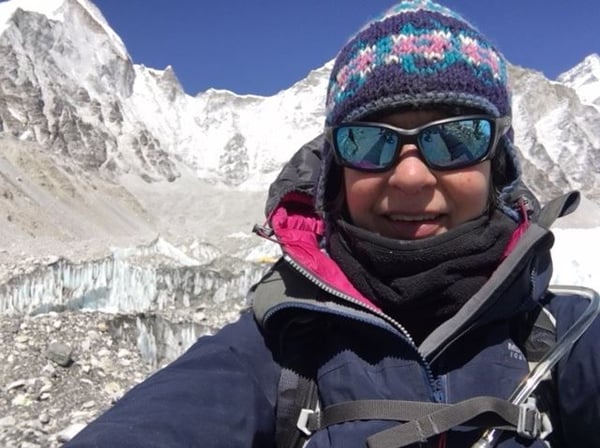 The Everest base camp Challenge
So, what did you see, feel, experience on your Everest Base Camp trek?
"Our first view of Everest was very exciting, as the famous and slightly dreaded yet anticipated peaks reach our eye line.
The duration of the trek is cold, basic and difficult and the general living conditions are very basic too. However, the DA team and the local guides were fantastic. They took care of everything - all we had to do was keep walking! They were knowledgeable, supportive, calm and enthusiastic, making sure we were safe and well cared for.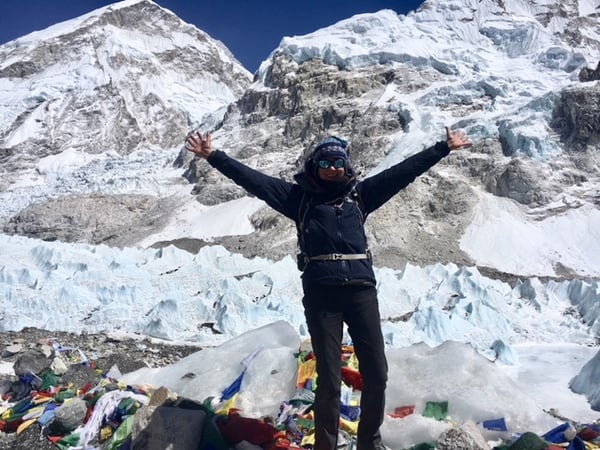 It is difficult sleeping at altitude, and I found the cold temperatures at night particularly tough. I recommend bringing a metal drinks flask to use as a hot water bottle at night. Everyone on the trip struggled at some point, it is a challenge after all, but there were always plenty of others to help carry you along. Humour played a huge part in the trip.
Most of all, the scenery in the Himalayas is simply breath-taking every step of the way. It really is extraordinarily beautiful, making each step worth it."
It's an incredibly challenging experience with little room for luxury, but you battled it out with your fellow adventurers.
Thanks for the handy tip, Lorna. Do you have any other top tips you would give to someone signing up to the Everest Base Camp challenge?
"Get as fit as you possibly can - the fitter you are the more you will enjoy it and it gives you such an advantage to cope with everything else. Do all your training in the kit you will be taking with you, especially those walking boots. And when you are there, take personal hygiene very seriously to avoid tummy upsets. Mental determination and a positive, cheery outlook are essential."
All stellar advice - cheers Lorna.
You've now landed back to average heights and everyday life, but how has this adventure left you feeling?
"I am very proud to have made it to Base Camp, and the memories will be with me forever. It is an absolute privilege to walk in such beautiful mountains.
When I first came back, I vowed never to do another challenge ever again! But after a few weeks, I'd definitely like to do another one. I'm just not sure what it will be yet."
The door is very much left ajar for the next adventure, wherever that will take Lorna next...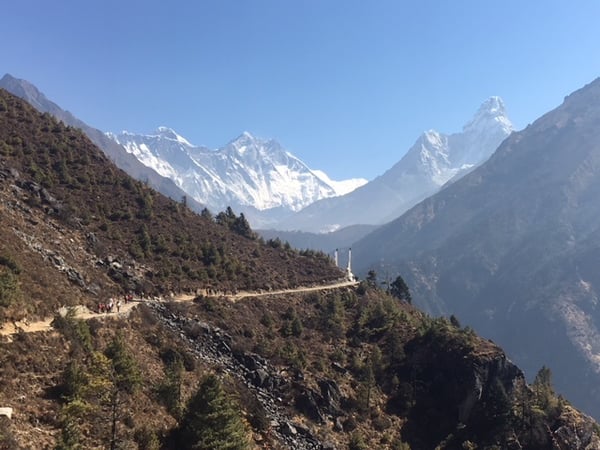 Feeling inspired to take on an adventure of new heights? Grab the bull by the horns and sign up to our Everest Base Camp Trek.
Hear more Everest Adventures
Want to hear more stories of Everest Base Camp expeditions? Check out other brave adventurer's experiences here: