Bhutan is a Buddhist Kingdom, set deep in South East Asia. Vast Himalayan mountains stretch out across the remote and untouched landscape, bearing home to many precious and undisturbed trekking routes that make this beautiful part of the world the ultimate adventure.
Dan, a member of the DA office team and outdoor-enthusiast, got the chance to experience this awesome challenge for himself and swapped the desk for the mountainous paths of Bhutan. Now that we have given him just a little bit of time to recover and reminisce about his incredible experience, we caught up with Dan to hear all about it!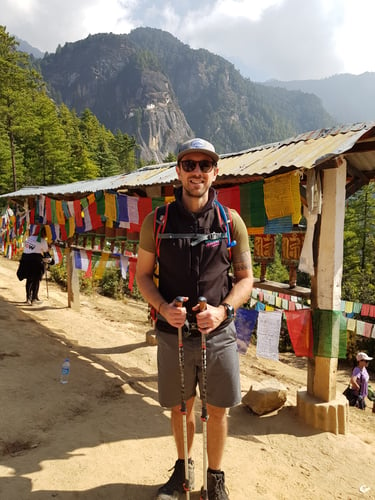 Dan in Bhutan
Dan, thanks for taking a moment to catch up on your adventure. Here's hoping the Bhutan blues haven't hit too hard! How did this trip compare to previous trekking adventures you've been on?
'I can honestly say that this was one of the best adventures I have ever been on. I have been lucky enough to have experienced many countries, but Bhutan was something special.'
It seems like it's really left a lasting mark on you! However, this is a challenge - there must have been some tough moments along the way.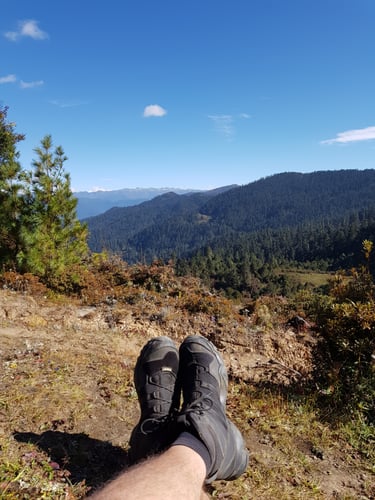 The Challenge
What did you find most challenging about this experience?
'Before I went, I thought I would find the continuous nights of camping tough, and now that I have returned, I can confirm that was the thing I found most challenging. Not washing for 4 days, dealing with really cold nights at camp down to -6°C, combined with a lack of sleep and camping at altitude all took its toll. However, the local crew did everything they could to make us comfortable and made sure we were well looked after. We couldn't have got through it without them!'
It's a real team effort to make these remote experiences run smoothly and ensure our participants get the most out of their experience. Especially, when all the luxuries and technology are stripped back to the bare essentials. It's a really unusual experience that allows you to take a step away from your every day.
While you were battling the cold and the altitude, how did you find the overall camping experience in such a remote location?
'It was basic, but we were really well looked after. By the time we arrived in camp each day it would all be set up, and we 'd have hot drinks and snacks waiting for us. An hour later we'd enjoy a feast for dinner. In the morning we would be woken by one of the local crew with 'bed tea' which is a great start to the day. Then slowly out of your tent to see a buffet breakfast waiting for you. We were spoilt.'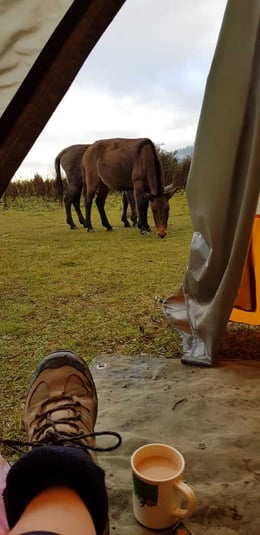 It sounds like you were well-fuelled! Although, you definitely earnt it with the miles you were clocking each day. What motivated you to keep going when the going got tough?
'All of the participants on the challenge. Even on the hardest day, we were all still laughing and looking after each other to make sure we made it to camp together. From the moment we met at the airport, it was obvious that everyone was going to look after each other. Unfortunately, one of the participant's bags didn't make it to Bhutan and was held in Delhi, which was quite stressful when we first arrived. It was amazing to see the group come together and offer their kit to the individual until the bag was back with us. Considering they had only known each other a matter of hours, that was amazing to see.'
It's funny how an experience like this brings strangers together almost instantly! That's why we have so many solo travellers join us on our adventures and come away with friends for life.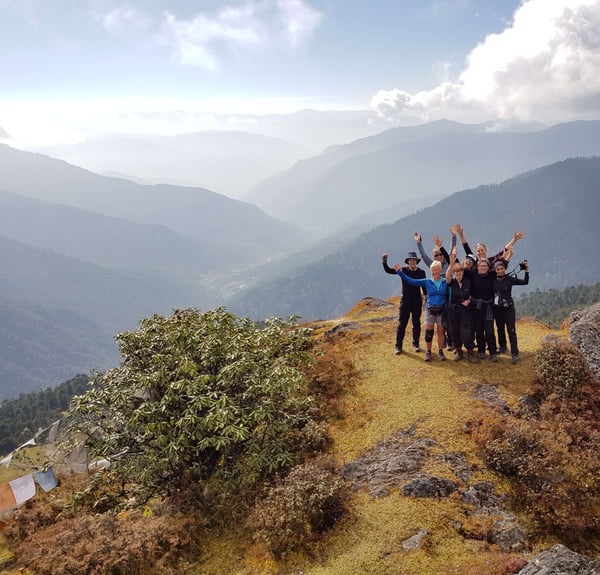 Tell us about your favourite moment of trekking through the landscapes of Bhutan!
'That is really hard to pick, I have so many favourite moments. It was probably reaching Phume La Pass at 4210 m, which was our highest point of the challenge. The landscape was just amazing with prayer flags overhead, blue skies which meant outstanding views of Mt Chomolhari (7314 m) in the distance and lots of smiley participants everywhere I looked. The place was just amazing and something I will never forget!
The landscape is remote, we only saw four other trekkers on the route over five days, which cannot be said of many other treks you may do in the Himalayas. It felt really special to be the only ones on the mountain.'
It sounds incredible! What an absolute high - in all manner of the sense. And you've got some amazing pictures of the views. We definitely have itchy feet looking over your adventure shots!
Preparing for your Bhutan Challenge
In the lead up to the challenge, how did you train and prepare yourself for this trip?
'I am an active person and always like to be doing something, so I didn't make any changes to what I do normally. I have always felt that a good level of fitness and positive mental attitude will get you through most things.'
Wise words! Were there any items you were super thankful that you had packed?
'Good quality kit and a decent sleeping bag. We all found ourselves putting layers on and off on each trekking day, so it never stayed warm or cold enough to stay in what we had on at that moment. As soon as the sun went down, it got even colder, so having a good sleeping bag is vital on this challenge. There is nothing more miserable than being cold!'
Very true. It's all about the layers!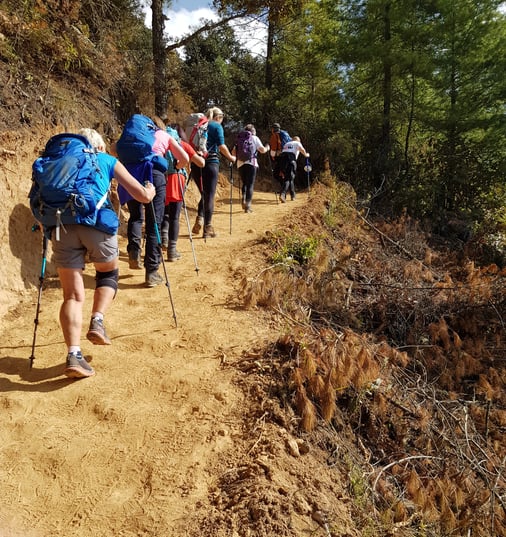 About Bhutan
Bhutan is an extraordinary country, very unlike the UK, what was your favourite thing about the Bhutanese culture?
'We all agreed that there was a very unique feeling when we landed in Bhutan, and that did not change throughout our time there. There is a real happiness in the country, which wasn't false or forced and everyone we met was so keen to help in any way they could and always with a smile.'
In Bhutan, prosperity is measured by its' citizen's happiness levels, otherwise known as 'Gross National Happiness'. We can see why they've got such a big smile on their face with the breathtaking views that surround them.
'Oh, and the food was the best I ever have experienced on a challenge. I love spicy food, and Bhutan is famed for putting chillies in lots of their dishes, so I was able to get my fix.'
We're not sure we'd be as brave as to take on the Bhutanese chilli dishes but we are definitely impressed!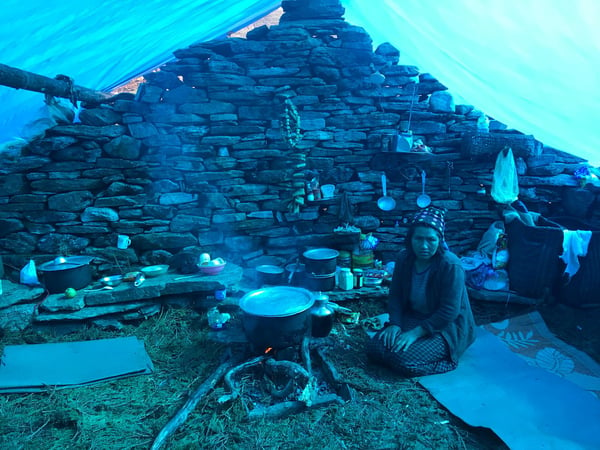 Bhutan is known to be worlds away in terms of technology, what was it like being away from built-up civilisation and fancy technology?
'It was quite refreshing. I didn't feel like the country was that far behind when we were in Paro, but we did feel very remote when we were in the mountains. It was actually really nice to have no phone signal or internet for a few days, as we could all embrace what we were seeing and doing. We met a few nomads on the trek, and it was amazing to see how they live on the mountains. They lead a very simple life, but all seemed very happy and humble.'
It's a unique opportunity to take a step away from the hustle and bustle of life and really let go of everyday stresses. It allows you to truly immerse yourself in your surroundings and live the authentic adventure.
Did you learn anything while you were out there?
'One of the ladies on the challenge was brilliant at learning key Bhutanese phrases and spent every opportunity to try and speak to the locals. I found that really refreshing and eventually found myself trying to do the same, with much encouragement from her. It was wonderful to see their reactions and took my Bhutanese experience to another level.'
It's definitely worth trying to pick up some of the lingo, and the locals are sure to appreciate your efforts - however, feeble or successful!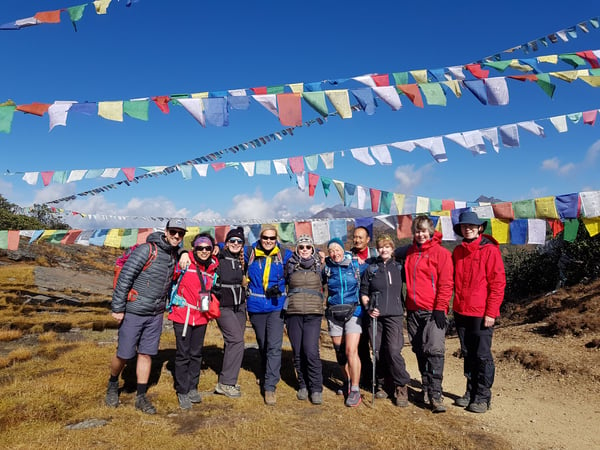 Add Bhutan to the bucket list!
So, tell us what makes the Bhutan Trek a must on the bucket list?
'There are not many places in Asia that you can go which isn't now overrun by tourism. Bhutan is one of them. So much of the country is untouched, and I really hope it stays that way.
The views, people, the remote location and the entire experience - everything exceeded expectations. Make sure you visit soon to be certain to see the country as it still is.'
Well you've definitely persuaded us - pass us our passport! Thanks Dan, what an epic adventure.
Craving your Bhutan fix?
You might have caught the mini takeover over on Instagram and checked out some of the breathtaking views. If you're still hungry for more, why not check out our challenge page and see if Bhutan is on the to-do list in the new year. We have a feeling it's a decision you won't regret!