Introducing Carole Rowland! Carole is an avid adventurer and cyclist on many of the Discover Adventure challenges, and we were itching to find out what has spurred on her cycling adventures taking place over space and time.
THE CYCLE CHALLENGE CHECKLIST THAT CAROLE HAS CONQUERED
· Grand Canyon to Las Vegas Cycle, USA
· London to Paris Cycle, UK - France
· Ho Chi Minh to Angkor Wat Cycle, Cambodia, Vietnam
· Cycle Myanmar, Burma (twice)
· 3 Cities Ride, UK - the Netherlands - Belgium *
· Coast to Coast Cycle, Mexico *
· Rajasthan Cycle, India
*No longer available, choose from other new and exciting challenges with Discover Adventure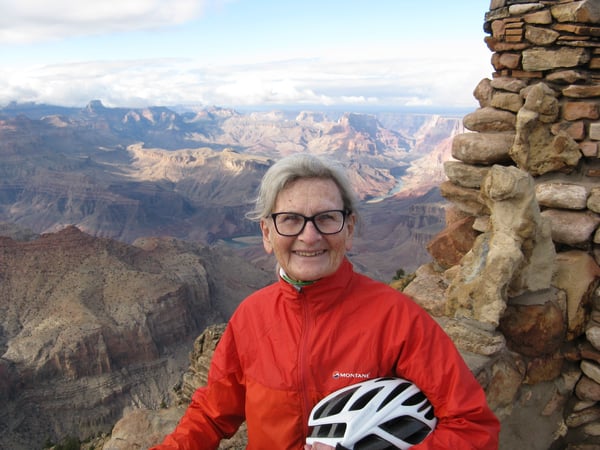 Carole, Grand Canyons, USA
Carole, you have been on a whirlwind of cycling challenges with us over the years. We want to know how it all begin, tell us what inspired you to complete your very first challenge with us?
"Cycle Challenging was an entirely new incentive which became known to me through my husband. Peter was the Hereford Macmillan Cancer Support Fundraising Manager before he retired and he told me about the Macmillan Coast to Coast Cycle ride across Mexico.
I just thought, why not?"
We certainly can't think of a reason not to head off on an adventure, and we LOVE your spontaneity! Have you always been a keen cyclist?
"I had loved swimming and particularly running, having completed the London Marathon three times. However, after sustaining a serious cycling leg injury, running and swimming was no longer an option.
And I had come to realise that cycling was a great activity once I had a go at a triathlon on a very cheap, old second-hand bike."
Brilliant - so cycling it was! You don't always need all the fancy gear to get into a new hobby or consider a challenge.
What then spurred you on to complete challenge after challenge?
"The desire for the next challenge is very strong once you have been part of a challenge and all it has to offer: the experience of a new country, habitat, culture, the people, visiting places of interest, the ups and downs of a good and bad day with supportive camaraderie."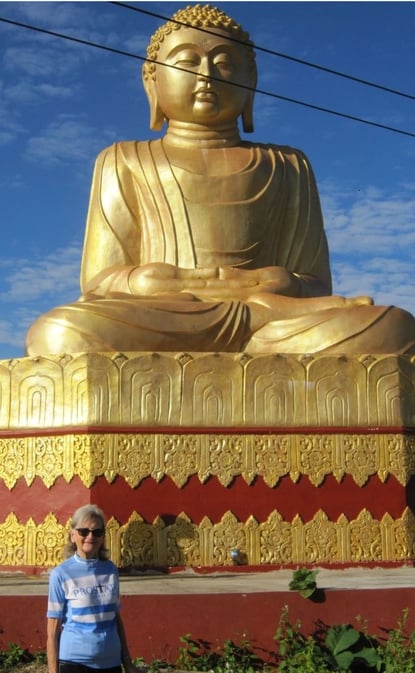 Carole, Birthplace of Buddha in Burma
Preparing for your adventure
Adventure sure is addictive. How do you prepare yourself for your cycle challenges?
"High on the preparation list for a cycling challenge is motivation. Which is why the training that I completed, whether that be a strengthening class or being out on the roads most days, was not too difficult.
Whatever the weather, it's building up the mileage and fitness. I also have a very supportive husband who would meet me in his car at a chosen cafe of the day.
I don't belong to a cycling club or cycle with anyone else, but I join in with as many sportives as reasonable, local or further afield, as it's a good benchmark."
Cycle Sportives are events attended by many cyclists, all following a long-distance marked cycle route. They are great opportunities to train for your challenge, meet like-minded people, and share cycling tips and advice.
The Cycle Burma Challenge
Carole, have you got a favourite challenge of all the Discover Adventure experiences?
"It is near impossible to pinpoint a favourite Challenge as all offer such a variety of interest and adventure of their own! But if I had to choose, the Cycle Burma challenge is the ride that comes to mind immediately.
Seeing beautiful soft-red ancient pagodas at sunset in Bagan is a wonderful memory I hold from that trip.
Not forgetting the kindness and help I received from our DA leader, Jacky, and the Burmese Support team, on ascending and descending the very steep, narrow and dark steps up to the 'viewing platform', with my somewhat insecure legs."
Wow, the Cycle Burma challenge definitely includes some unique and resonating views. Tell us more about what made your Burma experience one to remember?
"The things we saw, things that we did and were able to enjoy was just marvellous and has most certainly given me so many wonderful memories.
I'm so very pleased I was able to partake in such a venture and would most certainly highly recommend the Cycle Burma to anyone. I don't have the words to describe just how very, very good it all was."
The Burma experience has undoubtedly left a lasting impression.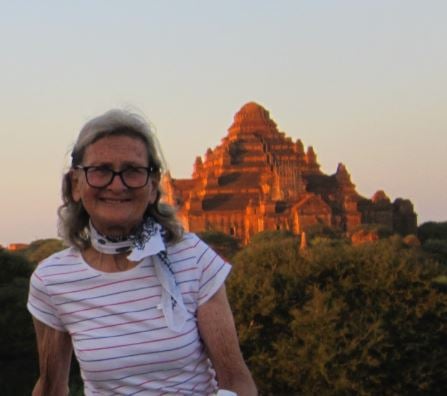 Carole, Pagodas at sunset in Burma
Conquering your challenge with DA
Before your challenges, do you have any fears or concerns about what lies ahead?
"My most fearsome thoughts before embarking on a challenge is the 'age thing' and being able to keep up with the team. I sign up to these challenges on my own and always consider whether I will be compatible with my allocated room-mate on the trip. But on the whole, I've found being an 'older' person on the trips absolutely fine. I've been accepted in a very helpful and friendly way, whether that be handling my bag on to the coach or encouragement up a difficult hill by everyone around me from the DA team and fellow Challengers.
This is a great comfort, and I really appreciate the thoughtfulness and excellent training of the DA Leaders which in turn gives me the courage to go forth on future challenges."
Our challenges are designed to push you to your limits but are also suitable for many ages and abilities. This is so that anybody wishing to go on an adventure can join us on one of our exciting routes.
"The team at Discover Adventure said 'you will be safe with Jackie', a DA leader on our trip, just before we set off and how right you were. Jackie was an excellent leader, she was always there to answer questions, took a lot of 'slack' from several group Challengers with calm and extreme patience and joined in with each and every one of us during the whole venture. A great, great credit to Discover Adventure - to be cherished."
We are super proud of our team back at Discover Adventure HQ as well as out on the grounds, leading all of our exciting adventures. We make sure we're with you every step of the way, offering support, expert guidance and a good cuppa where needed!
What can you achieve?
Many participants come away from our challenges with more than a certificate of completion. Our adventures are often used as journeys to help people grieve losses, raise funds for incredible charities close to their hearts and achieve personal goals like weight loss or improving mental health. How has being on our adventures helped you?
"I have now learnt to have a reasonable to a good standard of fitness. I've accepted that there will be strong emotional moments through my challenges, both elated and very deflated, which both come at unexpected times.
By taking on these challenges, the experiences I have gained have proved breath-taking and surprising, and has given me such a wider knowledge of human understanding and far-off lands, together with lifetime memories."
We love hearing how our adventures have enlightened and touched participant's lives and are eager to introduce more people to the growing team of DA adventurers. What would you recommend to a budding cyclist thinking about joining one of our challenges?
"A bike shop and assistant, whom you trust completely, that can fit you out well and who really looks after you and your bike once purchased."
Very practical advice - thanks, Carole!
Your cycling career has been somewhat impressive, do you have your sights set on any other challenges in the future?
"I feel I am at the end of the road on these bigger challenges now, there have been some wonderful times over these past few years together with lovely, lovely memories of places and people. I'll enjoy the reflections!"
Well, thank you for joining us on so many exciting and memorable challenges, a true DA adventurer!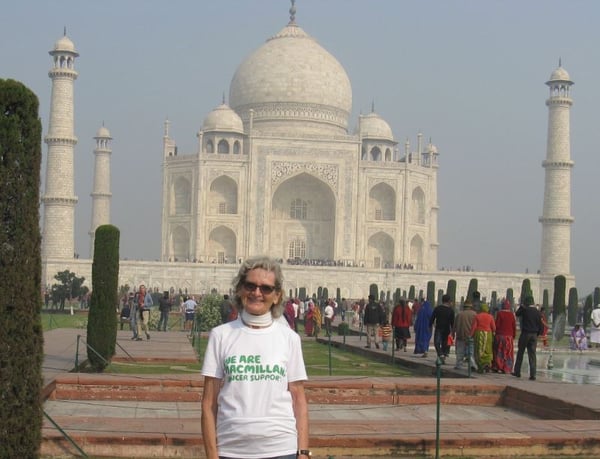 Carole, Taj Mahal in India
If you are feeling awe-inspired and want to follow in Carole's footsteps…or bike wheels, then head over to our challenge page and find a challenge that ignites the adventure spark in you!