Looking for an adventure fix? You've come to the right place. Delve into the delights of the Pyrenees trekking challenge, following the poignant Freedom Trail and lapping up mesmerising views.
Boots on the ground, ready for action?
We thought what better time to speak to the totally energetic and adventurous member of the DA squad - Charlie, about one of her top adventures of 2018 and see what's in store for her this year. Charlie was lucky enough to be selected to embark on the Pyrenees Freedom Trail - her first overseas adventure with DA and we just had to get the low down...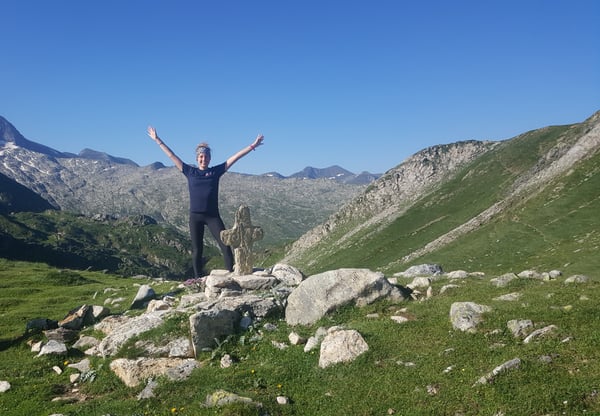 Trekking the Pyrenees Freedom Trail
So, Charlie, tell us what were your first thoughts when you found out you're going to be whisked on an adventure in the Pyrenees?
'FINALLY! I was so excited. I absolutely love trekking and the mountains, and I hadn't been to the Pyrenees before so was thrilled to be asked. My knowledge of the Freedom Trail was almost non-existent at this point, so I went straight back to my computer and got googling!'
We remember the excitement bubbling in the office for sure! Any apprehensions?
'Having worked with so many of our trips, I see the great friendships made on our challenges and how quickly the groups gel so I hoped this would be the case for me too - especially with the different age range and varying fitness levels of the group. I've had a knee injury in the past so wondered if this would play up. However, my fitness is pretty good - so all my worries washed away as soon as the trip began.'
Brilliant! What was it like being the other side of the desk and on the trip rather than organising one?
'FANTASTIC! It really makes all the hard work worthwhile, seeing the incredibly positive impact our trips have. Everything runs so smoothly, and the leaders are so knowledgeable. I came back with so much enthusiasm and even more passion about how great our trips are... and desperate to get out on another challenge, of course!'
It's definitely a smooth-running show when it comes to our adventures!
So, tell us, how did you prepare for your trip?
'I only had around two weeks' notice before I went, so there wasn't much chance to do any specific preparation. That said, I'm incredibly passionate about sport and fitness, and it's a huge part of my life in many ways, so I was confident I would be able to take on the challenge.
In terms of kit, the handy thing about working at DA is everyone has kit you can borrow! Rucksacks, roll mats, sleeping bags, everyone was quick to offer up their items for me to borrow, I was able to mostly pack my bags by making pit stops around the office!'
It's definitely handy being mates with a whole team of adventurers for moments like this!
Now for the challenge! What makes the Pyrenees Freedom Trail such an adventure out of the ordinary?
'You barely see anyone else out when you are out trekking through the mountains which is so refreshing, as well having no internet or phone signal. I loved it. It really was a step away from life as we know it, and enables you to get into the minds of the people that walked this trail all those years ago and think about their harrowing experience. Starting in France and finishing in Spain, the trek is so rich with history it keeps you captivated the entire way.'
How invigorating! Describe some of the amazing views you saw on your adventure!
'Watching the sunset from Estagnous Refuge was definitely a standout moment and one that has stayed in my mind. You're in such a remote area of the Pyrenees, five hours from any roads and simply surrounded by mountains and glacial lakes. Everywhere you look is beautiful. Pictures give you a flavour of how incredible it was, but you really have to go see for yourself!'
Your pictures are incredible - it's definitely made us want to explore the Freedom Trail for ourselves.
Tell us something you did on the trip that you've never done before?
'I saw the Tour de France! We stood at the edge of the road as the cyclists whizzed past, cheering them on. We also swam in glacial lakes and ate snails. The snails were surprisingly tasty - maybe because they were covered in garlic!'
Wow, this trip was packed full of some pretty cool 'firsts'!
It's a spectacular yet demanding experience, how did you find your team bonded on the trip?
'I LOVE MY TEAM! I met the most incredible people on the trip. They all had so much energy and enthusiasm, and altogether it made it the most enjoyable week. We all got along very well and still keep in touch now. I'd love to go on a trip with them again!'
It's amazing how close a group of strangers get when put in a unique setting where they are all pushing themselves in different ways. It's a great support network for when times are hard and makes for a good old laugh throughout.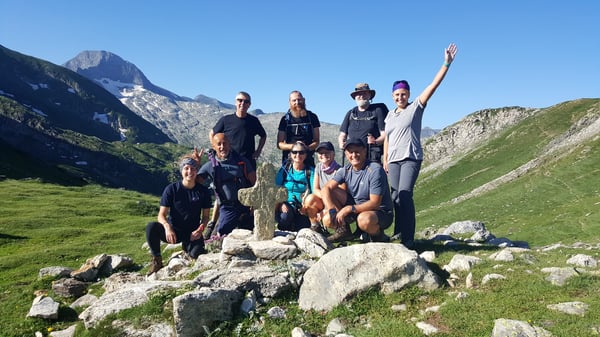 What did you find was the biggest struggle of your experience?
'I am known to be a speedy mover back in the office, so was warned to keep a pace to make sure I was able to really savour my surroundings. Other than keeping a good pace, I was worried about my knee. I would have been devastated if it had played up and I didn't get to complete the trek - but, thankfully, it held out!
Another aspect that was challenging was how cold it was at night when we camped. It was FREEZING, so wrapping up warm was a must!'
Especially after a long day of trekking! You did brilliantly.
It sounds like you had a ball from start to finish, but what was the highlight of your experience?
'Swimming in the lakes was incredible, the lakes were deep blue and still and after hours of trekking - it was unbelievably refreshing. Crossing the border into Spain was also pretty cool. And of course, seeing the Tour De France!'
What epic memories! Your experience has pushed you to see and do things you've never done before, have you learnt from being on the trip?
'I need to get a compact trekking towel! They dry faster and take up next to no space!'
Very practical indeed! And do you have any advice or recommendations to people who are considering going on the Freedom Trail?
'JUST DO IT! You need to be fit. It's steep and very challenging terrain in some places, but the views more than make up for it.
You stop at lots of memorials along the way and visit a museum on the first day, but it's definitely worth reading up on the history of the trek before you go. It will give you some background to where you are trekking, and it's significance and makes the experience even more special.'
Great advice - thanks, Charlie! Lastly, what adventures have you got in store for this year?
'Well, I have recently got into cross country skiing, having spent Christmas in Norway. I'm due to compete later in the year which I am very excited about. I'm sure I'll be continuing to enter running events across the country as it's a big love of mine, and I've got a few other ideas for adventures up my sleeve but you'll just have to watch this space!'
We can't wait to see what epic things you achieve this year, Charlie! Thanks for sharing your adventure with us.
That's a wrap on Charlie's Freedom Trail adventure. Feeling inspired?
Fancy trekking the Pyrenees?
It's time for YOUR adventure! Find out more about the Pyrenees Freedom Trail trek on our Challenge page or give us a call and book your adventure.