Remember the awesome Laura Abbott that we interviewed earlier this year before she took on the Saharan Mini Adventure? Laura undertook some outside-the-box fundraising in preparation for her challenge, which included nabbing a Bestival ticket for people to win in a raffle. Pretty cool, right?
Well, Laura has conquered the Saharan Mini Adventure like we knew she would! We just had to catch up with her about her challenge experience and get the lowdown on what it's really like to trek across the Sahara Desert!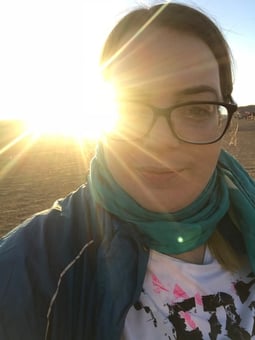 Trekking the Sahara Desert
Welcome back, Laura! And a HUGE well done. As you've been back a little while now, you may have had time to reflect. Do you feel any different now that you've conquered such an epic challenge?
'Since I got back, my confidence has just grown! I had quite a lot of self-doubt before the trek and was never good at meeting new people. But the trek has shown me I can do anything if I set my mind to it, and that meeting new people isn't as scary as I think it is.'
What an incredible feeling! Going through the challenge experience can often lead to people being surprised at just what they can achieve with a bit of determination and perseverance. Stepping outside the trusty comfort zone can result in amazing things! And it definitely helps to be somewhere as beautiful as the Saharan Desert!
'Just breath-taking! I was worried I would get bored just seeing sand everywhere, but the landscape is absolutely stunning and so calming. The sunsets and sunrises are absolutely stunning, the sky at night is also incredible as the stars are so clear and the Milky Way is visible. I'm just gutted my camera was a bit rubbish and couldn't take any decent photos of the night sky!
I think my favourite moment was on day two when we climbed up a sand dune to watch the sunset - it was such a peaceful moment where everyone was sat together and took in the stunning views!'
Your pictures look amazing, but we totally get it's hard to capture the real beauty of your surroundings. Some moments have to be savoured in your memories.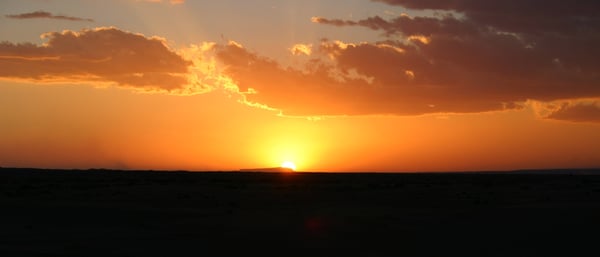 Training for your trekking challenge
You were a busy bee ahead of your challenge, building up your fitness and getting many miles in. Do you feel like your training set you in good stead and prepared you well for your trek?
'Training definitely helped - I trained twice a week with a personal trainer and went to different fitness classes which helped tone everything and build my strength up too.'
Great news. Hard work definitely pays off and helps you enjoy the challenge itself a whole lot more, especially when the going gets tough!
There's a reason why we call our experiences 'challenges'. What did you find most challenging through your experience?
'The terrain! In my head, I pictured the desert as being just sand for miles, but we actually walked over a lot of rocky surfaces which you had to really concentrate on so you didn't slip and hurt your ankles! I also struggled with the height of some of the sand dunes...they're a lot higher than they look!'
They really are deceiving! Participants are often surprised at what parts of the experience they find most challenging too.
'It was definitely tougher than I thought it was going to be and it surprised me that I found it mentally tough as well! I think no matter how much you train for it until you are actually out in the desert you will never fully be prepared!'
Very true - that's why it's best to live the adventure, rather than simply reading about them. It really helps to have your fellow trekkers there for support too, how did your relationships develop as the experience progressed?
'I thankfully got on well with everyone on the trip right from the start! Speaking to everyone in the Facebook group leading up to the trek really helped too, and made it easier spotting everyone at the airport! I can honestly say I wouldn't have been able to complete the trek without everyone's support - from the help getting up the sand dunes to just having someone chatting to me in a moment of struggle!'
Amazing friendships can be made on our challenges because of the strong support network that is formed over your time together.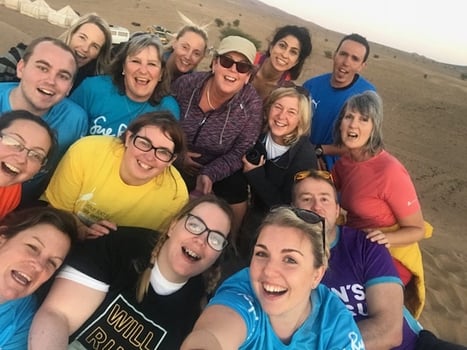 Conquering the trekking adventure
You completely smashed your challenge – what was the feeling like of crossing the finish line?
'It felt incredible! Everyone made sure everyone got a big cheer when crossing the finish line which was such a nice feeling! I felt so proud of myself and all the other trekkers for completing it!'
We bet! But your adventure wasn't over then...You stayed on for the extension to explore Marrakech. What a great reward for your hard work! How was this experience?
'It was definitely an experience - starting our journey through the Atlas Mountains was such an incredible way to start the extension, although absolutely petrifying being so close to the edge of the mountain! Our accommodation was a lovely homely Riad, somewhere I would have never thought of staying before, and it was only minutes from the centre where the market was. I absolutely loved exploring Marrakech with the help of our tour guide too!'
Marrakech is an intense and vibrant cultural experience, for sure! But definitely worth visiting when you're exploring Morocco.
So, Laura, has this whole experience ignited a love for trekking? Any other adventures in mind?
'Oh, it definitely has! I've never got the travelling bug, that a lot of people get, to want to see the world but since this trek, it has opened my eyes to a whole new world that I just want to explore! I would love to do the Northern Lights Winter Trek in Iceland!'
That is a really beautiful landscape to explore, it's definitely got pride of place on our bucket list.
We are intrigued to see what funky fundraising activities you'll be getting up to in the lead up to your next adventure. Do you know your fundraising total from your hard work this time around?
'My current total is £2,201.75! This money is going to Diverse Abilities, which helps to support living which gives adults with disabilities the chance to live independently in their own home. The money helps pay for staff who go into the homes to help them, so it's very important!'
A fantastic amount that will make a positive difference in people's lives.
Lastly, what would you say to someone thinking of going for the Saharan Mini Adventure trekking challenge?
'Do it! It may feel like a scary and daunting thing to do, but you won't regret it, and you will make friends for life and just have an amazing experience!'
Thank you, Laura. What a spectacular adventure you've been on.. We can't wait to see you for the next round of trekking whenever or wherever that may be!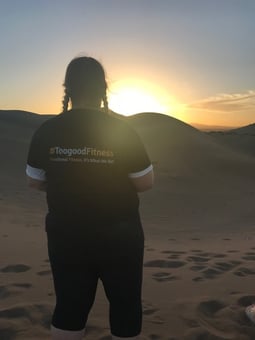 Inspired to trek the Sahara Desert?
We've got you covered! Our much-loved, sandy Saharan Mini Adventure is back for 2019 and booking up fast.
Book now for February or October 2019!