---
If you are looking for team building activities for your staff then get ready to think outside the box. Rather than the bog standard trust circles, quizzes and role play, adventure events take place in the great outdoors and often in challenging environments.
So, why should you give your team building plan an overhaul?
Hierarchy goes out of the window; see unseen skills come to the fore
Challenging environments evoke team bonding
Have TIME to talk
It's not just for the office; get to know your stakeholders
---
HIERARCHY GOES OUT OF THE WINDOW

As soon as the walking boots are on or bums are in saddles, the office structure becomes obsolete. With graduate scheme employees riding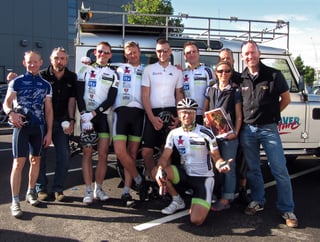 alongside departmental managers, it's often not your usual team leaders who are at the front of the pack. This allows for the natural development of new friendships and bonds between team members that may not ordinarily mix in the office.

We often see strong cyclists become the real motivators and mentors of the group, and role reversals that are the opposite of the normal office structure. This allows otherwise unseen strengths and skills to come to the fore, with managers often being both impressed and surprised by their employees skill in group situations.
CHALLENGING ENVIRONMENTS EVOKE TEAM BONDING
Challenges involve long days of physical activity (Discover Adventure challenges are graded 1 - 5 based on how tough they are), often extremities in temperature and possible altitude therefore testing stamina and determination. Everyone reacts and responds to the challenge in different ways, and very quickly a real sense of team spirit is evoked in the group. People help out friends, colleagues and strangers through the tough times,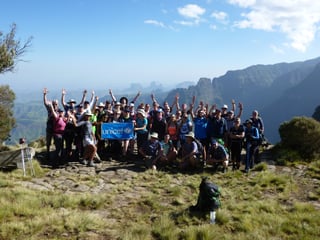 building strong, long lasting bonds.
TIME TO TALK
Whether you are trekking through Costa Rica cloud forest, cycling through rural France or tackling Yorkshire's highest peaks, one rare commodity that our challenges provide is time.
With today's busy work schedules, project deadlines and virtual working, there are many barriers that stop colleagues talking face to face. During the challenge itself, as well as at regrouping points (lunch, water stops etc.) and evening group meals, means everyone has the time to talk and network. Being outside the usual office environment is a refreshing and neutral way to spark conversations across all the levels of the business.
IT'S NOT JUST FOR THE OFFICE
Now more than ever, businesses have extended networks beyond the four walls of the office. These stakeholder groups need to be engaged just as much as your employees and customers, be they investors, suppliers or partners. Taking your networking and team building activities outside of the office or annual drinks event and into an adventure challenge environment can be truly effective by providing a real chance to find out what makes them tick.
It's also a great opportunity to add to your CSR strategy and visit the physical projects that your organisation is supporting; raising employee and stakeholder understanding of what you are supporting and fundraising for, and the relevancy of it to your organisation.



---

Let's revamp your Corporate team building activities, and make them adventures!
To find out more about going outside of the box with your next corporate team building activity, get in touch with the Discover Adventure team and we will be sure to help you find an adventure for your team!
---