There's no doubt that cycling challenges are among the most popular out there, whether that's cycle challenges in the UK or venturing further afield. Your ride may not quite match the toughness and endurance required for the iconic Tour de France, but you'll need to get some training under your belt to get the most out of any charity bike rides you do.
Stepping Up Fitness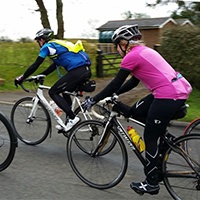 It's possible, depending on your underlying level of fitness and expertise on the bike, to train for adventure bike rides in three months. If you're new to cycling, then just remember that the focus is not always on speed but on distance and endurance. You should start at just 30 minutes and then gradually increase your ride times, making sure you're properly nourished and hydrated before, during and afterwards.
In the lead up to your challenge, gain as much time as you can in the saddle, ideally riding on terrain you will experience on the challenge and if possible with a couple of other cyclists to develop experience of riding in a group. And ideally, incorporate some long distance rides back to back so you get used to covering several miles day after day thus improving your recovery time and preparing for the experience. If you're happiest training in a group, then get together with fellow supporters or try booking a cycle training weekend with us and get your endurance and fitness up to speed across a range of different terrain and gain some expert coaching advice from our crew.
Related: 9 Top Biking Challenges by Grade
The Essentials: Choosing the Right Cycling Gear
Helmet: this is your essential piece of cycling kit and must fit properly to be effective. Your helmet fits low on the brow - yes, beginner's forehead is a real thing - and the easiest way to fit it properly is to loosen off all the restraints, place on your head, then tighten the back restraints before adjusting the chin strap. Never ride with a helmet that's damaged or dented, as it won't offer protection.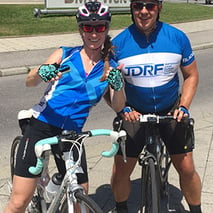 Shorts: these need to be comfortable and well padded. If you're doing a long ride, then bib shorts as worn by the pros are your best bet. Otherwise mountain bike shorts with a good chamois are a nice compromise if you don't want to wear Lycra. Just don't choose white and always go commando!
Jersey: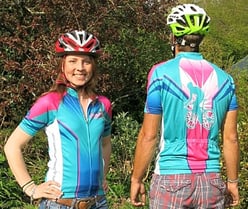 You can spend a lot of money on a replica team jersey, or you can use our very own cycling jersey. Whatever you choose, there are a few things to look out for: fully zipped pockets to protect your stuff, gripper tape to stop your jersey riding up, and short sleeves because you can always add arm warmers. Try before you buy for the very best fit. Or buy your very own Discover Adventure cycle jersey here.
Gloves: protect fingers from wear and tear on the handlebars and hands from injury if you fall off. Opt for finger-less gloves for summer.
For more information read our blog all about common cycling problems and how to fit and size your road bike
Why Ride with Us?
We can offer you a range of cycle challenges, from a challenging ride from London to Amsterdam to a demanding six-day ride from Paris to Geneva. With full support and expert leaders, you'll have the best experience possible while fundraising for the cause of your choice. So why not contact us for cycle challenges in the UK and abroad to test and inspire you or check them out here: