While some people sign up solo and make friends on the journey, others like to experience the adventure with a loved one or close friend by their side. We spoke to Becky Quinn about her many experiences with her good friend, Kirsty-Ann, and their amazing adventures with DA.
Becky caught our eye when she shared this gorgeous picture of her and Kirsty-Ann on our Inca Trail to Machu Picchu Trek.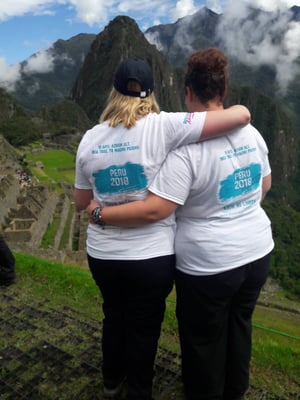 Adventures shared with friends
Hello Becky, we LOVE that you and your friend like to try out new adventures together. How did you first meet?
'We met back in primary school but became the best of friends in our second year at high school. Since we are turning 30 this year, we've racked up a good few years of friendship!'
Duke of Edinburgh Adventures
From school to setting foot on the Inca Trail, where did your adventurous side first come out?
'We both completed our Bronze and Silver Duke of Edinburgh award at school together and then continued to complete our Gold with the Youth Service. That was really the beginning of our adventures.
As part of the Gold award, you have to complete a residential placement. Inspired by our Youth workers who had just returned from the Gambia where they had found links to the award, and after a hard year of fundraising, Kirsty-Ann and I headed out there ourselves as part of a group. It was no picnic. We had gone out intending to redecorate a school. However, we had raised enough that we could build a skills centre! While other teens were enjoying their free summer, we were digging the foundations to a building. We were able to immerse ourselves in the local culture, visiting families, schools, and the local government. I think this sparked the love of other cultures and travel.'
What an incredible experience to share and a great way to discover your appreciation for the outdoors. Since then, you've been on many adventures together, what has spurred you both on to do it time and time again?
'I think it's the temptation of setting ourselves a mighty challenge. You get to see a completely different view of a country than if you go as a tourist. For example, when I think back to exploring China with Discover Adventure, I picture us standing on the Great Wall watching the sunset in the middle of nowhere, with only a handful of people around me. Bliss. You can get such an incredible insight into a country's culture if you make yourself vulnerable to it. Plus, we live on an island so we can go to the beach anytime- we want a real adventure!'
And what has been your favourite adventure experience so far?
'While we've shared several phenomenal experiences over the years, the Great Wall of China Trek and the Inca Trail to Machu Picchu, in Peru, that we completed with DA were definitely up there. It's hard to pick a favourite as they were both so enjoyable in their own ways, but we had to overcome a few demons on the Inca Trek. The satisfaction and euphoria of reaching the finish line together is something I'll never forget. Although, we laughed a lot on our Great Wall adventure!'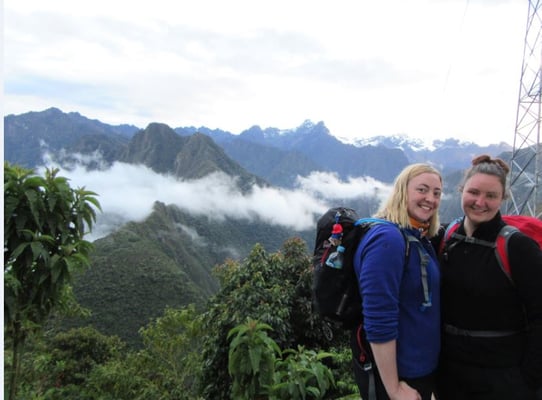 Trip Memories
It sounds like you've got some precious memories from the adventure album. Do you have a favourite moment from your adventures?
'In China, it would have to be doing the conga over the finish line. From our Peru trek, my favourite moment was being at the Sun Gate as the clouds cleared and we looked down on to Machu Picchu for the first time. There may have been a few tears shed here! But generally, it's the number of times I've laughed till I've cried with my best mate, those are the memories I'll treasure forever.'
Tell us, what is it that makes trekking with your friend so special?
'It's not just the shared adventure, but also the build-up to it. Having that support network and someone that understands you and the feelings that you go through in the lead up to a huge challenge is so helpful. And not having to explain why you're having a bad day on the trek when your friend just gets it. I'm quite an anxious person and a little bit of an introvert, on the other hand, Kirsty-Ann is an extrovert, so she is like my security blanket!
I think going on an adventure together strengthens a friendship, you have to have each others back on a trek like Peru. Plus, you have so many stories to tell together.'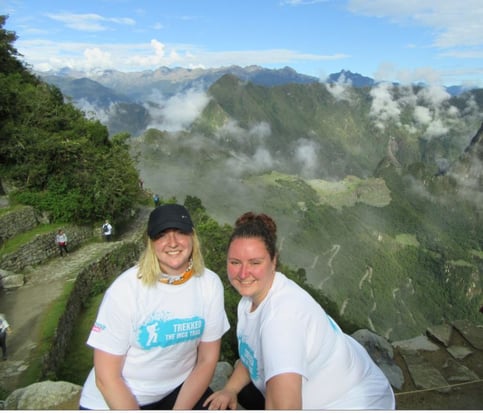 It's so wonderful that you had Kirsty-Ann by your side, did you meet new friends on your treks too?
'Making new friends on these treks is a given. You may not speak all the time, but you will forever have this unbreakable bond with a group of people. They have seen you at your best and your worst. They know too much not to keep in your lives. Ha! Ade, our group leader in Peru, said on our last night that nobody else would understand what you have gone through on a trek other than the other people who did it alongside you, and I think that hits the nail on the head.
It takes a very particular kind of person to spend money on a holiday where you have no access to toilets, showers or any basic amenities for four days! You find out they usually are your kind of person!'
Perfectly put. And what would you say to someone thinking of joining a challenge?
'I'd say do it! Discover Adventure is such a brilliant company to travel with. I love to travel but not so much the stress of arranging it all. And the leaders on your trips are so experienced that I always felt in very safe hands!'
We're so glad to hear. We are very proud of our leaders and know that they love meeting all our participants, like yourself.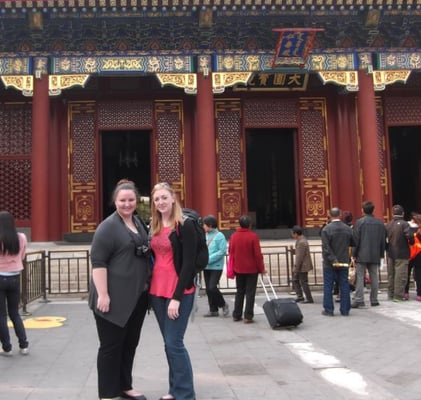 So, Becky, are there any plans for future adventures?
'What don't we have planned?! I'd love to catch the Northern Lights, but we've agreed we would treat ourselves to a more relaxing trip to Iceland. Speaking of adventures, I've narrowed it down to twelve treks highlighted in my DA magazine. They all look so amazing, it's hard to choose, but it's going to be between Vietnam, Colombia or the Grand Canyon. Kirsty-Ann and I have agreed that for our next one we will pick one at a lower altitude so no Kilimanjaro or Everest just yet although they are on our list!'
That's a tough choice. Watch this space! We can't wait for you and Kirsty-Ann to join us for another adventure whichever that may be. Thanks, Becky!
What will your next adventure be?
Why not grab a friend and set about making unforgettable memories on your next adventure with us. Maybe it's your first time doing it DA-style, we've got your back. You're bound to meet new faces on a trek or cycle with us, and making friends for life is an often occurrence so don't feel silly for signing up solo.