Make this New Year one to remember, by scaling the highest free standing mountain in the world - at 5,896 m!

After the hectic Christmas period and full to the brim with plenty of good food, drink and company, it's refreshing to take a step into an unknown and remote setting and achieve something AMAZING. Why not escape reality and figure out what you want to gain from the coming year, experience something completely different and perhaps a little outside of your comfort zone to start the new year the way you want it to continue?
---
Here's 5 reasons why trekking Kilimanjaro at New Year is not just a good idea, it's the best one:
1. Embrace the unknown - it's good for you!

Every new year is a fresh start, ripe with new opportunities and the chance to gain a new perspective.
It's also one of the best times to set yourself the challenge of achieving something you've never done before! Spending 10 days with people you've never met, climbing the highest free standing mountain in the world is no mean feat and to most of us - that prospect can be more than a little daunting. Isn't jumping into the unknown and seizing the day part of the excitement? It's only natural to have be apprehensive about the challenge ahead, but what's great about climbing Kilimanjaro with Discover Adventure is that you won't be doing it alone. You're doing it with a group of people just like you and with a fantastic team of specialists that will help and support you the whole way.


2. It's an incredible way to do something worthwhile
We're not talking your average 5 km, were talking about a 10 day expedition. It's a big undertaking, so why not use it as a chance to raise the profile and make a difference for a charity you care about? A huge motivator when climbing a mountain is the desire to push yourself to conquer something bigger than you ever have before and we're all familiar with that warm glow you feel after achieving a personal goal. Imagine that intensified tenfold through fundraising as part of a charity challenge - where you can make an impact through an effort that truly goes above and beyond.
By doing a challenge such as this you'll be supporting the local economy and local people that we employ to help guide us up the mountain. It's home to some of the biggest and brightest personalities that can't fail you keep your spirits up en-route.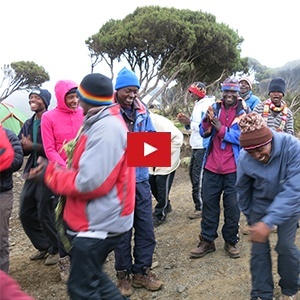 3. Find something new and inspiring...
Be it trying the new food, embracing a new culture or just setting your eyes upon a new landscape, shake up your New Year and kick-start an exciting year from the summit. Isn't that what New Year's resolutions are all about, spicing up your life?
The Tanzanian scenery is rugged and wild and the people overwhelmingly friendly. The energy of the people and the landscape is infectious, it will allow you to immerse yourself into the culture and to meet lots of new and like-minded people as you collectively strive for the same goal.

4. Take up a challenge, push yourself to the limit!
Climbing Mount Kilimanjaro is by no means a walk in the park, with long days trekking and altitude to tackle, its hard work. But we're talking about more than just physical strength, its about mental strength as well. You'd be surprised how much your mentality can effect your physical performance. It requires perseverance and determination to reach the summit and that's what makes it worth doing, because the sense of achievement is unbeatable. So, remain positive and believe that you can do it!


5. See the sunrise on New Years Day from the roof of Africa!

Now, we don't doubt that you've seen in a few New Year Eve's in style - with fireworks and music and friends... But we defy you to find a celebration that would beat standing at Uhuru Peak, the summit of Mount Kilimanjaro, with a group of people you met just a week ago, who are now friends for life, having trekked to 5896 m and accomplished, just a few hours into the New Year, more than many do in a lifetime.

To top it off, we've planned our New Years departure to mean the summit date takes place on a full moon - which spookily increases your chances of making it to the top. There's really no reason not to give yourself the chance of starting your year in epic style.

---
So there you have it - the best idea in the world! And your plans for this New Year's Eve sorted (you can thank us later).
To find out more and to download the nitty gritty Challenge information click below.