At the start of each year, we set ourselves new year resolutions and plan exciting goals and to-do's to accomplish before December swings back around, no doubt by July we'll all be remarking, 'I can't believe we're already half way through the year!'
12 months stretch out before us like a blank canvas and we all want, come December 31st, to have something to show for it – and by that I mean not necessarily something physical, it could be a feeling, a memory or an achievement that makes you think, 'Yes, I DID that.'
Here at DA we are passionate about going beyond the paper thin resolutions of 'being more organised' or 'getting fitter' and are all about giving yourself something to aim for that's bigger, better and tougher than anything you've done before. Namely setting yourself an adventure.
Why?
Because it's GOOD for you.
We're perpetually busy people and we're all juggling family, friends and work 24/7 and in our 'always on' world, the time we get to think about ourselves is minimal. We get stuck in a routine because that's the easiest way for us to 'fit everything in.' We tend to THINK we are more productive this way and that this minimises stress, however, this is wrong (sorry to break it to you!). So here are 5 reasons why you should adjust that schedule and make time for something that quite literally hits the refresh button on your body and soul.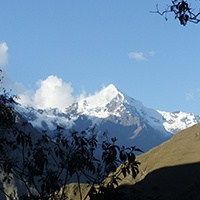 Leave it all behind

Your mind is like a computer and sometimes it needs to just switch off. So make time to escape somewhere where keeping up to date with phone notifications is replaced by taking in a great sunset or breathing in fresh mountain air. It will literally feel like you've restarted and it will give your productivity and energy levels a boost.



Increase your tolerance for uncertainty

Going out of your comfort zone is scary because it's a risk. It's an activity, place or situation that you're not familiar with – and we're programmed to avoid things that are 'risky.' However, nothing new or better was ever achieved by doing what you've always done.

Do something new and you'll find that you'll be more confident in embracing new things in all areas of your life.





Create great memories

We all daydream and when we're reminiscing, it's always the good times that are at the front of our minds. This is great for building our self-awareness and positive thinking – remembering how you felt when it got tough, how you coped, who you were with and how they supported you or made you laugh.

Create a memory of an experience you can draw upon to give you strength in other tough moments.





Learn something

Whether it's finding out that you can live on what you can fit in a backpack, how to fix a puncture or how the Inca Trail came to be.

You're never too old to learn something new.





Make a difference

Anything that challenges you, will change you – make you look at things differently, take a different approach in the things you choose to do or how you interact with the people around you.

Supporting others goes hand in hand with life outside of your comfort zone – it's the perfect opportunity to raise awareness and fund-raise for a cause you care about and make a difference to many more people along the way
In summary, grab this year with both hands, be prepared to shake off the schedule and say yes to something that makes you nervous.
For us this year is about LIVING the adventure, getting the most out of every moment and embracing the new. Take a look at our video to see what its like to Live the Adventure
You, your health and the friends you make along the way will be glad you did! #LivetheAdventure


Heard enough? Ready to go? Here are a few adventures to whet your appetite!