Discover Adventure wants to get more women behind the handlebars, empowering them to get out on the road and achieve something amazing in 2020.
Our Women Ride series boasts the legendary London to Paris challenge this year, and we are excited to have a group of like-minded women join us for a long weekend of action-packed fun.
What's more, if you book your place on the London to Paris Women Ride, you'll get a free space on our Training Weekend in May to help you with your training and confidence. As well as getting that extra cycle fix!

We spoke to Hannah, Mum-of-two and keen cyclist, and our Product Manager about why she was a part of the movement to create this amazing series.
Hello Hannah! Tell us what makes this a must-ride challenge for women up and down the country?
"This ride really appeals to me – partly because the route has been designed especially for this event. I've been promised the quietest route into Paris that we've ever found, a few cycle paths, which always helps, and a really beautiful route. The fact that it's a day shorter than our regular routes also helps, as like many of us juggling work and family, being away can be a challenge."

"I've done a few cycling trips before, and am looking forward to the atmosphere of a women-only ride. On all trips, there's usually a little 'grupetto' that forms of people who are more interested in having a chat and a giggle than worrying about their Strava data, and I'm anticipating that most of the group will be more of the former mindset."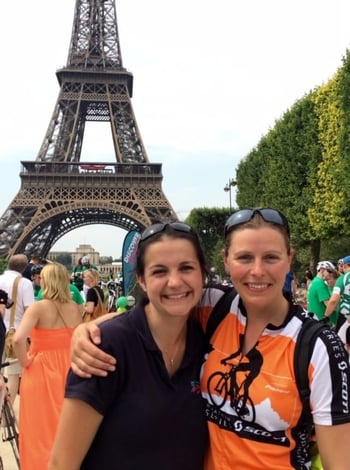 You definitely have a lot of fun when you're cycling in a group but preparing for the challenge can be a difficult hurdle to cross. How do you fit in your training?
"Working in the office of an adventure company is still an office job, and I sit for most of the day. Finding time to stay even relatively fit is always difficult! I have two children of primary school age, and volunteer as a Beavers Scout leader on top of the day job, so I don't have any spare time. I know everyone says that – but if I can do it, anyone can!
I've learned over the years that it's all about finding ways to fit in some training. For a ride I did about 6 years ago, I resorted to getting up at 5.30 am to fit in a 25-mile route before my husband left for work, so I could finish getting the kids ready, drop them off and get to work myself. If you want to do something like this, it takes planning and commitment – but I know for a fact that it's worth it. Imagining that one day, when things get easier, you'll do it – that never works."

"I am lucky that my family sees the benefits of me having goals like this ride. If they weren't supportive it would be almost impossible to fit in rides on anything even approaching a regular basis. So my biggest bit of advice to anyone wondering how on earth to manage the time involved – get your family on board.
One thing I can say for anyone thinking that fitness is their main barrier – if you can do 25 miles early one morning, followed by your normal day – whatever sort of rushing around that entails – then you can do a ride like this. All you need is to do that three times, without having to think about food, drink, looking after anyone else, worrying about what time you have to be somewhere … it's actually easier!"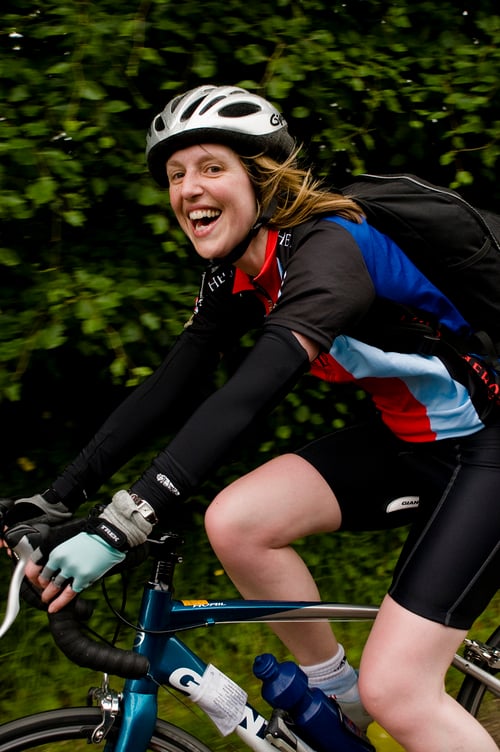 That makes it much more manageable and not such a scary idea when you come to face the challenge. It's a great way to look at it! What do you think prevents women from, or creates reluctance, to get behind the handlebars?
"Safety fears are touted as being a really big barrier for women getting on bikes, and I think that's partly true. Every time I get passed by a driver who acts as if I'm invisible, it does make me feel really vulnerable, so I can see why that would be a big deal for people who haven't got the cycling bug yet. But I remind myself that the selfish thoughtless drivers are in the minority, and that I've had far more close calls when I'm driving than cycling. And now I'm closer to 50 than 40, I'm aware that I can't take health for granted any more. We're all at greater risk from developing illnesses if we don't exercise, than from having an accident if we ride a bike.
But I don't think safety is the only reason that women ride bikes less than men. It's so much more complex than that! Most women I know – but especially working mums with kids – spend all their time rushing around doing things for other people. Of course there are exceptions, but most mums I know still bear the brunt of household and childcare logistics. Getting out on a bike ride is very low down the list of priorities for most of us – and some of my friends just laugh when I suggest it."

"It isn't just a hobby that's a luxury, that benefits nobody else: self-esteem and mental health are so important, and It has a knock-on effect on your work and family life.
Add in the fact that cycling sets such a great example to kids in terms of health and environmental impact – I feel it's so important that they don't grow up thinking that the car is the only option. We need to change our lifestyles drastically, so finding the confidence to get on your bike, even for some journeys, is a no-brainer."
Thanks for chatting with us, Hannah. We're sure this will ignite inspiration in women looking to push themselves on a new and exciting challenge.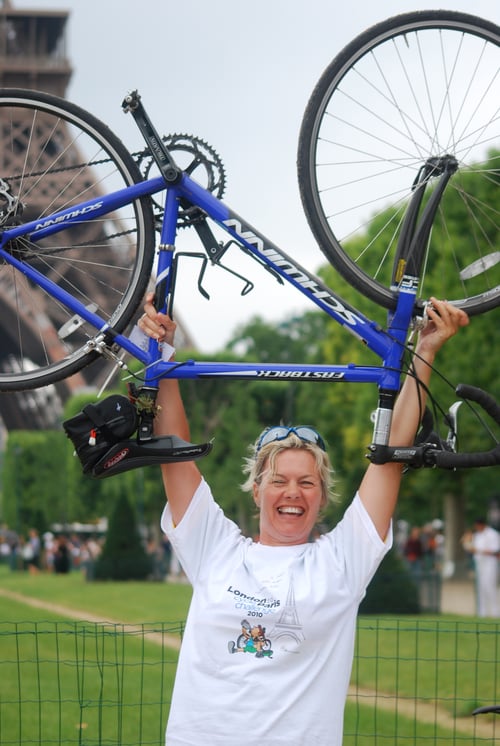 THE NEED TO KNOWS:
Riding from central London and finishing up beneath Eiffel Tower in Paris, with chance to explore Paris

Save the date: 2nd July - 5th July 2020

You get a FREE place on our Women Ride Training Weekend in May when you book on to our Women Ride London to Paris

Pay the reg fee of £149 to secure your place and then opt from our choice of pricing and payment options