Let's face it, Iceland is the destination of the moment - it's been one of our most popular challenge over the last 12 months and so when Challenge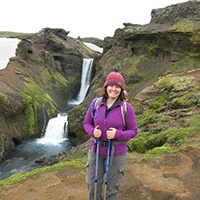 Co-ordinator Sarah was offered a space on our July departure, she didn't think twice about saying yes!

This was her first time in Iceland, so we couldn't wait to have our post Challenge de-brief so we could tell you all about it asap!

So what will you find out in this short, snappy, but wanderlust filled blog?
The best bits (simply the bits that make your spine tingle with excitement)

What makes it tough?

(all our challenges are challenges for a reason - so here's why and hopefully it will help you work out if its the one for you!)
Top Tips (think of this as the advice from your best friend who's already been there)
Why Sarah recommends it and who will it suit? (the bottom line - is this the challenge for you? Read on to find out)
---
The Highlights
Drawn in by the scope of adventure afforded by Iceland's rugged beauty and wild scenery, I couldn't wait to find myself trekking through the dramatic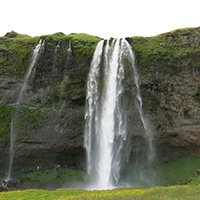 volcanic landscapes, surrounded by mountains, glaciers, hot springs and waterfalls – who wouldn't be motivated by that? And of all that, the stand out highlight of this Icelandic Lava Trek for me, well...
It would have to be from our third night stay. We were lodging in a remote mountain hut, on the edge of the glacier and lava field (Modi and Magni, the site of the 2010 eruption). We'd just returned back after a tough day trekking, mostly uphill and had completed the thrilling walk along the famous Cat's Spine ridge in high winds and snow had just begun to fall outside. The lodge, although remote, was a welcomed safe haven. Heading inside we were able to part company with our faithful trekking boots and hunkered down to enjoy a warming bowl of chilli. It is amazing how much you appreciate a warm shelter after a tough day out in the elements - and watching the snow fall outside made it feel as though Christmas had come early.
I think that evening enabled us to take stock of what we had accomplished thus far - with conquering the Cat's Spine ridge brining with it huge sense of achievement. This part of the trek was a challenge for me as I am not too keen on heights and steep drops, however I battled my nerve and was justly rewarded with awe-inspiring views and a certain level of satisfaction that meant I enjoyed my bowl of chilli all the more!
Funnily enough, aside from the challenge and the trekking, another highlight for me was the Icelandic water… straight from the tap, it was the freshest, cleanest, most delicious water I have ever tasted. I really miss that now and feel thirsty all the time!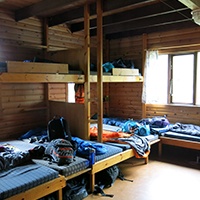 What makes it TOUGH?
This trek is graded 'tough' or those of you more familiar with our 'number' grades may know this to be a Grade 3 challenge. This is predominantly down to the rocky terrain, steep inclines and some tummy-turning heights. For those of you who struggle with heights, this trip may help you to overcome that fear as you are always in good hands with the fantastic leaders and guides, however it's certainly not for the faint-hearted.
Still keen? Here's Sarah's five TOP TIPS for taking on this trek
Get some uphill training in before you go. There are some steep sections on this trek, so make sure you prepare by finding some good hills to climb.

As with all Discover Adventure trips, it's not a race and we encourage you to take it at your own pace, however if you're anything like me you'll enjoy it more if you're not huffing and puffing too much!




Bring good kit with you! We experienced all kinds of Icelandic weather during our 5 days in the country, from glorious sunshine, to high winds, to snowfall, to rain. I found myself de-layering and layering up regularly throughout the day. I would be sweating one minute and shivering the next!

It's good to bring lots of layers on our treks.

Good waterproofs and a down jacket for the night times were key for me too.



Find out Sarah's top tips for trekking the Burma Hilltribes in her other Challenge blog!




Look up! It's easy to focus on your footing on this trek, as there are some rocky sections of terrain. I found myself looking to my feet far too much – so my top tip is to stop and look up regularly.

It was amazing how quickly the landscapes changed, so each time I took a moment to absorb the view I found new jewels to appreciate - from stunning waterfalls cascading from the glaciers, to volcanic mountains and peaks.

It may sound cliche but it's true! I highly recommend just taking a moment to stop, look up and breathe it all in.


Listen to the fantastic legends told by the local guides. I was amazed by the passion and knowledge demonstrated by our lovely trek guide, Selma. Selma is clearly very proud of her home country and told us all sorts of stories about the history and traditions of Iceland. For me, it brought the experience even more to life!



Look out for the Aconite Leaf Buttercup (Ranunculus Acontifolius), Iceland's national flower. It is a pretty white buttercup which has a year round leaf, providing food for Ptarmigan (a medium-sized gamebird in the grouse family).
Why would you recommend it & who would this trek suit?
I would recommend this trek to anyone who is keen to experience a vast, exciting, adventurous and rugged landscape but is perhaps short on time. This trip is 5 days in duration which is ideal if you are time poor - you'll be surprised how much you can achieve in just a short space of time.
Also… don't forget your trip to the Blue Lagoon – it's well worth a visit!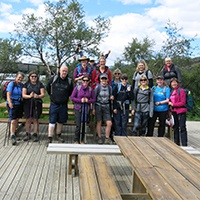 ---
This trek has been our most popular over the last year (which is perhaps why Sarah was so keen to to bag her space!) and will definitely be remaining in our portfolio for the next 12 months. So if you are considering a short haul challenge to witness some stunning scenery, want to conquer the Cat's Spine or just want to ask Sarah or the DA team more about what this challenge involves, get in touch below!


---