---
Open Challenge Co-ordinator, Sarah, dusted off her walking boots to take on the Pioneering Burma (Myanmar) Hilltribe Trek* which departed on the 19th March.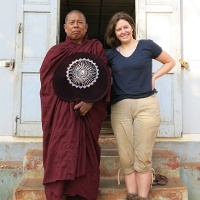 With the prospect of trekking through the unspoilt Shan Highlands, exploring Buddhist monasteries and meeting other enthusiastic challengers, her bag was metaphorically packed before she even said 'yes!' to the trip.
With this being a pioneering Challenge*, we grabbed a coffee with Sarah to chat through what it was like first hand (and take a few minutes to conduct a little armchair travelling!) so we can share with you!
The best bits (simply the bits that make you shiver with excitement)
The struggles (we're honest, so here's what you should know to make an informed decision!)
Top Tips (the kind of know how you need from someone who's been there and done it)
Why she recommends it and who will it suit? (is this the challenge for you? Read on to find out)
---
The best bits…
The authentic cultural experience.
It was a privilege to have learned about the faith and tradition of this wonderful country by staying in Buddhist monasteries. As we awoke in the morning to gentle and calming chanting, it was a humbling experience to respectfully observe the religious practices of the resident monks. During one of our stays, the resident monk joined our group at dinner and spoke to us at length about his faith and daily routines, answering any questions the group put to him. The following morning, he gave each one of us a blessing in the form of a red bracelet, which we all cherished.



Unspoilt and beautiful trekking scenes.
It's easy to forget where you are when you're focusing on your footing, rather than stopping to admire the amazing scenery, however in the hills of Burma I found myself quite thoughtful and reflective as I trekked through the bamboo forests and rolling hills (perhaps as a result of our Buddhist blessing). As the sun beamed down on us, we were able to take regular shade from the trees, where we had time to appreciate the local farmers at work. Some of the group would walk over to the farmers to greet them and learn about their farming traditions. At times we even had a go with their tools too… it made us truly get a feel for how hard-going these farmers jobs were, especially in the heat of the midday sun!



Visiting Lake Inle.
Exploring the waterways by boat was a fantastic way to end our trek and the stunning lake welcomes you like a mirage in a desert! Seeing the sun reflecting off the water was a feast for our eyes and a welcome end to our trek. We stayed overnight here in a beautiful floating hotel resort, sleeping in wonderful wooden huts built on stilts. On our morning boat trip, we had time to watch the early-morning fisherman at work, and observe their somewhat iconic method of doing so, using one leg to row! It felt wonderful to be in such a beautiful spot, without the crowds of tourists you find in so many other places.
The struggles…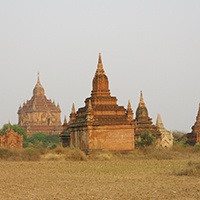 Wow, is it hot! I found trekking in the heat difficult at times, but we were fortunate to have a refreshing breeze for most of the time. Although typically, once I'd arrived back in the UK to the cold and wet weather, I soon missed the heat…!


As we slept in monasteries, the washing facilities were limited, so I soon had to accept that I would spend most of the week covered in dust. Again, this only heighted our appreciation when we did have the opportunity to wash – even when it was only a stone trough with very cold water and a bucket (but the cold water was welcomed in the heat). One of the monasteries sat high on a hillside (as most of them do) and there was an outside shower (trickle!), overlooking the expanse of rolling hills and surrounding forest. It was a memorable experience, washing with this beautiful view!
My pre-challenge worries and overcoming them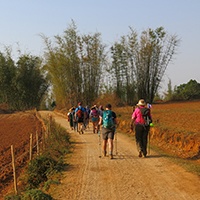 I was concerned prior to going on the trip that I would get a good sleep each night… I think this is one of the biggest concerns of our participants, as you're often sharing a room with a fellow trekker who you've not met before, or may not be used to camping and sleeping on the floor.

I found myself concerned that I wouldn't sleep well enough to complete the tough trekking each day, however I was pleasantly surprised to find that the local crew kitted out the monasteries with comfortable mattresses and quilts, which stayed with us throughout the entire trip. I got to know my fellow trekkers really well throughout the trip so I never did get that uncomfortable feeling that I was sharing a room with someone I didn't know.
A good nugget of knowledge to share is to get a silk sleeping liner, I slept in this each night and when it got cooler in the night-time, the quilt provided just the right warmth! Combined with tired legs, I'm happy to say that I slept soundly for the whole trip.
Why recommend it & who will it suit?

I would recommend this challenge to anyone looking for an authentic cultural experience… just like the ones you used to know.
As the Pioneering title would suggest, this trek is truly off-the-beaten track and that is hard to come across these days. We were one of the first trekking groups in the country to be seen by many of the locals who always welcomed us with heartfelt hospitality. It was wonderful to trek through the unspoiled Shan highlands for the length of time and distance that we did without seeing any other tourists. Instead we saw many farmers and we trekked through villages and learned about the untouched Burmese way of life and traditions. This is an experience I will remember fondly.
If you want to know more about our Burma Hilltribe Trek download the itinerary below. You can also get in touch with the DA team to ask any burning questions.
*This was an Open Challenge and consisted of adventurous trekkers fundraising for a number of different causes. A Pioneer Challenge is a new trip which hasn't run before (of course all trips are fully recced and risk assessed); they are off-the-beaten track and appeal to those looking to embrace the true spirit of adventure and help blaze the trail for our latest challenges!

---