Challenge Co-ordinator Dan departed the office on the 23rd February, bound for Borneo, to join a group of enthusiastic challengers all fundraising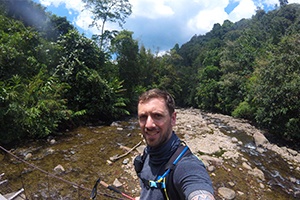 for The Princess Alexandra Hospital. This was his first time in Borneo, so we couldn't wait to hear all about it when he joined us back at DA HQ.



Dan's first hand insight in to this Pioneering challenge keeps it simple:
The best bits (simply the bits that make your spine tingle with excitement)
The worst bits (we're honest, so here's what you should know - we like you to be able to make an informed decision!)
Top Tips (the kind of know how you need from someone who's been there and done it)
Why he recommends it and who will it suit? (the bottom line - is this the challenge for you?..read on to find out)
---
The best bits
Experiencing jungle life -

it was such a privilege to experience the locals way of life in the jungle

. They opened up their homes to us and provided such a warm and welcoming hospitality. There were no phones, internet or TV and it was great to go back to such a traditional way of life which is now lost back home. Their existence in this harsh environment was very simple and humbling. They were probably not very cash rich, but by looking at their constant smiles and happy demeanour you would think they were some of the richest people in the world.


Summiting Mount Kinabalu - The walk up to Laban Rata (base camp) on our first day on the mountain was wet and visibility was poor. I was worried as we reached our accommodation that summit day would be a washout and we would miss out on the fabulous views that I had read about. As we sat in the dining area all of a sudden the clouds disappeared and allowed for the most stunning views of the top of Mount Kinabalu. Looking down gave the impression that we were sat on the clouds with the country of Borneo below us. Our guide said it was a good sign and that we should get some good weather for the summit.
Our alarms went off at 1:45 am which allowed some time for a small breakfast before we departed for the summit at 2:30 am (it took approximately 3 hours to reach the summit in pitch black with only our head torches for light). We reached Lows Peak at around 5:30 am which allowed us time to take pictures at the peak before sitting down to urge other group members on, before the sun began to rise.
As the sun came up we were able to view the route we had just walked/scrambled up and admire the views of Borneo below us. It really put into perspective how high we had climbed in a matter of days!


Orangutan's -

It is difficult to put into words how special it was to experience these majestic apes in the wild.

Playing and swinging through the trees in their natural habitat, each one seemed to have their own personality as we just stood, looking up in awe.
The 'worst' bits...
Heat and humidity - the heat and humidity in the jungle was some of the most intense I have experienced. Within seconds we were all sweating and it did not stop throughout the day. The lunch stops by the river were very welcome and many of us took the opportunity to jump in to cool down.


Coming down from Mount Kinabalu - After the euphoria of any successful summit, you then have the realisation that you now have to get down safely. 6 plus hours of nothing but downhill is tough on the mind, legs and knees! It is a fantastic feeling to finish the trek but it is a struggle to make it down.
Still keen? Here's Dan's five TOP TIPS for taking on this trek
Make sure you take walking poles! Even if you have never walked with poles before, I would suggest training with them before you depart on this challenge. The first day in the Crocker range is all downhill and without poles your knees are really going to feel it.
The terrain is also very hazardous (slippery rocks, tree roots) so was very handy to be able to put your poles out if you felt you were about to fall.


Take your time when climbing Mount Kinabalu. Although the majority of people who attempt Mount Kinabalu, succeed to the summit, it is still the highest mountain in south East Asia (4095 m) and one to be respected.
The starting elevation is 1886 m so you are climbing fairly swiftly, meaning you can feel the effects of altitude if you do not walk at a slow pace.

You do not want to ruin the summit morning with altitude sickness.




Book the extension! If you have the extra time available, please take advantage of the orangutan extension we offer.

There is a chance that you will only travel to this part of the world once, so take the opportunity to see these great apes in the wild.

It is honestly the most amazing experience to see them swinging in the jungle.


Train as much as possible on the hills. You will not find a great deal of flat trekking on this challenge, so will need to make sure you have walked some hills to get used to the ups and downs of the terrain in Borneo.


Stop and take in your surroundings.

Every now and again just stop for a minute and take in the surroundings you are walking thorough.

The day's walking in the Crocker Range are really remote, and through deep jungle. Just by stopping for a minute you can suddenly hear birds and insects calling, butterflies flying around you and a real feeling of how small you are in this vast jungle.
---
Why recommend it & who will it suit?
I would recommend this to anyone who want to experience a challenging trek in beautiful surroundings. You have two very different parts to this challenge. The first being the trek through the jungle, dealing with high humidity, stunning views and simple living conditions at the home stay. Perfect for anyone looking for a cultural experience as well.
The second part is the opportunity to summit the highest mountain in South East Asia and be rewarded with some superb views!

Is the Kinabalu Rainforest Trek on your challenge wish list? Speak to Dan direct about his experience and recommendations:
---