---


DON'T LET BLISTERS RUIN YOUR TREK OF A LIFETIME
You know how it is, you've chosen the challenge and the destination - it's a real life affirming moment when you set off with your well packed bag and you are on your way to the airport.
You've bought some new trekking boots ripe for the occasion, but within a day of being on the trip every step begins to grate - literally! And before you know it you're hobbling into camp that evening wondering how you'll make it through tomorrow...
Well never fear - that's something no-one wants to happen - so whether you're off to trek the Inca Trail or your ranking up the mileage training for our Jurassic Coast Weekend- here's our top 5 ways to look after your feet and prevent blisters when trekking:
---


1. MAKE SURE YOUR BOOTS AREN'T TOO SMALL
Seems pretty obvious, right? Well our tip is to take the insole out of your boot and put your foot on it to check there's at least a centimetre's clearance. That way when your foot flattens out when walking your toes aren't right up against the edge. Remember both feet are rarely exactly the same size, so check both.


Related: Trekking Iceland: It's time you took a walk on the wild side!


2. LACE YOUR BOOTS TO ENSURE YOUR HEELS DON'T SLIP WHEN WALKING
I could feel my feet moving around in my boots while I was walking up a very steep hill in P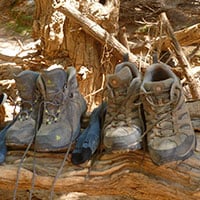 urbeck, and suddenly remembered that I used to lace my boots differently to avoid that happening. I think I avoided heel blisters in the nick of time. Check out the 'heel lock' lacing combination – I thought this was a useful website but there are plenty of others.
There are other lacing combinations for different foot issues – the professionally trained experts at Cotswold Outdoor will measure your feet and help you to find the perfect pair of boots. Take your time when training to see if these methods suit you – probably best not to experiment the day before you go, especially if you haven't had any problems!
3. AVOID SWEATY FEET
Having sweaty or wet feet often causes blisters, so having the right socks that wick moisture away is a must. I've taken to liberally dusting my feet with talc before a walk, which seems to have helped too.
4. CHOOSE YOUR SOCK COMBINATION WITH CARE
Some people swear by liner socks, which help reduce friction between your foot and your boot. Others say you don't need them if your main socks are good enough. I've never used them as a matter of course, but I have worn some with thinner walking socks and they made a noticeable difference to the boot fit. Try different sock combinations when you're training and see what works.
5. STOP WHENEVER YOU FEEL A HOT SPOT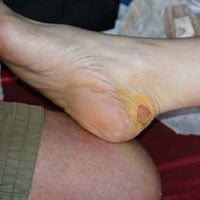 If you feel a hot spot on your foot, it's a potential blister developing, so stop and sort it out immediately. If you're walking with others, don't be shy about asking them to wait. Sometimes it can just be that some grit has got in, or there's a crease in your sock. Your feet can swell after walking for a while, so you may need to loosen a section of lacing. If you need to whack on a compeed or some moleskin, do that – whatever works for you.
---

Giving yourself time to prepare for a trek isn't just about getting fit, the earlier you start , the more time you have to experiment with what works for you and what doesn't (far better to find that out on a training walk, when you can turn-tale and head for home than in the middle of the Sahara somewhere...!)


Related: Kim's top 10 tips for trekking the Sahara

And remember, you aren't just training to get fitter, you're perparing for your challenge. Vary your walks to include steep hills, steps, hard tarmac, slippery mud, rocky uneven terrain and exposed ridges - you'll feel more confident on the trip with that experience behind you and importantly you'll have fully broken in your trekking boots too!


Don't forget, you can always ask us if you've got specific queries about preparing for your challenge -and getting the right footwear. The chances are we've been there and done it and can give you the inside track on what you'll need!


---