The epic Marathon Walk London 2018 took place on 22nd September, and we were thrilled to welcome determined and inspiring participants taking to the streets of our beautiful capital, trekking hours and miles all in the name of charity.
We spotted Chester, participant 297, emptying a ginormous rucksack of water at the end of the day of urban trekking and we were curious.
We asked Chester to explain why he chose to be a part of the Marathon Walk London and why he made the crazy decision to carry 20 kg of water on his back to trek around the city!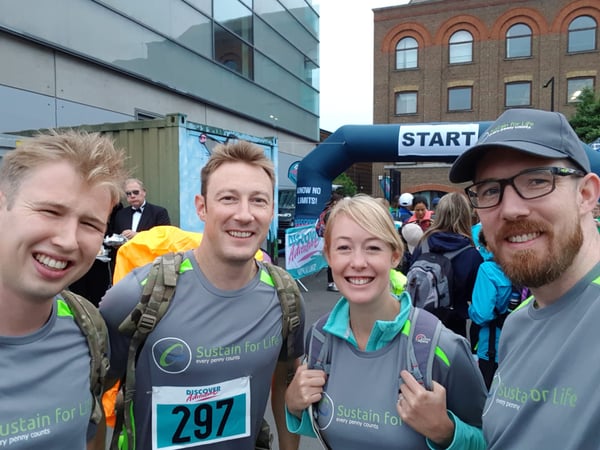 DA MEETS CHESTER
Meet Chester! Chester joined us for the Marathon Walk as part of a team with three others, all being challenged in their own way. However, Chester decided to take on this challenge with a twist! Find out about his #DAMWL experience was and be inspired.
First of all, how are you feeling after trekking 26 miles around London?
"I've got one bruised toe and a few other injuries but all in all, I'm not feeling too bad!".
In fighting spirit! Well, congratulations on completing the Marathon Walk London 2018, especially in the rainy weather. And it sure did pour down in true British style!
What inspired you to sign up for this event?
"My wife works for a fantastic charity and encouraged me to get involved in supporting them. This event came up, and I just went for it!
Over time, I've learnt more and more about the charity and actually, it's definitely a charity I would have supported anyway as the work they do is so crucial and incredible! "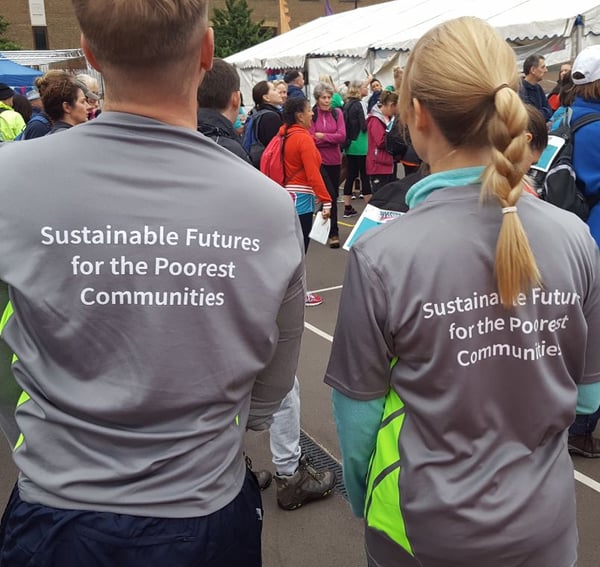 Chester's wife, Natalie, works at the fantastic Sustain For Life Charity. We asked Natalie to tell us about what makes this charity so blooming fantastic!
"Sustain For Life are a unique charity set up by Massimo Gini, who while on holiday in Uganda saw the horrific poverty and pledged for life to personally fund all core costs for the charity. Allowing 100% of donations to go on the cause. One in five charities spend less than 50% of donations on the cause. We spend 100% thanks to our founder.
We aim to make a better world one community at a time by helping some of the absolute poorest people on the planet to help themselves.
Our underlying belief is that people benefit more from the opportunity to develop through their own efforts rather than simply relying on the donation of aid. Therefore we deliver projects across agriculture, education and health providing people with the knowledge, resources and tools to lift themselves out of poverty."
Thanks, Natalie! It is truly incredible that the charity ensures 100% of donations go to the cause and what a worthwhile cause at that! You can follow the amazing work that Sustain For Life carry out, on their website: sustainforlife.org
CARRYING 20 KG OF WATER AROUND LONDON
So, Chester, what fundraising target did you set yourself to achieve?
"I wanted to raise £1000, to help towards building a water tower for an orphanage in Benin and we managed it!"
That's an amazing amount! What a fantastic achievement and a great impact that'll have on the community in Benin.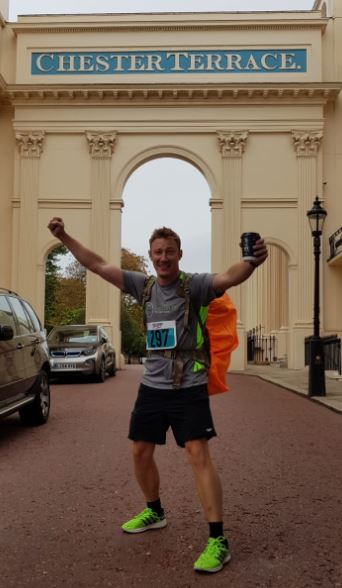 Adding to the challenge
Let's talk about the 20 kg of water you carried on your back throughout the Marathon Walk! Why did you do this?
"I'm in the military, supporting charities where we can is something we are passionate about and something that I love doing. This event was a great opportunity to get involved in a worthwhile charity, I thought it'd be a good idea to add an extra element of challenge and carry 20 kg of water on my back. In the end, with the bag and other stuff I was carrying, the total weight was about 26 kg. In hindsight, damn stupid of me!"
A crazy but awesome idea!
"Many women and children carry around 20 kg of water over equivalent distances that we walked on the Marathon Walk, but they do it every single day! I thought it was a way of demonstrating just a little of the struggle they go through."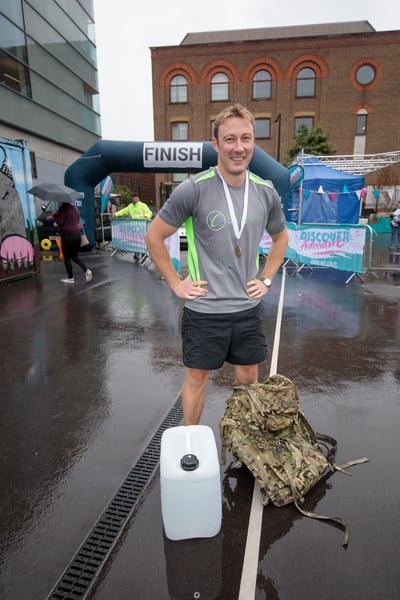 We love your heartfelt idea, it's a great way to attract more fundraising that all goes towards supporting your charity. Even if you are feeling a little sore afterwards!
Is there a memorable moment from the day or something that really shone as a highlight from your experience?
"Finishing was definitely a highlight! It was a lot more challenging than I thought it would be.
The route is definitely designed to test you! And the weather added to the challenge on the day but the rain didn't dampen your spirits.
"The people that I met along the way were really the highlight for me. The conversations we shared and the morale from others really spurred me on to keep going. The weather was awful, and the crowds made this even more challenging, with some following others rather than the arrows, but the mutual encouragement and recognition from the participants was phenomenal.
When you hit that wall, and everyone hits that wall at some point, it's the people around you that kept you going."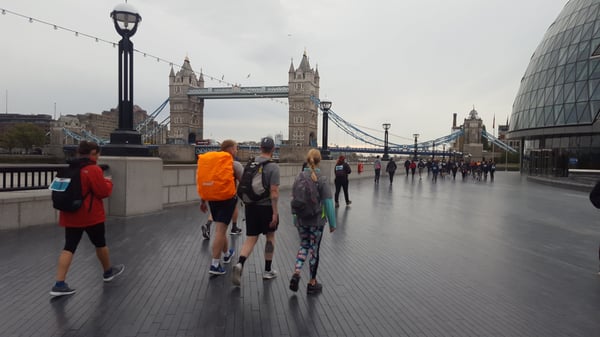 We call it a challenge for a reason!
It really was a tough yet rewarding day for participants completing the Marathon. What concerns or fears did you have before you set off?
"Unless you've done it, you don't really know how hard it is.
The 20 kg of water on my back was sloshing around, for me it was a real balancing act. It really was a lot harder than I thought it would be, even as I have completed a lot of running with weights on their back within my job. "
It was definitely a challenge, but what a fantastic way to raise money for Sustain For Life.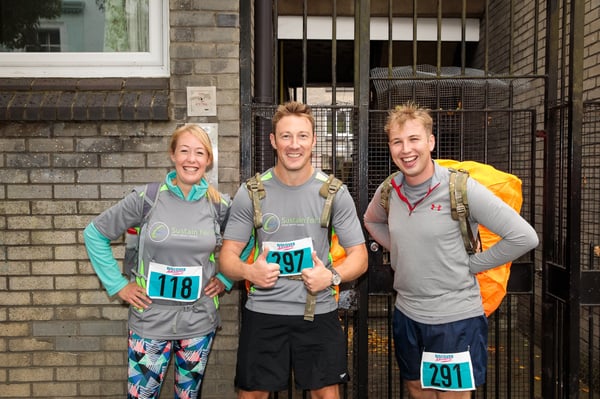 Have you done anything like the Marathon Walk before?
"No, this was my first event of this kind. But I would definitely do something like this again. My wife and I are already planning our next adventure! We're thinking the London to Paris Cycle, probably carrying a fridge this time!"
Now that would be impressive! We can't wait to see what wacky fundraising activity you take on next.
"I didn't realise that 100% of the donations go straight to the cause. So I will definitely be continuing to fundraise for Sustain for Life as they need all the help they can get. Having seen the devastation in other countries, first-hand, from being in the military has really resonated with me.
After all, a day of pain for me could potentially help someone for the rest of their life."
Perfectly put. It really is a catalyst for positive change!
The benefits of completing a challenge
What have you gained from completing this event and fundraising for such an amazing charity?
"I've lost weight. Gained bruises and blisters. Gained friends that we will definitely keep in touch with. I've gained a newfound respect for people that conquer much further events at a far higher standard than I did!
But, I think the key thing I took away from this was the motivation to do more. Especially, for a great charity, supporting a great cause."
Incredible. It is amazing how much impact just one challenge can have. And we think this is just the start of many adventures.
So, what would you say to someone thinking about taking on a challenge?
"JUST DO IT! Aim high and don't underestimate what you can achieve".
Brilliant, thank you, Chester. Your words are very inspiring.
Want to make a difference and challenge yourself to something EPIC?
Then join us on an adventure of your own! Check out our challenges available to book for 2019.
We have a new brochure coming out soon so get your name down to receive a copy of the latest challenges for 2019-2020!