We've got heaps of new adventures lined up to reveal to you VERY soon, but of course, these challenges need to be tried and tested. Who better to embark on our adventures as a pioneer participant than Rob, a trusty member of the DA team!
Rob has ventured out to Peru on his latest expedition and kept a diary of his travels. Take a peek into the mind of a true adventurer and read Rob's diary from his countless time visiting the beautiful land of Peru.
Day 1: Challenge begins
'Leaving the UK ready to visit Peru, a country I have explored many times in my Discover Adventure career - each time, loving it a little bit more!'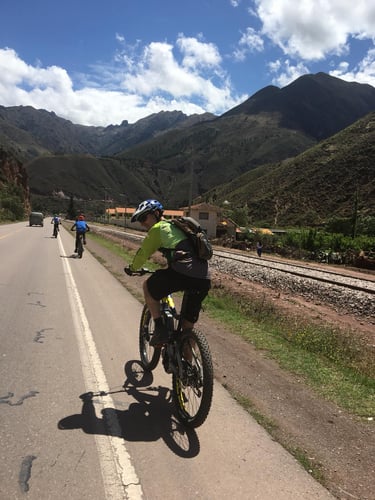 Day 2: Touchdown in Cusco
'Arrived into Cusco on Saturday and even before we landed, I was excited to be back. The final approach to the runway is amazing, you suddenly come over a ridge, and you can see the whole of Cusco tucked into the bowl that it sits in. You then loop around and right into the middle of the valley.
I've been to Cusco many times over the last 15 years, and it never fails to put a smile on my face. The mix of Inca and Spanish architecture, the friendly locals, the colours of the markets, the energy and vibrancy of so many travellers and tourist enjoying all that Cusco has to offer. It's all intoxicating, and I love it!'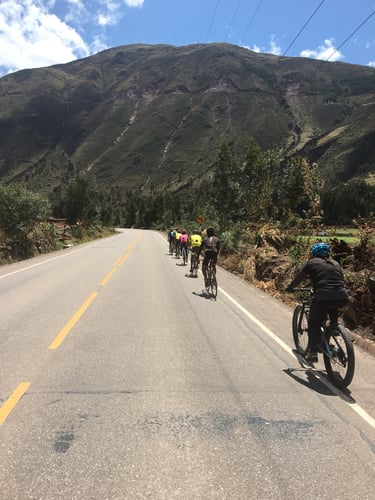 Day 3: Acclimatising Cycle in Cusco
'Today the acclimatisation ride begins. A nice easy and slow 18 km ride with plenty of time to stop and explore some of the many Inca ruins close to Cusco including the very impressive Sacsayhuaman. The route is predominantly downhill mostly on tarmac but with a few bits of easy dirt track. We spend the second night in Cusco to further acclimatise.'
Day 4: Cycling the Sacred Valley
'Starting at the eastern end of the Sacred Valley, we cycle first on the road which is little used by motor traffic and then switch to a dirt track for the second half. It's a gentle first full-day that is pretty much all downhill or flat. In fact, we lose only 100 m of altitude in over 30 kilometres of riding! We finish in Pisac, at a lovely hotel just outside town which has a swimming pool. It's a 10-minute stroll into town to explore its famous market and there's the chance to have a look around. There is also an amazing empanada restaurant just as you reach town on lhs for a delicious and fresh snack.'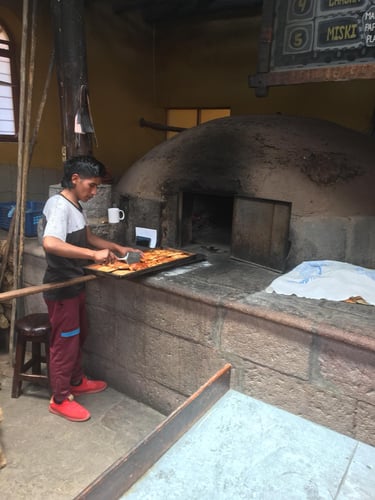 Day 5: Cycling through Pisac, Peru
'On the second full day, we start straight out of the hotel, peloton style, through Pisac. And then back onto a great dirt road that we follow all day to Urubamba. The mighty Urubamba river is our constant companion today. While the route is mostly flat, there are a few short, sharp ups that instantly halt the moment. They're short lived and then it's back to flat and gentle down allowing the wheels to roll nicely. A lovely picnic spot on the side of the river offers a wonderful break to refuel our bodies and rest a while. We complete today's cycle in Urubamba, and while it's not as pretty as Pisac, it does have its own charm and is worth a wander around if you're feeling up to it in the late afternoon. Also, I forgot to mention that it's hard not to get a sore neck, as I spend most of the time marvelling at the high mountains either side of the Sacred Valley, views I never tire of. '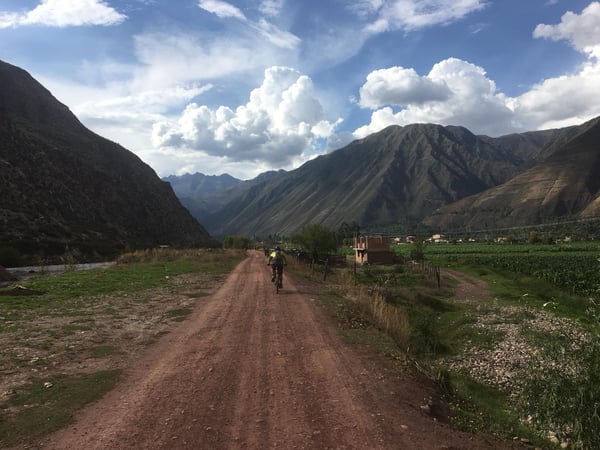 Day 6: Exploring the Salt Mines of Peru
'Wow, what a day! It all started with a transfer to Maras to visit its famous salt mines. It's not a mine, but instead, an underground aquifer rises to the ground here bringing very salt, and slightly warm, water to the surface. This is then channelled into over 2000 small and shallow, 2 inch pans, where the sun then evaporates the water away leaving the salt behind. Each pan produces approx 300 kg of salt each time. In the summer months, it only takes around 5 days for the water to evaporate. There are 3 layers to the salt; the bottom layer isn't used for eating but instead used for body rubs or for cattle lick blocks, the middle layer produces a pink salt, similar to Himalayan Pink Salt that is available in the UK. This is for eating and is very popular in Japan. And the top layer is pure white and is eaten as we know. They also smoke some of the salt, and it has a lovely smoky flavour while the colour darkens to a light brown.
After this visit, we drove higher up to the start of today's cycle (3700m). It is downhill for the first bit, and then some classic DA undulations all the way to the Inca ruins of Moray - an Inca nursery where they experimented with growing different varieties of food. Each terrace has slightly different growing conditions which are akin to different areas around the Sacred Valley, so they knew what grew best where.
A spot of lunch near the ruins, and then from Moray there is a 10 km descent into the Sacred Valley and then around 8 km of flat cycling alongside the Urubamba river to Ollantaytambo. A great day with a real mix of treats.'
Day 7: Cycling in Peru with views of the Amazon Rain forest
'It's an early start for our final cycle day as we drive up and out of the Sacred Valley heading to the high pass of Abra Malaga (3300m). Where if you're lucky, which I was on this occasion, you have great views of the beautiful Mount Veronica as well as down towards the Amazon rainforest. If the weather allows, we'll start from the top, but if the cloud is low and shrouding the pass we'll continue driving lower until we're beneath the cloud and can clearly see where we're going once again! It's a great descent through stunning cloud forest towards the Amazon below but needs to be done in a controlled manner to ensure we enjoy it the whole way down. Once we reach the valley floor, you really notice the rise in temperature and humidity, a real contrast to the relative cool of the Sacred Valley. The route then undulates all the way to Santa Maria passing through the area where nearly all of Peru's tea is produced. After celebrating the end of our ride, we transfer 2 hours to Santa Teresa along a winding dirt road as we ascend back into the mountains. Santa Teresa is famed for its' thermal pools, and while they're certainly not the hottest, they do offer aching muscles a bit of welcome relief, so hopefully, we'll have time to enjoy them. Night hotel.'
Day 8: Seeing Machu Picchu
'A final early start to the trip as we catch the train to Machu Picchu. Exploring these world-famous ruins, after all our cycling, makes the experience all the more special and our lovely local guides bring the place to life with their passionate explanations. Once we've completed the tour, we head back down to the train station and catch an afternoon train back to Ollantaytambo before transferring to a bus and a drive back to Cusco. A long but brilliant day to finish our Inca Cycle adventure. Night hotel.'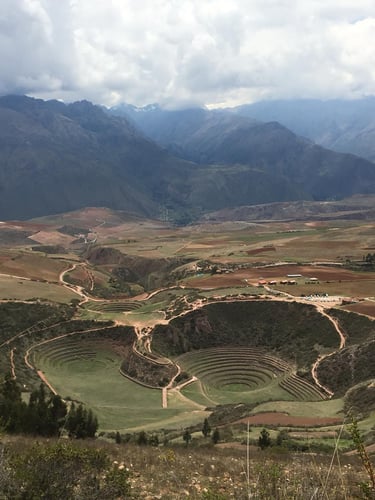 Day 9: Explore Peru
'A welcome lie-in for those who want and plenty of time to explore this great city once again. There's a delicious Celebration Meal in the evening to really round the trip off.'
Day 10: Lake Titicaca or The Colca Canyon?
'Time for some last minute shopping in the morning, before the afternoon transfer to the airport and return flight to the UK. For those who are lucky enough to go on the trip extension, they'll be off to explore some more of Peru either into the Amazon or up to Lake Titicaca and The Colca Canyon! It's a real adventure and great, authentic experience of Peru - a country I have enjoyed many times.'
Rob, that's a pretty awesome experience exploring Peru like you've never seen it before. Thanks for sharing your adventure diary with us!
Itching to experience this Inca Cycle in Peru for yourself?
If you've fallen in love with the adventure after peeking into Rob's recce day - we're not surprised! This challenge is one of the new stars of the show in our brochure soon to be released. Don't worry, you won't have to wait long to get your name down on this cycle and be a part of the first group of participants to ride this incredible route.