---
Challenge leader Jo Bradshaw is an inspiring woman. In 2015 she was on track to be the first British woman to complete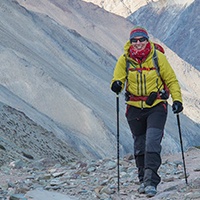 the epic dual climb of Mount Everest and Lhotse in Nepal, but mother nature had other ideas. In April 2015 Jo was at Camp 1, Everest when the Nepal Earthquake struck, preventing her and her team from continuing their expedition.
But this year, 12 months on, Jo is set to resume her challenge - so how do you pick up your physical and mental preparation after such a set back?
Well we asked her - read on to find out: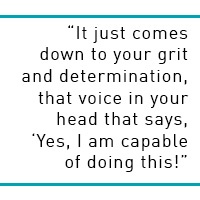 Life is all about the journey and not the destination, and so are expeditions.
As corny as it sounds, it's oh so true. I haven't reached all of the summits I have aimed for nor I have I always managed to go the whole distance on an expedition for a variety of reasons. But it is how you come back from these 'so called failures' that makes you the person you are - and importantly, builds your resolve for reaching future endeavours.
In April 2015 I was at Camp 1 on Mount Everest when the earthquake struck. Of all the things that could have stopped our climb (Jo was climbing with experienced adventurer Rolfe Oostra), from illness, to injury to the weather, an earthquake was never on the list.
Nor was it on my mind when I signed on the dotted line a year before. When spending time getting fit both physically and mentally and investing such a huge amount of money in this (or any) expedition, its reasonable to expect to be given a good shot at your goal. But sometimes there are outside influences that say, 'this is just not your time,' in essence, true sliding doors moments.

I've been very fortunate in that I have been given the opportunity to return and resume my challenge this April. After leading a Discover Adventure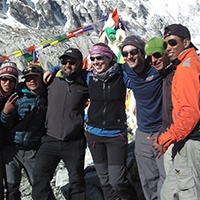 challenge group to Everest Base Camp, I'll be going on to attempt the dual climb of Everest and Lhotse. However, it's important to remember that it's not about the size of your 'mountain' or the amount of money spent in preparation that dictates whether you'll be successful or not. Nor the magnitude of your potential achievement (it's all relative), it just comes down to your grit and determination and that voice in your head that says 'yes, I am capable of doing this.'


I also sustained a shoulder injury on our April (2015) expedition that had a serious impact on my training for this coming climb and could potentially have stopped it altogether. I got frustrated at the time, wondering, 'why me?' But again, I am a firm believer that things happen for a reason and these 'things' may not always fit with your personal agenda but will often, redirect you towards a time when it is right. Luckily I have managed to continue my training.

So if you face a set back and a second opportunity opens up, go for it, don't give up just because it didn't work out that first time around.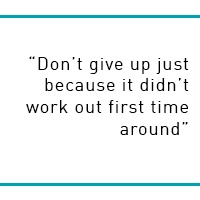 On deciding to resume my expedition attempt, I took a long hard look at my 2015 preparation plan, as I do with any successful or 'failed' expeditions. I reviewed my training plan, my kit, my equipment and most importantly my mental attitude - never underestimate the power of making small tweaks. I have made slight changes to last year's plan and have admitted to myself where small mistakes had been made (note also the power of being honest with yourself) in order to give myself the best possible opportunity this time around.
So in essence, set backs are good! They refocus you, they make you hungrier for success, more determined to reach your goal and if you want something badly enough - it will remain yours for the taking, just don't compromise on the hard work that you need to do to get you there.
I have learnt so much from all my setbacks and 'failed attempts' that I wouldn't want it any other way.
---
If you read nothing else in this blog, take note of this. No matter what your 'mountain' is and no matter what the hurdles placed in your way en route to reaching your 'summit', if you want it bad enough, you'll always find the energy inside to lift yourself up and continue to climb.
If I can do it, so can you. A little self belief goes a long way.
#KnowNoLimits #LivetheAdventure
Jo is continuing to fundraise for charity Place2Be ahead of her climb, to support her efforts please take a look here.
---