---
Ben has been a Challenge Leader with Discover Adventure for the last three years. In that time he's lead our participants to the top of Mount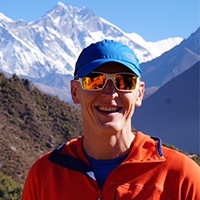 Kilimanjaro by foot and from London to Paris by bike and may just be leading your next trip!
So with that in mind, we stopped him before he hot footed it off to lead a group of fundraisers cycling from France to Spain, to find out what he classes as his all time favourite challenge, his top tips for challenge preparation and the passport stamp he's yearning for the most...
---
All-time favourite DA Challenge:
My passion is for the mountains so I will have to opt for the Everest Base Camp Trek. Nepal is such a beautiful country and the people are incredible, you'll always find them so friendly and happy despite some of the difficulties they've faced recently.
On this challenge you are continuously surrounded by famous mountains towering over you; mountains where history has been created and where the stories I've read over the years have played out. It's quite a powerful experience and it's hard not to be in awe of the hardship those early mountaineering pioneers faced climbing these impressive peaks.
Top Challenge from the UK & Europe:
It has to be the Carcassonne to Barcelona Cycle. This trip has a magnificent and varied route, it's challenging and scenic. You can spin up some of the gradual climbs but others can be real leg-busters! The highlight of this challenge for me is riding through the Pyrenees and iconic Tour De France country, it is just perfect for the nostalgic cyclist.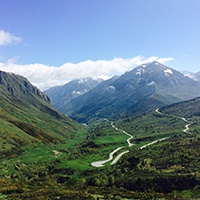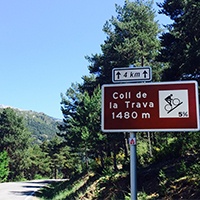 Top tip for trekking or cycling in UK/Europe:
Organisation, organisation, organisation. Challenges are designed to be tough, to take you out of your comfort zone and away from your daily routine. Not packing to much and efficiently prepared with what you need can mean the stress and 'morning faff' of packing is reduced.
My top tip is to arrange your kit in smaller dry bags. i.e. all underwear in one bag and t-shirts in another. This way, you'll know where everything is and its easier to access. I have different coloured bags for different items. I really let my OCD run wild with this...
Passport stamp you are most proud of:

There is no single stamp that I'd say I'm 'most' proud of. I love my job and love to travel, so all of the stamps I've gathered over the years make me proud of my career. However, I'd have to say that I am most proud of the amount of times I have one particular stamp - I'm now on my 5th stamp for India! The country is so diverse and stimulating that I just can't get enough. It's truly a bonkers place and a travellers delight.

Passport stamp you most want to have:
Mongolia. This country holds so much interest. Its remote, unspoilt and not yet developed for travellers and for that reason I find it so raw as a destination. The nomadic lifestyle of the people that live there and their ability to survive in such a harsh environment really inspires me. It's somewhere I want to explore and the tough environment poses a challenge I'd like to set my sights on.

You might not know but ...
Probably the best experience I had the pleasure of being involved with was a month long canoe journey down the river Ganges in India- 6 friends spending 3-4 nights at a time on the river sleeping on sandbanks before paddling in to a town to re-stock and have a night in a hotel to freshen up. On the final day, we paddled into Varanasi to see sunrise in the Holy City. It was mesmerising.

If you are itching to get on an adventure with our incredible DA crew, head over to our challenges page and find something that excites you!
---
---