MARATHON WALK LONDON
Jill Williams has signed up for Marathon Walk London 2018 with Discover Adventure. As the sign-up notification came through our DA system and a familiar name popped up, on our ever-growing list of participants due to trek around London on 22nd September, the team became curious. You see, since 2012 when the Marathon Walk London first joined the list of exciting challenges by DA, Jill Williams has missed only one year. That's 5 Marathon Walks so far, just over 130 miles trekked in total in aid of charity and a whole lot of money raised.
We wanted to know what inspired Jill to get involved in this event and what motivated Jill to keep conquering this urban challenge time and time again? We're here to find out!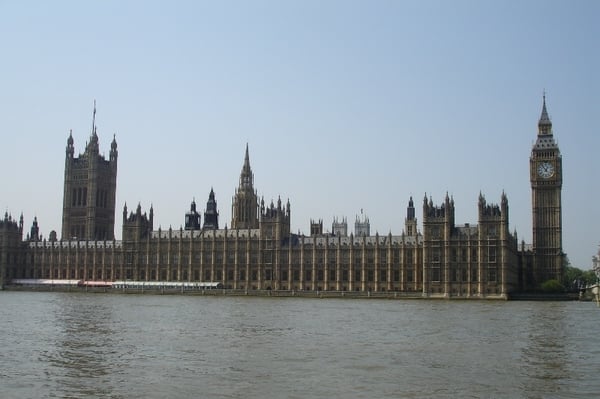 The Interview
Hey Jill! You've completed almost every Marathon Walk London that Discover Adventure has run so far, and you've signed up to this year too. What motivated you to first sign up to this challenge?
"I had been walking in aid of, what was then, Breakthrough Breast Cancer since 2005 and I discovered the Discover Adventure Marathon Walk around the Olympic sites in 2012 by accident. I had enjoyed some fab days at the Olympics, so it sounded like a great walk for me, and I persuaded a friend to sign up with me.
That was the start of my journey with DA."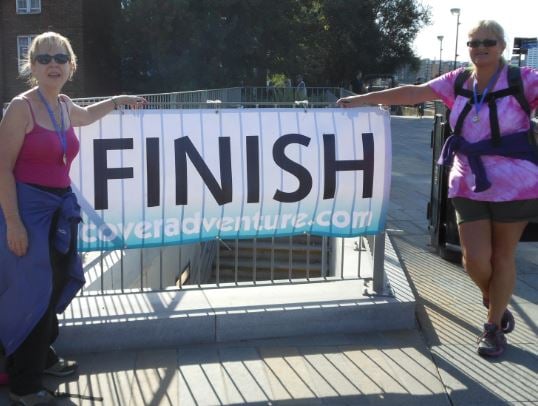 Image: Jill, on the left at the finish line of the Marathon Walk London
Name that theme!
We make sure to do different themes each year for the Marathon Walk, so it's great to hear this one caught your eye!
What has inspired you to sign up for our event time and time again?
"I had previously undertaken a variety of walks some of which required overnight stays or long journeys at either end so finding one right on my doorstep came at just the right time.
Of course, after I had undertaken the first one I knew the company and liked the way everyone involved was so very friendly and helpful, so I have stuck with it ever since."
A loyal DA trekker- we're definitely impressed!
"The Marathon Walk London is a trip around all those places people talk about seeing but maybe never visit, even Londoners! Household names like Abbey Road Studios, Lord's cricket ground, Marylebone station.
Every year there is a slightly different theme, a different start or end point and a new route so although it is a familiar event, it never gets boring. And the DA team are always trying to improve the participant's experience."
Exactly that! We've had Olympics, Monopoly and cockney themes in the past and we've got an exciting and glamorous film-location based route ready for this year. With an army of fund-raising trekkers, the DA team and an ever-changing themed course - it's a pretty special challenge to get involved in.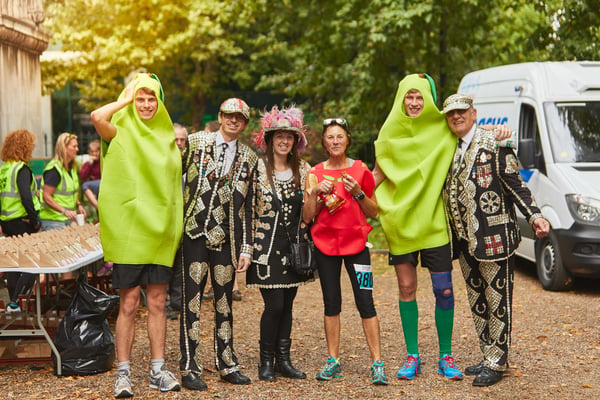 "Certainly the people who run the event make it very special, but having such interesting routes just makes it unlike any other organised walk I know of. And never just a boring old walk!
The DA routes are always so varied and informative, making it so much fun!"
We're glad to hear. So how do you train and prepare yourself for a mighty Marathon Walk each year?
"In the early years I used to ease off walking during the winter time, but I had a group of walking friends, and we would get together in spring through to the end of the summer. Each week we would attempt a longer route and just keep encouraging each other. During the final few weeks of the run-up, we made sure to undertake a walk of at least 22 miles."
Wow! It's wonderful how sociable these challenges can be before you've even set foot en route.
Make friends along the way
"My first year with DA a friend signed up with me, but since then I have signed up alone. It's so easy to do when you have complete faith in the people organising the event! Oh, and I have met some really lovely people each year, especially some of the DA staff!"
Brilliant. You've definitely racked up some miles and seem to have developed a real passion for trekking.
"The events gave rise to my addiction!
Nowadays, I do continuous walking throughout the year, at least 50 miles per week, and build up for the last few weeks before the walk. Usually, routes that are 15, 18 and 22 plus miles. Then lay off walking for the final few days to conserve energy."
We love that it has become such a huge part of your lifestyle. Our challenges give people the opportunity and a ruddy good reason to make positive changes to their everyday life, from making sure they get a few extra steps in each day and increasing their fitness to getting outside in the fresh air and reducing their stress levels.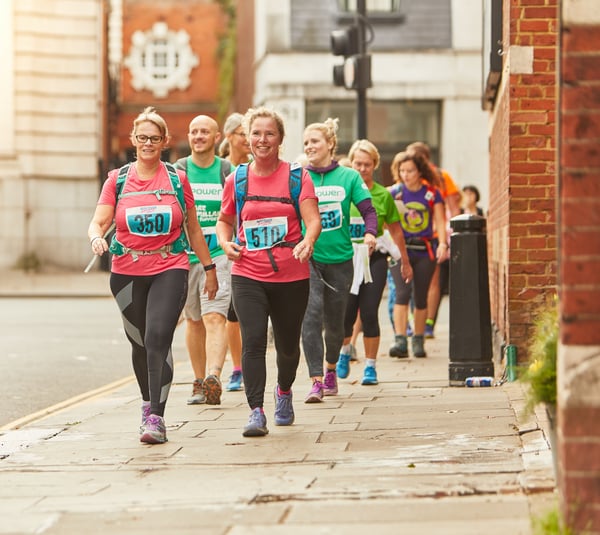 Fund-raising for your charity
As well as trekking, you've been busy fund-raising over the years too! Tell us about your fund-raising activity?
"I had wanted to do 'something useful' for a long time. As I have a back problem which prevents me from running, a long and challenging walk seemed perfect for me. Not forgetting, of course, that the Breast Cancer Now cause is a very worthy one. I had such a fantastic experience and met so many inspirational people, some even as young as 16 and in remission, that I have never changed allegiance."
What an incredible charity to support, so what have you been up to in your fund-raising endeavours?
"The greatest part of my fundraising has come from walking sponsorship, but I have organised all sorts of events such as sponsored head shaving, quiz nights, music nights, tombolas and raffles."
Wow, you have been busy. You really are a Marathon Walk hero in our eyes, and we can't wait for you to join us this year for another fun yet challenging day of trekking.
What would you say to someone considering signing up for the Marathon Walk?
"Anyone who really wants to raise money or just get a different view of London while having fun and meeting great people – just DO IT! I can't recommend this event enough."
Any other challenges on the horizon?
Jill, any other challenges caught your eye?
"I've always wanted to do a challenge abroad – especially trekking Machu Picchu or the Great Wall of China but have never had the courage to do that on my own!"
We have a feeling this is just the beginning of a storybook of adventures for this inspiring lady.
A big thank you to Jill for sharing her challenge stories with us too.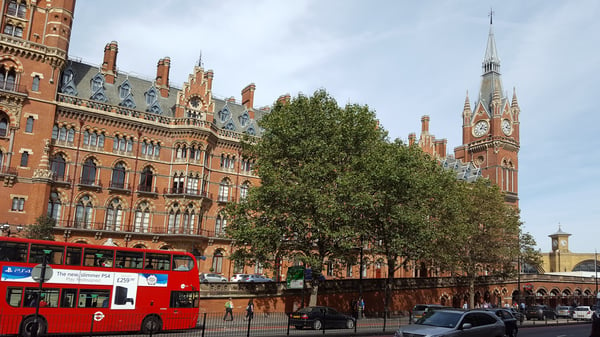 Are you up for the challenge?
If you're feeling uber inspired and itching to get your walking boots on, don't sweat it. There is still time to sign up for this year's event. Only just! Sign up before the 10th September to secure your place.
Get your name down now, and we will see you, Jill and a whole bunch of inspirational participants on Saturday 22nd September!