---
We've followed Jo's expedition progress with bated breath, simultaneously inspired and daunted by the (literally) mountainous challenge ahead of her.
So when the news came through that she'd reached the summit and made a safe descent, everyone at DA HQ were elated and proud. As she touched down in UK and made her way to see us here at the office, we couldn't wait to hear all about the expedition first hand.
And we couldn't keep it to ourselves, so here is a snapshot of of our interview with her...
The decision to climb Everest and reaching the summit
Keeping going when the going gets tough
Celebrating
Advice - whether microadventure, your first cycle challenge or climbing Kilimanjaro - this is a must read.
Look out for the full interview coming soon!
---

First and foremost, why Everest?
Everest has never been on my 'bucket list' or a lifelong dream - the decision came more as a natural progression, resulting from testing myself year after year, finding my limits and pushing myself. It wasn't an easy decision to make, but having a few key people believe in me was definitely a big influence.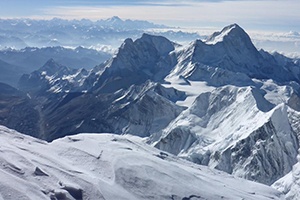 What was it like at the summit?
Cold. And windy. It was -35 degrees with wind gusts of between 20 and 30mph! Unfortunately this made it difficult to get the sponsor banner I'd had made out for a photo. However it definitely went to the top with me (I promise!) and I managed to get a great picture when we came back down.
We were at the summit for about 15 minutes, there was so much to take in, I don't think it hit me at that moment what I'd achieved. I was relieved to make it to the top though!
What kept you going when the climb got tough?
I did get a little homesick, but I wore a bracelet and necklace throughout the expedition that were reminders of my parents and my awesome dog, Daisy, back at home. Whenever it got tough I used these as a source of strength.
I am pleased to say I wasn't plagued with doubts about my physical strength and fitness though, I knew I was strong enough and experienced enough to make it to the top. My training and previous climbs had made sure of that.
It was the mental challenge that was tougher than I'd perhaps anticipated. However, that said, the support from home was overwhelming. Whenever I had the opportunity to check my emails or Facebook I was amazed by the phenomenal support coming through from friends, family and people I'd never met!
How did you celebrate your achievement?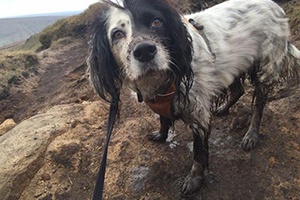 I can't say I truly have - yet!
The first night back in camp we were too exhausted to celebrate - to relax and sleep was enough of a treat. However, when we made it back to Kathmandu we did have a couple of drinks to celebrate as a team.
Back here in the UK I did have a glass of champagne with Mum and Dad. Seeing Daisy again was great too, she was super excited!
What would be your advice for anyone setting themselves a challenge?
For any challenge, no matter what your goal, set a long term plan. Don't expect to be able to do it with only a short training period! The experience you get in the lead up to your main goal, be that shorter cycle rides ahead of a London to Paris or smaller treks / climbs in the lead up to an expedition, try and enjoy each of these for their own merits.
It's all experience and it's these trips that will help you learn so much about your physical and mental strength.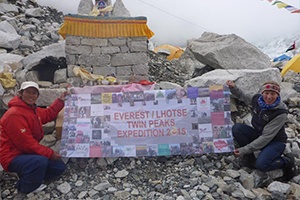 Pace yourself and build up your training slowly. If you want that instant satisfaction of achieving something then make a training calendar. This sets your mind on what you need to do and when, the satisfaction then comes from ticking it off week by week.

How much has your expedition raised for Place2Be?
In total I've managed to raise around £15,000. I managed to raise £10,000 of this solo and the rest through the sale of sponsorship space on my van, bag and banner and through selling headbands and hats that I've bought back from Nepal.
It's an incredible amount that will go a long way to giving children brighter futures through counselling support and education services.
And lastly, will you be keeping your '2 boots' for your next challenge?
....Find out soon!
---
This is just a snapshot of our interview with Jo, the full version will be posted soon so do look out for it in the next couple of weeks, where we find out the perils of climbing at altitude, what makes for a good summit playlist, more downright great challenge & fundraising advice and importantly, what her next adventure is going to be.
If you want to be one of the first to read it, make sure you're subscribed to our blog and we'll send it straight to your inbox!
---