THE GIRO D'ITALIA IS IN IT'S 101ST YEAR! KEEP READING TO FIND OUT WHY WE LOVE THESE ICONIC CLIMBS...

The Giro d'Italia started in 1909 and has run every year since, except for brief stops for the two World Wars. Like the Tour de France, this race is a multi-stage ride, taking place in May-June each year but this time riders chase a pink jersey!

Paul Kimmage, the ex-professional road cyclist, took on the race once, 30 years ago and complained that the Giro d'Italia was far harder than previously advertised.

"Where was the Giro of legend, where riders laughed and joked for five hours and raced for two?"

It's only gotten harder over the years, still, our most eager road cyclists love this ride and asked us to challenge them. We listened; this year we launched our brand new Stelvio and Italian Classics Cycle!


A huge perk for fans of road cycling is that anyone can pedal in the tracks of the legends! Very few rugby fans get to fly over the try line at Twickenham, nor do many get the chance smash a volley at Wimbledon. But anyone with a bicycle can ride up the infamous climbs of the world's most exciting road races. How hard could it be?!

This challenge is not open to everyone. This challenge is not for everyone. This is a classic, tough and remote route... one of the best experiences you could have on a bike!
Our Italian cycling adventure takes us through the spectacular mountains and lakes of Northern Italy, to tackle the legendary climb of the Passo di Gavia (2621 m), a regular feature of the Giro d'Italia since 1960 when it was little more than a dirt road. With gradients getting up to 18%; It starts as a gradual climb for the first few kilometres, but, don't be fooled, after this, it rarely gets below a 10% gradient. This is seen to be one of the toughest Giro d'Italia climbs. Whilst it's a little overshadowed by its neighbours it's a rewarding climb in some of the most stunning scenery the world has to offer. That's not all...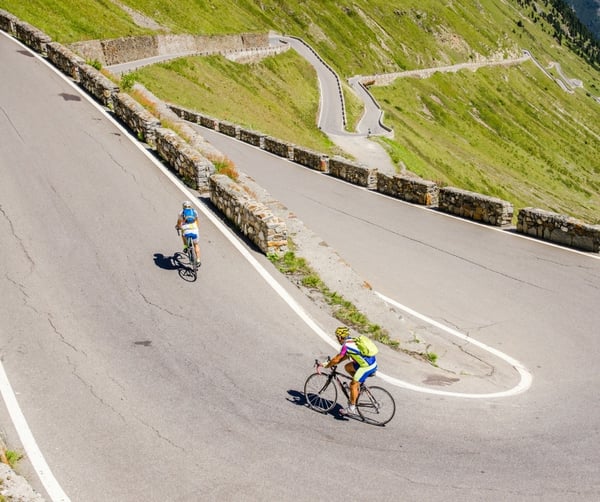 We hit the Passo di Mortirolo: A fairly new climb in the Giro d'Italia. Although a relatively short climb (12.4 km), it is no easy ride and causes real nerves in the professionals as they approach. Riders climb a total of 1,300 m, with an average gradient of 10.5% and the maximum slope being 18%; some say this is the toughest climb in any of the three major grand tours - one for your Bucket List, without a doubt!

A brief detour into Switzerland brings us back over the Passo Dello Stelvio - the second highest paved mountain pass in Europe, and one of the most impressive roads in the Alps!


The Stelvio is one of cycling's best-known climbs. At the point where Switzerland, Italy and Austria collide, there's a wealth of natural beauty, and it's a sacred land for cyclists... Lasting 21.7 km and reaching a maximum elevation of 2758 m this very steep, serpentine road is as tough as it is iconic, with an impressive 48 hair-pin bends! With an average gradient of 7.1% (our legs are just burning at the thought!) You could assume that this road was built just for cycling and driving (Jeremy Clarkson declared it the best road in Europe for driving), but the reasons were purely political. It's an engineering marvel!

Possibly the most famous climb of the Giro d'Italia since the Italian 'Champion of Champions', Fausto Coppi, made one of his most famous attacks in the 1953 Giro d'Italia. This is a real test of stamina and endurance!

This epic ride ends at Lake Como, with wonderful views and one last climb of the Madonna del Ghisallo, with its Chapel at the summit - a shrine to the great heroes of professional cycling.

Probably the only religious place in the world that is happy for visitors wearing Lycra. Filled with both pre- and post-war Giro d'Italia memorabilia, it is home to the patron saint of cycling. Here, Madonna del Ghisallo guards such treasures as bikes, photos of fallen cycling heroes and an eternal flame burning in their honour. It is believed that the medieval Count of Ghisallo was saved from robbers by the sight of Virgin Mary here. He offered her his prayers at the roadside shrine, and the Madonna del Ghisallo later became known as the patroness of all travellers. In 1949, The Pope gave her the title of Patron Saint of Cycling.

The church itself sits at the summit of the Passo del Ghisallo, a 10-kilometre climb famous for being used every year in the Tour of Lombardy and sometimes in the Giro as well. So it is no wonder you meet a lot of fellow enthusiasts here!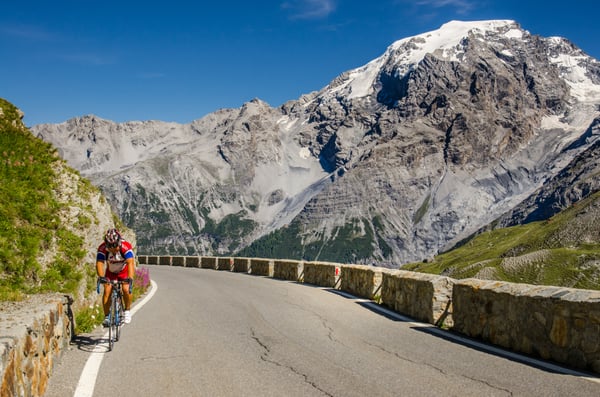 So, if you're inspired by the start of the Giro D'Italia and you're looking to get your cycling fix this year join us!