Discover Adventure has long provided cycle challenges for participants all over the world, cycling the length of the UK or from London to Paris, towards the majestic Victoria Falls or across rural Vietnam. We are passionate about providing adventure for everyone to enjoy.
With International Women's Day reminding us just how amazing the women that surround us are, we are also increasingly aware of the struggles that women face day to day, in work, social and travel environments. We feel compelled to do our bit to press for progress and make the world of adventure, not only equal but, welcoming and accessible for women. That's when an idea was born.
INTRODUCING THE WOMEN RIDE SERIES
What better day to announce our exciting new WOMEN RIDE Series than on a day dedicated to celebrating female empowerment?
Our Women Ride series is all about breaking the barriers to cycling for women, and creating cycle experiences that are inclusive and enjoyable. We aim to empower more women to get on their bikes, safely and confidently. We're offering a series of rides solely for women that vary from taster cycles to city-to-city euro-challenges.

DISCOVER THE CYCLE SERIES
Meet the awesome foursome that make up the first ever women-only cycle series that Discover Adventure have provided. Which rides catch your eye?
WOMEN RIDE TASTER RIDE - OCTOBER 2019
First up, we have our taster ride that takes place this year - for those eager for a flavour of the action. This involves 30 miles of supported cycling along quiet, country roads and accompanied by a variety of cycling abilities. It's the perfect chance to test out the waters and gain handy advice from our experienced leaders. What's more, it's totally FREE!
WOMEN RIDE TRAINING WEEKEND - MAY 2020
Our Training Weekend boasts all the benefits of the taster ride across the space of a weekend, making this the perfect stepping stone to our multi-day challenge rides. Gain confidence in technique and your own fitness levels while cycling with like-minded women.

Fancy upping the ante and pushing yourself on a euro-challenge? Maybe this is the goal to work towards, as there's still plenty of time to train and gain confidence. Book on to the euro-challenges below and our women-only training weekend will be included in the cost of the trip. More chance to take your wheels for a spin with a fantastic group of women!
WOMEN RIDE LONDON TO PARIS - JUly 2020
An iconic route between two capitals, this is the ultimate opportunity to tick off a phenomenal bucket list ride accompanied by a solely-female pack. Following quaint roads and greenways through French countryside until you reach the Eiffel Tower finish line, this will be an unforgettable ride.
WOMEN RIDE

LONDON TO bruges - september 2020
Taking in three countries in the three days, this ride is an exhilarating challenge to face with a team of empowered women by your side. Scenic views and fairly flat cycle paths, this is an enjoyable yet challenging ride. Set yourself this challenge as a goal to work towards after completing our taster ride and training weekend.

INSPIRING FEMALE CYCLISTS
Here at DA, we have plenty of cycle-lovers that are on hand to help on your cycling journey- whatever stage you are at.
Hear what some of our cycle-loving DA leaders have to say!


Not everyone is born with a love of cycling, for some the journey to exploring new surroundings on their beloved bike is accidental.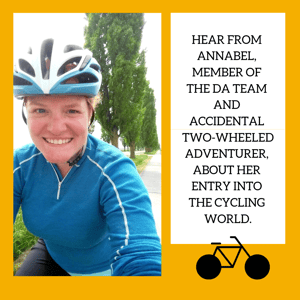 "My first bike ride was a London to Paris Cycle back in 2013. I wasn't 'sporty', I wasn't fit, I had no idea what I was doing. I signed up simply because someone else had. I went from being a person who had never sat on a road bike to someone who started to understand why padded shorts are so necessary, or acknowledge that I have a hatred of going uphill. In 2017 I spent 2 months cycling 2,500 miles across Europe, and next month I am leaving to cycle over 10,000 miles across Asia. However, it all started with a 1 mile bike ride." - Annabel
Cycling can be enjoyed by anyone and everyone. Feeling ready to cycle amongst a group of like-minded females?
READY TO RIDE?
Has a ride from the series caught your eye? Maybe you're simply looking to ride with like-minded women or this is the unexpected push in the right direction you needed to try out riding or get back on the saddle. Whatever your reason or ability, we would be delighted for you to join us.
Fill in the form below to register your interest, or check out our Women Ride challenge page to get more information on our series of rides.