---
Here it is - the big interview with Jo Bradshaw on her 2016 expedition to climb Mount Everest.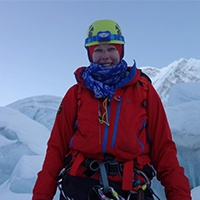 Jo began her venture into life outdoors as a challenger on a Discover Adventure trip back in 2006. She then joined us in the office here at DA HQ before breaking out and becoming a leader herself. With countless Kilimanjaro summits, and European cycle challenges under her belt she decided to take on a life-changing expedition of her own, with her sights set on none other than the highest Mountain in the world, Everest (with numerous training expeditions and other well-known summits in between we might add!)
You can't argue that taking on Mount Everest is a big challenge - so this is a big interview to boot. Grab yourself a beverage and a biscuit and delve in. Look out for:
The summit experience, the descent and raw emotion
Food at 8000m, exhaustion and losing a stone
Relentless focus and self belief (with a little Jack Savoretti on shuffle)
The influence of postcards, strangers and friends
Fundraising creativity and solid advice for training for any goal
The next adventure
---
What made you make the decision to climb Everest?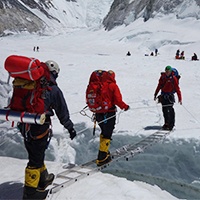 I climbed my first 6000 m peak five years ago and in September 2013 I climbed Manaslu, another 8000 m peak in Nepal. I was told that it is a natural progression to go on to climb Everest, so that got me thinking 'may be I can,' because if not now then when? Eventually I just decided why not and went for it.
So you see, climbing Everest has never been on my 'bucket list' or a lifelong dream - more of a natural progression, resulting from testing myself year after year, finding my limits and pushing myself.
It was great telling my parents, Dad said, 'Well, we knew that was coming!' and Mum, well Mum nearly fainted.
They supported my decision though - despite it resulting in more than a few sleepless nights for Mum when I was away, especially after last year's earthquake which I was caught up in!
[Related] 4 REASONS WHY IT'S GOOD TO TRAVEL SOLO
How did it feel to reach the summit?
We reached the summit at 6:45 am 19/05/2016.
It was relief rather than elation or strong emotion. We were hoping to have the summit to ourselves, but we ended up sharing the summit with quite a few other climbers - so as you can imagine, there wasn't a great deal of space at the top.
This was unfortunately one of the reasons (as well as it being incredibly cold and windy) why although I took my sponsored banners to the top I was unable to get them out and take a photo.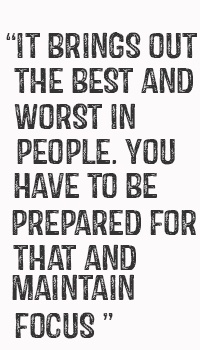 What was the temperature at the summit?
It was -35c degrees at the summit with wind gusts of 20 – 30 mph!
Windburn came as a result of the gap between my goggles and oxygen mask. The mask also creates moisture and where it was so cold these froze and created icicles – as a result I found ice inside my down suit despite the fact it was rated to -55 c, so yes, it was quite chilly..!
The speed of our ascent was quite slow - it was a busy climb and there was a slow group in front of us. A situation that can become quite serious as keeping moving is essential for generating body heat (a few other climbers, not in our group, had to turn back due to frostbite, a result of getting too cold during their climb often because of progressing too slowly) and importantly for you to stay mentally focused.
Lucky there was an opportunity for us to overtake the group in front, which meant we could get moving again at a slightly quicker pace.
For me, I had experience of getting to 8000 m before - when I climbed Manaslu in (Sept) 2013 , so I knew my limits and more importantly how far I could push myself.
Your ascent took 10 hours, how long were you at the summit before beginning your descent?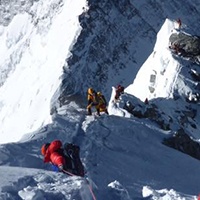 We were at the summit for around 15 minutes before we began to make our way down along a ridge line that was only 2 ft wide!
It wasn't until we reached the south summit that there was a little bit more space to walk.
However I encountered potentially serious problem when my oxygen mask froze. This meant I could breath in but not breath out - if not identified and sorted quickly enough this kind of thing is potentially life threatening, especially when there is on 30% oxygen available at that altitude on the mountain anyway!
Luckily Dorje, one of our Sherpa team, identified and sorted the problem amazingly quickly. He had been on the summit only a week earlier with another climber in our team who had experienced the same thing so he knew immediately what the problem was and how to sort it.
We know keeping yourself well fuelled during an expedition is paramount – so what was it like 'dining' at 8000m?
At Base Camp and Camp 2 we 'dined' pretty well! Our cooks were great, given that they only worked off of a kerosene burner; breakfast consisted of porridge and fried eggs on toast, with lunch often being chips and beans (there was also a lot of spam eaten during the trip - I'm not too keen to eat that again for a while!)
Dinner was often soup or Dal Bhat (a traditional Nepalese dish of rice and lentils) or some kind of pasta dish - so plenty of carbs for energy. We also ate a lot of fondue as we had a gas stove - not perhaps what you'd expect to eat whilst en route to Everest but we did - and it was good!

Obviously food was critical to a successful climb - you need to eat as much as you can, however altitude can really diminish your appetite. I have to say I did struggle with this a bit the further up we went and I have to confess Jelly babies became a staple during the climb, for little energy bursts and the fact that they didn't freeze on the way up! That and Biltong - I'd been given a great supply by a local company back home and was so glad I bought them with me.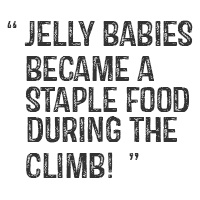 When we left Camp 2 on the 16th to the evening of the 19th I probably only consumed around 1000kcal - this was mainly through eating Ra-Ra Noodles (essentially the Nepalese equivalent of Super Noodles) and Hobnob biscuits. Admittedly, not the most exciting combination but they did the job of keeping me going. Absent of appetite, it was more eating to survive than having the desire to eat.
It was also paramount to drink - so we were consistently boiling ice at Camps 3 and 4 to keep our water topped up and to stay hydrated.
Towards the summit I couldn't bring myself to eat much at all - and after attempting a bowl of porridge at camp 4 and finding a hair in it - well that was it. It was just my inner strength and jelly babies that were getting me to the top.
My appetite didn't return until I was back at Base Camp where I attempted chips, beans and coleslaw. I say 'attempted' because that was when the sheer exhaustion hit and at that point the opportunity to sleep was much more appealing.
It wasn't until we arrived back in Lukla and with the increase in oxygen supply that I began getting hungry. Despite the climb now being complete, because of the sheer amount of effort you have put your body through, it is still working hard and burning calories (all in all I lost about 1 stone during the expedition) and so at this point I rapidly regained my appetite, but instead of craving a large stodgy meal, all I wanted was salad - the opposite of the brown and beige food I'd lived off for the last 8 weeks!
Were there any moments on the climb when you didn't think you would make it and what kept you going during those moments?
Yeh, there were low points.
The mountain politics - for example the restrictions that meant we had less freedom (than perhaps I was expecting) in making our own decisions did get me down at points. And, inevitably, I did get a little homesick. I was due to be away for 10 weeks - and after 7, it started to hit me. I had my iPad and my phone with me so I had reminders of home with photos. But with these left at Base Camp as we moved up the mountain, I wore a bracelet and necklace that kept my parents and Daisy (my dog) close and were a source of strength whenever those tough moments hit.
I had no physical doubts though - I knew I was strong enough and experienced enough to make it to the top. My training and previous climbs had made sure of that - but, it may sound odd to say this, but it was more mentally challenging than I expected.
Climbing Everest is a pretty extreme expedition, that pushes the mental and physical limits of even the most experienced climber, and as such it does bring out the best and worst in people - and that is something that you have to be equipped to handle - to maintain your focus no matter what is going on around you.
Mentally I had to block out the distractions.
That said, the support from home was overwhelming. Whenever I had the chance to check my emails or Facebook when I was at base camp, I was amazed by the phenomenal support coming through from friends, family and people I'd never met! Those who'd just started following my progression via my blog and social accounts.
" I had messages from people who had checked Facebook in the early hours of the morning waiting for an update on summit day, someone who had been inspired to climb Snowdon after following my expedition attempt and when I got home, a postcard from Montserrat from someone following the trip - who'd made its way to my door despite the address being wrong - the postman obviously knew who I was - I still need to find him and thank him! "
I also met some amazing and downright inspiring people on the mountain including Derek Eland, an artist who is working at Base Camp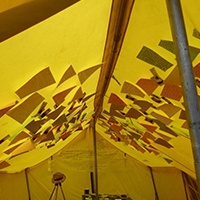 (having previously spent time in Afghanistan with the British Army). He was asking the climbers to write postcards to themselves - what their motivations are for being there. He asked me to write mine, and the self reflection was actually quite emotional.
What did I write? " It only takes one person to believe in you for you to achieve something incredible. "
It was a friend of mine who told me to bite the bullet and go for the first DA trip I did (as a participant) - which ignited my love for adventure, and set me on the journey that led to my eventual decision to do Everest. It was Rolfe, (Oostra, my climbing partner) who told me I had what it takes to do it.
That singular belief from someone, weighs much higher when times are tough than the hundreds of people who may doubt that you can.
I've also got to mention the amazing wider team that helped get us up the mountain. Our Sherpa team who climbed with us - carrying our loads up and down, our cooks and cook boys at camp 2 and base camp and our Camp Manager. They were nothing less than encouraging and supportive throughout the whole expedition - we operated completely as one group, and that level of teamwork and support was essential.
We couldn't have done it without them.
[Related] JO TALKS CHALLENGE PESERVANCE AND WHY GIVING UP IS NOT AN OPTION
We know you listened to music – what was your summit playlist?
Tunes that made for easy listening!
You need to stay cool, calm and collected - so the last thing I wanted was anything too rowdy. Think Jack Savoretti, Elle King and Kelvin Jones.
Obviously it's not possible to charge an Ipod on Everest, so I was conscious to save my battery and keep my music for the more challenging days.
I couldn't tell you what I was listening to as I reached the summit because I kept it on shuffle. It was just quietly playing away in one ear so I could just about hear it. In the moments when it got hard this was a real help, especially to block out the distractions and re-focus.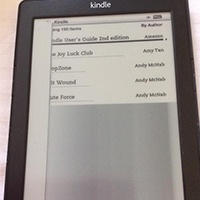 Interestingly enough, other expedition entertainment included:
Watching the Lady in the Van (twice!) at Base Camp, along with the climbing film, Meru. The latter was pretty motivational.
I also took my kindle, but unfortunately it didn't take too kindly to the freezing temperatures and gave up on life at the South Col….!
Before the unfortunate loss of my kindle, I'd managed to read Find a Way by Diana Nyad, an American Ultra Distance swimmer who swam from Cuba to Florida (if you're looking for some inspiration, I'd definitely recommend it).
This was followed by Walking the Amazon by Ed Stafford- this was an 860 day expedition - making my 10 weeks look measly!
You chose not to go for the dual climb and summit Lhotse as well, why was this?
The plan was to go straight on from the south col of Everest to climb Lhotse, however when we arrived back at the south col we heard that there had been a fatality on neighbouring Lhotse and that the climbers who were trying to summit at that time had all turned around. The ropes were not fixed to the summit and the conditions of the 70 degree snow slope were pretty poor so with all of those elements put together, all climbers for Lhotse descended and we made the decision not to go ahead with the climb.
Was I disappointed? Yes and no! The expedition was never about going for the title (Jo would have been the first British woman to complete the dual climb), I just thought I would go for it. As it was, it didn't work out and it became a safety decision. Also I'd made the summit of Everest, I was chuffed and exhausted, in the end I was happy to return to Base Camp having achieved my main goal.
In light of your experience of the earthquake that hit the region in April 2015, were you more anxious this time around?
You can't let it stop you - the chances of it happening again are small. If you let it stop you then it's an excuse to not go ahead, not a reason.
In my tent at Base Camp you could occasionally feel the movement of the ice underneath you - but you can't think about it too much. You're on a river of ice and although the temperature at Base Camp was warmer this year, it wasn't any more treacherous.
[Related] FIND OUT HOW DISCOVER ADVENTURE IS HELPING TO RE-BUILD NEPAL
How did you celebrate your achievement?
I can't say I truly have yet!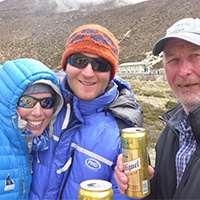 The first night back in camp we were too exhausted to celebrate - to relax and sleep was enough of a treat. When we'd made it back into Kathmandu we went out and had a couple of beers to celebrate with the team.
Back here in the UK I did have a glass of champagne with Mum and Dad. Seeing Daisy again was great too, she was super excited!
Sir Chris Bonington congratulated on your achievement – how did that feel?
So cool! He was on BBC Wiltshire to be interviewed about his climbing experiences of Everest and Lhotse just after me. He's a complete legend and it was great for him to take the time to say well done.
How have your experiences shaped your approach as a Discover Adventure expedition leader?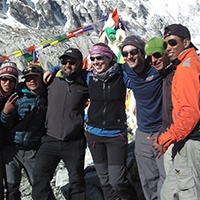 I want to make other people feel the way those key people did for me. If one person believes in you, it gives you the endorsement you need to believe in yourself. I try and do that for every person I'm guiding on a trip - a bit of support, encouragement and a little tough love from someone you trust can go a long way.
What advice would you give to someone else looking to take on the climb or a challenge that they don't think they'd be capable of?
Expect not to succeed at everything you attempt, and be ok with that. I've climbed a lot and succeeded a lot but have also not reached various summits for many different reasons and have probably learnt more from those experiences than when everything went well. Failure is essential, it's not a bad thing, it helps you to get the experiences you need. For technical expeditions like Everest, although you have a support team you absolutely need to be self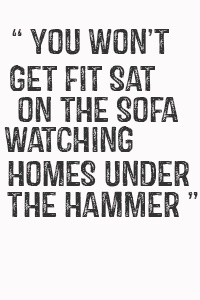 sufficient and to be equipped (prepared) to handle any situation that may arise. Because, in reality anything could.
Also, for any challenge, no matter what your goal, set a long term plan. Don't expect to be able to do it with only a short run up! The experience you get in the lead up - shorter rides in the lead up to a London to Paris cycle for example or smaller climbs in the lead up to your expedition, try and enjoy each of these for its own merits.
Lastly don't underestimate the importance of getting fit (or overestimate your fitness for that matter). As well as improving your physical ability, knowing you are fit and capable really contributes to your mental state. You worry less about whether you can actually do it. If you know you've scrimped on training, the effects of this will only be magnified when you're on your challenge.
After all, you won't get fit sat on your sofa watching Homes under the Hammer!
Pace yourself, build it up slowly - and if you want that instant satisfaction make a training calendar. This sets your mind on what you need to do and when and the satisfaction comes from ticking it off week by week.
How much have you raised in total now for Place2Be and what will that be going towards?
From last year's fundraising, I managed to accumulate £15,000, and continuing on to this year has topped this up with a further £5,000.
I managed to raise £10,000 solo last year through my banner, speaking events, raffle prizes and selling headbands and hats from Nepal plus company logos on my backpack. The rest of last year's fundraising was through my D of E students who came to Nepal with us and through other friends and clients fundraising for my climb. This year I sold spaces on another banner plus selling advertising space on my bright yellow Transit van which worked well!
My advice for fundraising is don't just expect people to sponsor you, be creative! There are so many causes and events around now that people really appreciate getting something in return - for example the branded and photo space on my banner or even the story.
I kept updating my Facebook and blog throughout my training and kept the posts honest. No one will believe you if your training goes exactly to plan every time. So tell them about the ups and downs, the set backs - this will make your achievements all the more tangible, people will be able to get a feel for how hard you've worked.
Do you have any plans for your next challenge?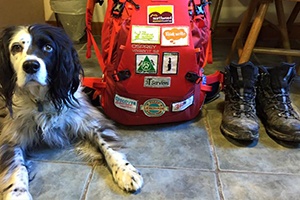 The plan is to climb Denali next May / June. That will be peak 5 of the seven summits - so it would be rude not to go on to do the rest! Having said that though, I don't climb for the 'titles,' 'kudos' or to tick a box. For me it's all about the experience on the way.
And lastly, will you be keeping those boots?!
Absolutely. They looked after my feet all the way to 29,029 feet, and will be employed once again for my next expedition.
Bring it on. Go large or go home!
---
We hope you've enjoyed climbing Everest (albeit vicariously!) with Jo and that it's left you feeling inspired, if a little in-awe at what can be achieved with a little self-belief, determination and focus.

Don't forget, we're here to do the same, so take a look at what's out there for you, and we'll help get you there!
---