Are you ready to take a tour of the Hoi An to Halong Bay Cycle? We've sat down with a fellow DA adventurer to get the low-down on his Vietnam experience and find out why this cycle challenge should be your next adventure!
Hoi An to Halong Bay Cycle
The Hoi An to Halong Bay Cycle is a 12-day trip that takes you through some of the more obscure parts of Vietnam, opening you to the opportunity of true local culture, authentic cuisine and gorgeous sprawling landscapes that go for miles, sparse with people and modernisation. This cycle challenge is an unforgettable experience for all the right reasons, with continuously transposing sights to keep you entertained and motivated during long, hot days on the saddle.
We met with Chris, a fully-fledged and experienced member of the DA crew that splits his time between the office and the field, that has returned from the Hoi An to Halong Bay Cycle. We wanted to bring you a personal account of his experiences and dig a little deeper to find out why Chris loves this challenge so much.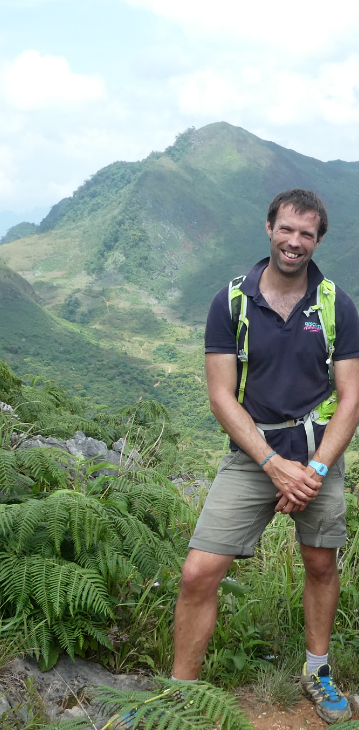 Cycling Vietnam
So, Chris, how did the Hoi An to Halong Bay cycle route come about and how does this differ from the beautiful Ho Chi Minh to Angkor Wat cycle that already takes place in Vietnam?
"The Hoi An to Halong Bay trip was designed to be a follow on from the Ho Chi Minh to Angkor Wat which is our most successful overseas cycle of all time ever. I love the Ho Chi Minh to Angkor Wat trip and completely agree it's one of our best trips, but on the Hoi An to Halong Bay trip, every day is a little bit different. The scenery changes, the people change, what people do for a living change which then shapes the rest of the land around you."
Wow, so this trip is based around exactly what the cyclists most love about one of our most popular cycling trips yet offers a distinctly different Vietnam experience.
Tell us what you can expect to see en route of the Hoi An to Halong Bay cycle.
"Day one, you're going up a very nice sandy beach to start with, which is very populated with tourists. This is a great introduction to the trip because people like to get more authentic as the trip goes on."
"You get out of the tourist area and you see the real Vietnam. As people aren't expecting you, you are able to see the raw and authentic glimpses of everyday life for locals in this remote area. It's a behind the scenes experience, allowing you to catch locals off guard, relaxed and absorbed in their day to day activities that differs from when you arrive in the tourist hubbub".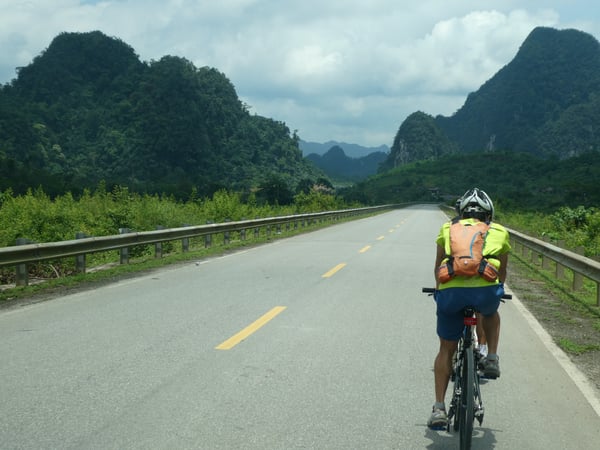 Worlds away from the tourist honeypot
This trip really shines due to the unique and candid view of Vietnam and the culture and communities that you are immersed in. Name some of the sights you were met with on your cycle experience…
"Local fishing communities with really authentic old ways of fishing, lots of big nets out of big stilted platforms and motorbike tyres that they use to catch oysters in very shallow, flat, salt lakes. They actually leave those motorbike tyres on the roads so vehicles drive over them to break off little pieces of barnacles that are left on after they have harvested the oysters.
You move up to these rice fields, as far as the eye can see. The wind blows over and you get this lovely ripple across the green fields with rows of Vietnamese conical hats and vivid blue skies.
Moving even further north, you cut away from the coast and you go to the Phonh Nha caves. An enormous limestone cave network that is phenomenal, lots of boardwalks through them all lit up and absolutely magical. This gives you a bit of a rest day as you do half a day of riding and there is the chance to explore the surrounding area."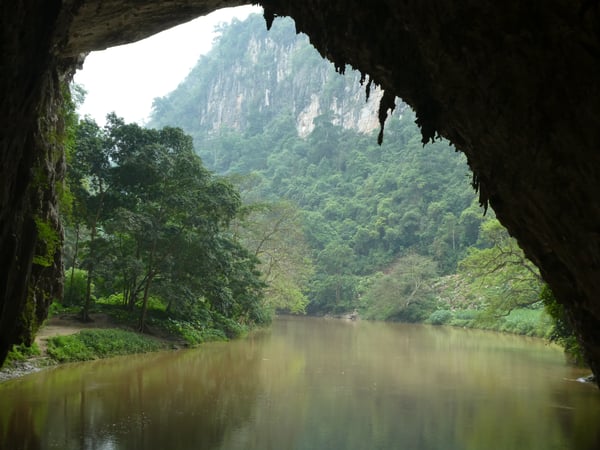 "Once you've left the Phonh Nha caves, you're completely away from tourism. Entirely. It's really stripped back and there's no one around, no vehicles. You're just on this lovely winding, smooth tarmac road. You're expecting to see King Kong at any point with rich jungle around you."
Sounds epic!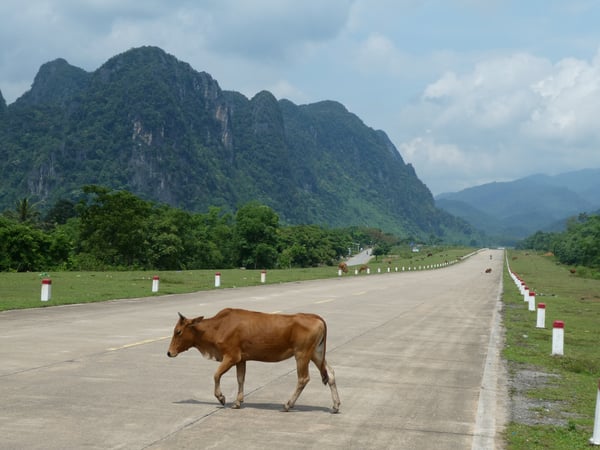 So, when you reach the holy grail of remote Vietnam, distant from tourism and out in the sticks amongst the local communities, what kind of landscapes will you be contending with on two wheels?
"There are hills but for the most part, it is quite undulating. You have to cycle a little bit harder to get uphill but you can freewheel down the other side. That is, apart from one day – the first day of riding you pedal over the Hai Van Pass which is a bloody big hill. Whilst it has significance from wartime, most people will know it from Top Gear when they went out there on their bikes over the Hai Van Pass. It's a long climb up and a really long descend on the other side, but it has an enormously amazing view from the top. That is the 100% the hardest day."
Okay, so a tough start but a smoother, undulated cycle for the rest of the trip. Good for getting stuck into the challenge from the get-go. Just how hard is this trip?
"It's definitely a step up from Ho Chi Minh to Angkor Wat but it's not ridiculously difficult still so we're only grading it a grade two. In terms of terrain, there is the beach, agricultural with lots of rice fields, mango and papaya trees, fruits and vegetables and then there is the more built up area. That's what I like about it, you've got these very distinct phases you're going through that are constantly changing so it makes everything really interesting.
Even the more built up area is really fun because nobody in Vietnam goes more than 40 mph, even on the main roads. It's quite chaotic, but it just works. You are cycling amongst motorbikes, other cyclists, vehicles packed high with produce, all travelling along quite slowly. it may be intimidating at first, but you get used to it very quickly."
War remnants in paradise
Vietnam is steeped in history, with many remnants from the horrors of the Vietnamese and American war. How is this signified in the Hoi An to Halong Bay cycle route?
"You pedal up an enormous valley and along a small road, all of a sudden, the road widens by about ten times. This road was once used as a secret runway by the Vietnamese in the war against America. You go through the DMZ (the demilitarised zone) and look around the Vinh Moc tunnels, which is where all of the Vietnamese sheltered during the war when the bombing from the American ships took place. The tunnels are tiny and it gives you an incredible sense of what it must have been like whilst they were getting bombed."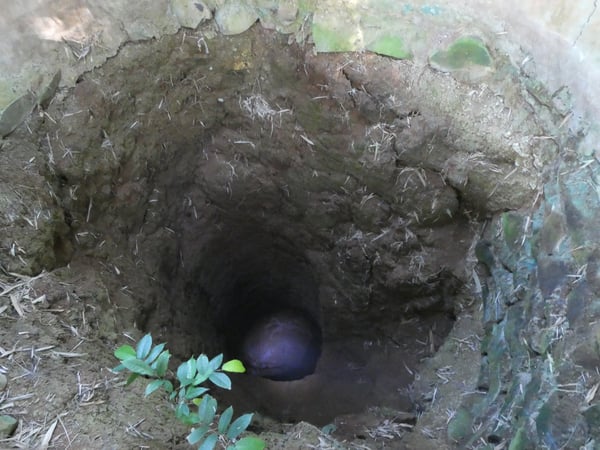 "Agent orange is a fertiliser that the Americans used to spray on the crops to damage them, as part of the war against communism to try and starve out the Vietnamese. It had huge effects on people's mental health and lots of babies were born with really horrible side effects, which you still see the effects of today. The war is very much within living memory and it really hits you just how horrific it was not so long ago. That said, they are very pleased to see you and you being there helps to aid their tourism."
Plunge yourself into the local culture: Fresh seafood & vibrant streets
First thing on the menu, let's talk food!
"Vietnam is a very thin country, its only 20 miles wide in some places so you're never that far from the sea. The standard of food goes up even more because we are very close to the coast and it's very fresh and local. The food smells amazing, interspersed between the different buildings and mixed with all the hustle and bustle of Vietnam.
If you're a vegetarian you'll be loving it! I'm an avid meat eater but my favourite dishes were the vegetarian ones. The spinach, the greens mixed with garlic and chilli, a bit of fish oil. It's everybody's sort of palette."
Far-flung from tourist-packed pathways, we're wondering what the Vietnamese culture is like and how much of that you really see on this thrilling cycle?
"You absolutely get to immerse yourself in the culture and communities. You see the locals in their shops, coming out of their houses, and you can buy anything on the streets in Vietnam. You will walk past a bed, fishing nets, a wedding dress, motorbike tyres and then a coffin, literally everything and anything. There's no order to it and it makes for a really interesting cycle."
It sounds like an intense and colourful journey seeing all that Vietnam has to offer. This cycle makes sure you always have something to catch your eye as you pedal through the Vietnamese landscapes and experience the more rural parts of the country.
We really do push the boat out on this incredible cycle, completing this heavenly adventure with all-hands-on-deck.
"The last day we cycle to the ferry and board with our bikes, heading over to Cat Ba island. This island is covered in jungle and huge limestone cliffs, falling away into vivid turquoise water. You get to cycle over this beautiful island, towards another ferry which takes you to where you board the junk boats. We board the junk boats and have a lovely lunch to begin our celebrations, sailing very slowly around the beautiful limestone islands and staying on board overnight. "
The perfect, peaceful end to your Vietnamese adventure.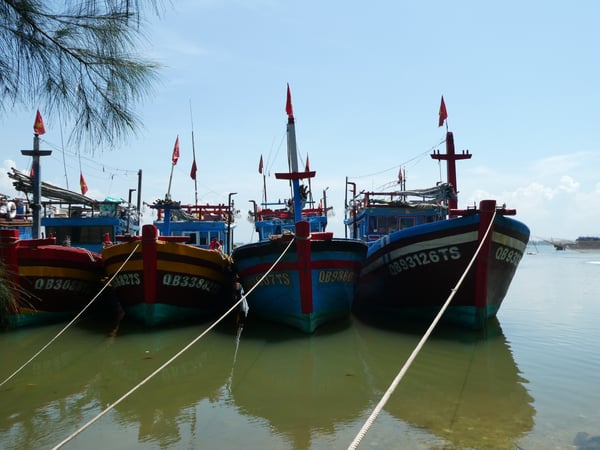 Fallen in love with the Hoi An to Halong Bay Cycle?
If you're itching to explore the lesser known side of Vietnam, cycle off the beaten track and grasp a real insider's experience of a shrouded yet truly beautiful part of the world, then waste no time booking on to the next Hoi An to Halong Bay Cycle.
If you have any burning questions about this exciting trip, feel free to get in contact with the knowledgeable team at Discover Adventure HQ. We are more than happy to answer any questions you may have and put your mind at ease for the adventure ahead.
One thing is for sure, it's an unforgettable experience you won't want to miss.