---
We love walking. Well we're the 'outdoorsy adventurous' type so why wouldn't we? Well you don't have to class yourself as adventurous to enjoy a breath of fresh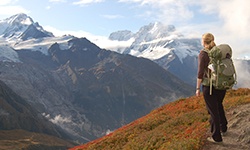 and stretching your legs on a Spring evening!
With fitness apps, watches and other tech paraphernalia letting us know exactly how healthy our lifestyles are - we've had a huge a wake up call to find out how little we do actually move each day.
So if you head home each evening feeling tired from a busy day at the office or get put off exercising by bad weather, take a look at our motivational facts below which we hope will get you moving - it certainly worked for us!
1) Well, I'm not sure about you, but I went for a walk the other day by myself and noticed a whole lot more about the area right outside my door than I ever have before! Especially now its Spring, the evenings are lighter, the air is warmer and there's smell of fresh blossom- time to take a big stride and a deep breath.
2) You should aim to take at least 10,000 steps each day (that's the equivalent of 5 miles)… so give your annual step target a boost by walking a 8-9 hours per day through the Burma Hill tribes in Asia or walk a historic route closer to home, 25 miles along the
What it's like to trek 'off the beaten track' through undiscovered Burma
3) It's sociable - if your not feeling the need for some alone time, put the world to rights on your route with a friend - you won't even notice how far you've walked..and if you're trekking as part of a challenge group, you can count on making some life long friends along the way.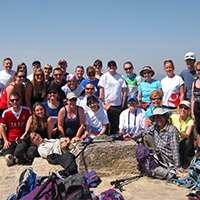 4) Walking boosts your immune system for 24 hrs, so next time you feel a cold coming on - you know what to do...
5) It's something we can do, to help others. A bespoke challenge group recently raised £154,000 for The Alzheimer's Society on a trekking challenge along China's Great Wall.
Trekking the Great Wall of China, Gina's story - watch the video

6) Walking can help decrease the risk of heart attacks, bone fractures and cancer, even help you de-stress, relax and improve your mood - essentially a medicine cabinet, a bubble bath and your best friend all in one!
7) If you did every DA trek challenge, you'd be walking for 264 days and traverse over 22 countries. Year out anyone?
8) Walking briskly for 1 mile burns the same amount of calories as jogging the same distance - see, you CAN put those trainers to good use
9) The world's circumference is 25,000 miles & the average walking pace is 3 mph - so if you walked non-stop, it would take you around 347 days to make it the whole way round.
10) I don't think we need any more reasons. Grab your boots, lets go!
---
If you want check out the facts we've referenced above or want to know more about the greatness of walking, take a look at: NHS Change for Life & Walking Facts by Random History
Or if you'd just want to find out more about the trekking challenges we offer, click here:
---