---
YOUR LAST CHANCE TO BOOK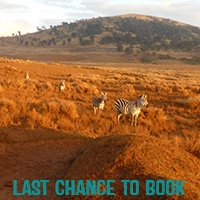 Have you been harbouring our gorgeous challenge brochure but not yet committed to your next trekking or cycling adventure? Or have you spent (more than) a couple of lunch hours browsing discoveradventure.com debating which trip you will venture on next?
Well my friend, time is running short to make up your mind.
With a new brochure set to go live in the next few months, our challenges with dates only in for this year will soon be no more! Although this is a sad prospect, and a tough time for those in the office to let go of some much loved challenges, space needs to be made for our (pretty exciting) upcoming Pioneering adventures!
So without further ado (time is of the essence) here is your last chance to join fellow challengers and secure your space on one of these epic adventures from all corners of the world.
---

1. RIFT VALLEY SAFARI TREK - AFRICA
We defy you not to fall in love with what this challenge has to offer. Abundant wildlife, pristine star-studded skies and incredible volcanic landscapes await you on this Tanzanian trek challenge.
The highlights? "Walking in the footsteps of the Masai, but the wildlife, culture and scenery were all amazing and a privilege to share. I really liked that we had to 'work' for the amazing things we saw." - Sarah

2. CYCLE LONDON TO PARIS in 24 HRS - EUROPE
Head for the legendary site of the Eiffel Tower by cycling over 200 miles through the night. This is an intense challenge requiring stamina and determination. A true test for the keen cyclist.
The best bit? "I enjoyed everything about it. What amazing about this was that although beginning total strangers by the end we felt like part of the family. We were all facing the same physical and mental challenge, this created a bond between the group and we all began to rely on each other." - Kirusika

3. TOUR DE MONT BLANC - EUROPE
This is your last chance to take on a world renowned trekking circuit, covering an incredible three countries in three days. From forested tracks to glaciers this trip has varied but demanding terrain and the Mont Blanc Massif as your backdrop.
The best bit? "The beautiful mountain scenery of the Alps. It is truly a breathtaking but challenging experinece." - Rez

4. MOUNT TOUBKAL TREK - MOROCCO
The High Atlas Mountains of Morocco are remote, barren and absolutely stunning. You'll follow mule tracks up through the mountains,
acclimatising to the altitude during the first half of the track. The pinnacle of this challenge is summiting the highest mountain in North Africa, Mt. Toubkal (4167m).
The best bit? "That it was genuinely a 'tough' challenge in a beautiful setting. The itinerary was brilliant, well-paced and the catering on the route was fantastic." - Laura

5. SNOWDON BY NIGHT - UK
Wales is synonymous with beautiful, rugged landscapes and outdoor pursuits. Our trek aims for the summit of Mt. Snowdon (reputedly the burial place of a mythical giant!) A popular summit trek by day-time, it makes for a real challenge by night, descending from the mountain as the sun rises. You'll celebrate your achievement with a well-earned hot breakfast!
The best bit? "It's got to be the brilliant feeling of reaching the summit!" - Charlotte
---
These are epic adventures from across 4 continents that we don't want you to miss out on. If you've been considering taking on a charity challenge this year or are just in the mood for a spontaneous adventure now is the time to give it a go. After all it's been scientifically proven that being outdoors and connecting with nature makes us both healthier and happier.
Have a few questions or just want to interrogate our expert team as to what we'd recommend? Just get in touch, we're more than happy to chat!
---