'GO YOUR OWN WAY'

It's the tourism slogan for Albania and it epitomises the essence of warmth and strength of this pristine corner of eastern Europe.

Not on the stereotypical 'bucket list' Albania is a place being 'discovered' very slowly. Enter onto the long lost trails through the mountains and you will be welcomed by the local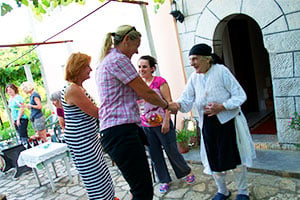 people with a touching and humbling enthusiasm. The absolute lack of infrastructure catering for tourism in north of country makes for a refreshing change and trekking perfection.
Astounding landscapes, deep rooted history and a fairy tale landscape of flora and fauna, bursting into life under the warm sun of the mountainsides await you here; Albania is truly a place you will fall in love with as you traverse it's ancient trails to the heart of the Accursed Mountains...
---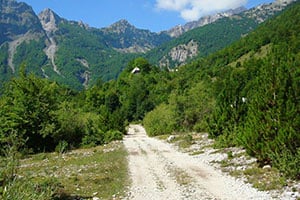 The best times to visit are late spring or late summer, when the valleys will be green, wildflowers will be abundant and the snow has re-treated just enough from the mountain tops to ensure you a clear, but still tough, trail ahead.
But first - make a visit to Kruje, a contrast, like Tirana, to the alpine forests and mountain wilderness, but still full of historical and cultural importance - the statue of Albanian National Hero Skanderbeg is located here.
Related: Discover the unbroken beauty of Bhutan
Then take a boat ride across the Fjord-like Komani lake, formed when the Drini Valley was dammed in the early 70's. You'll float between 1500m high passes and if you're a keen trekker this will only serve to whet your appetite for the adventure ahead.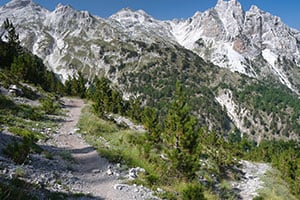 From here you need to embrace sheer rock faces and dramatic landscapes of the Valbona valley - think the beauty of the Dolomites with the awe-inspiring impact of the Grand Canyon. Trek the ancient Valbona Pass, which can only be crossed on foot - so if you are looking for a challenge this is it - there will be no support vehicles following along behind here, so speak 'friend' and enter the heart of the Accursed Mountains. You'll reach a height of 1760m so don't forget your poles if you are planning on trekking this route.
Related: Take a walk on the wild side in Iceland
Stay in guesthouses along the way. It is heart-warming and humbling to meet the local people who open up their homes to visitors as if you are extended family.
"It is safe to say I wasn't disappointed. The first part of the journey explored the Valbona national park and meant we were lucky enough to stay with local Albanians in their family home. For most of us this was the highlight, offering a rare insight into a lifestyle long left behind. No gadgets or TV, but instead nights spent around a table with great food and great company and of course, the odd glass or two of raki!"
All the food you will eat will be prepared by the families you stay with - and all grown in their gardens due to the remoteness of their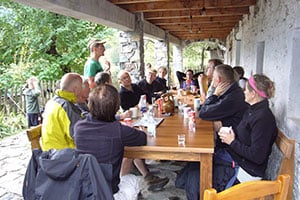 mountain settlements - and deliciously fresh as a result. They'll also provide you with a picnic buffet lunch to restore your energy - provided in a card box to minimise the use of plastic in the mountains.
Expect roasted lamb, potatoes, bean soup and fresh cheese and dairy. You'll also be able to top up your water bottle en-route with fresh spring water, direct from the streams.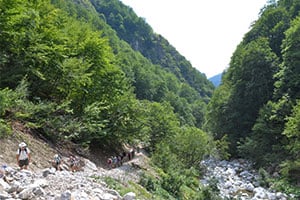 Lined with alpine forests of oak, conifer and beech, over 3,000 types of plants and indigenous wolves, foxes and pine martens, this area is very much owned by nature. This wealth of wild life is testament to being an area 'left behind' by the rest of Europe. A result of political and economic changes, northern Albania became one of the poorest areas of one of the poorest countries, but without doubt, this has enabled it maintain its pristine ecosystem, where the human touch is merely one that cultivates growth in partnership with nature, rather than bending it against it's will.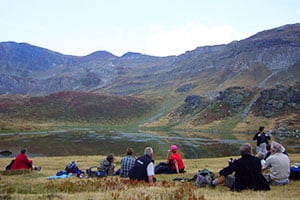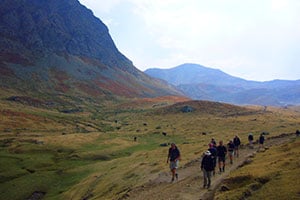 The Malësi region's relationship with electricity is still tumultuous, so if a break from your 'always on' interconnected life and a detox from all things digital is what you need, then this is your place.
"During the walks we encountered local shepherds and farmers, but not one tourist, which made this trip that much more special. This pristine isolation will not last, so I urge you to visit this part of the world before mass market tourism arrives." - Dan
---
There is little more to say about Albania for words, and even images, will fail to do this magical and isolated country justice. It is one that must be experienced in person and on foot.
So if escape is a feeling your craving, with the freedom of open space, fresh air and fresh food against a backdrop of wild and rugged scenery, with tough mountain trekking, then it's time you made your way to the Accursed Mountains.
On paper this challenge may seem no different to others you will look at. However with short flight times, excellent food, tough but rewarding trekking and spectacular scenery, it will be a trip you will be speaking about for years to come.
Join our 9 day Accursed Mountain Trek, departing in June or September. Prices from £1,199pp including all transport, accommodation, most meals, back-up support and equipment. View full itinerary here.


---